This is absolutely DELICIOUS!!!! I hope you enjoy it as much as we do!
INGREDIENTS
– 1 Box of Pie Crusts (comes as a 2 ct.)
– Chocolate Spread
– 2 Bananas
– Strawberry Preserves or Jam
– Nut Toppings
– Powdered Sugar
– Milk
– Rainbow Sprinkles
DIRECTIONS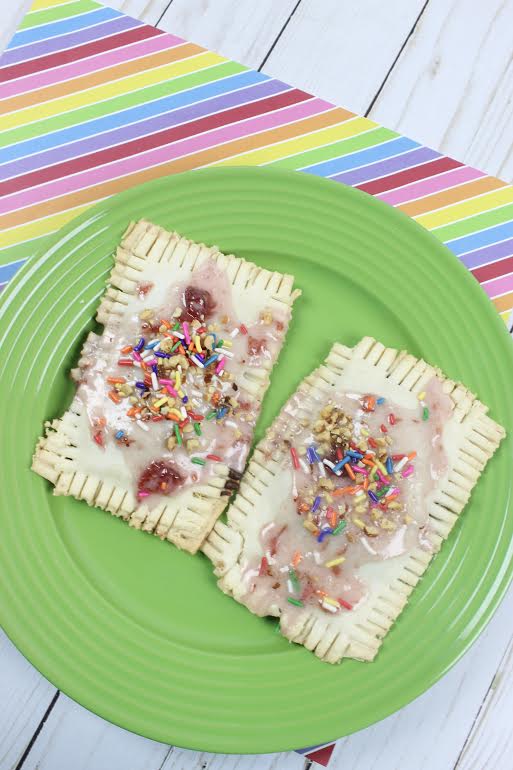 – Roll your pie crusts on a flat surface making sure they are completely flat. Cut 4 squares (or rectangles if you prefer) onto each pie crust for a total of 8.
– On a baking sheet covered with parchment paper, place 4 of the square crusts.
– Using a knife, spread chocolate spread onto the cut crusts it out but do not spread it out all the way to the edge.
– Add sliced bananas on top of the chocolate spread – about 3-4 slices per
pop
-tart.
– Top with another piece of square crusts.
– Use a fork to crimp the edges of the crust and make sure the inside doesn't get out.
– Bake the 
pop
–
tarts
 in the oven at 425 for 10-12 minutes or until golden brown on top.
– Let the 
pop
–
tarts
 cool. Start making the frosting by combining 1 cup of powdered sugar with 2 tablespoons of milk and a tablespoon of strawberry preserves or jam. Optional is a teaspoon of vanilla.
– Spoon the frosting onto the 
pop
–
tarts
 and spread smooth with a knife. Sprinkle with rainbow sprinkles and enjoy!