*Disney provided me with an all expense trip to LA. All my opinions are my own and not swayed by outside sources.*

HOW EXCITED IS EVERYONE? Descendants 2 will debut on July 21, 2017 on five different television networks simultaneously: ABC, Freeform, Lifetime, Disney XD, and Disney Channel. MARK YOUR CALENDAR NOW BECAUSE YOU DO NOT WANT TO MISS THIS MOVIE SPECTACULAR! 
ABOUT DESCENDANTS 2:
In "Descendants 2," the story deepens as the Villain Kids (AKA "VKs") – Mal, Evie, Carlos and Jay – continue to try to find their place in idyllic Auradon. When the pressure to be royal becomes too much for Mal, she returns to her rotten roots on the Isle of the Lost where her archenemy Uma, the daughter of Ursula, has taken her spot as self-proclaimed queen of the run-down town. Uma, still resentful over not being selected by Ben to go to Auradon Prep with the other Villain Kids, stirs her pirate gang including Captain Hook's son Harry and Gaston's son Gil, to break the barrier between the Isle of the Lost and Auradon, and unleash all the villains imprisoned on the Isle, once and for all.
Starring are Dove Cameron ("Liv and Maddie"), Cameron Boyce ("Jessie"), Sofia Carson (Hollywood Records recording artist, "Adventures in Babysitting"), Booboo Stewart ("X-Men Days of Future Past"), and Mitchell Hope reprising the roles of Mal, Carlos, Evie, Jay and King Ben, respectively. Starring as the new villains are China Anne McClain ("A.N.T. Farm") as Uma, the daughter of Ursula; Thomas Doherty ("The Lodge") as Harry, son of Captain Hook; Dylan Playfair ("Some Assembly Required") as Gil, son of Gaston; and Anna Cathcart ("Odd Squad") as Dizzy, daughter of Cinderella's evil stepsister Drizella and granddaughter of wicked stepmother Lady Tremaine. Also reprising their roles in this sequel are Brenna D'Amico as Jane, the daughter of Fairy Godmother; Melanie Paxson as Fairy Godmother; Dianne Doan as Lonnie, the daughter of Mulan; Jedidiah Goodacre as Chad, the son of Cinderella; Zachary Gibson as Doug, the son of Dopey; Keegan Connor Tracy as Belle and Dan Payne as Beast.
MY INTERVIEW WITH THE CAST:
–INTERVIEW WITH KARA SAUN: FASHION CONSULTANT, COSTUME DESIGNER, AND FASHIONISTA FOR THE DESCENDANTS 2:
She started off telling us that a lot people know her from Project Runway but a lot don't know she is the fashion consultant for Disney Consumer Products. Her job starts very early in the process. It is her job to build the fashion for the whole "Descendants" world. She started out as a fashion designer and just transitioned into costume designing. Even though she is creating costumes for kids, she told us she is not thinking about creating specifically for kids.
For Decendants 2, she went full couture from the accessories to the silhouettes. The fashion for "Descendants 2" is really about the story of the kids and where they are now. They're in Auradon and so it's really her job to show how they've transitioned and how they've matured.
She then went into the process of how she came to their looks.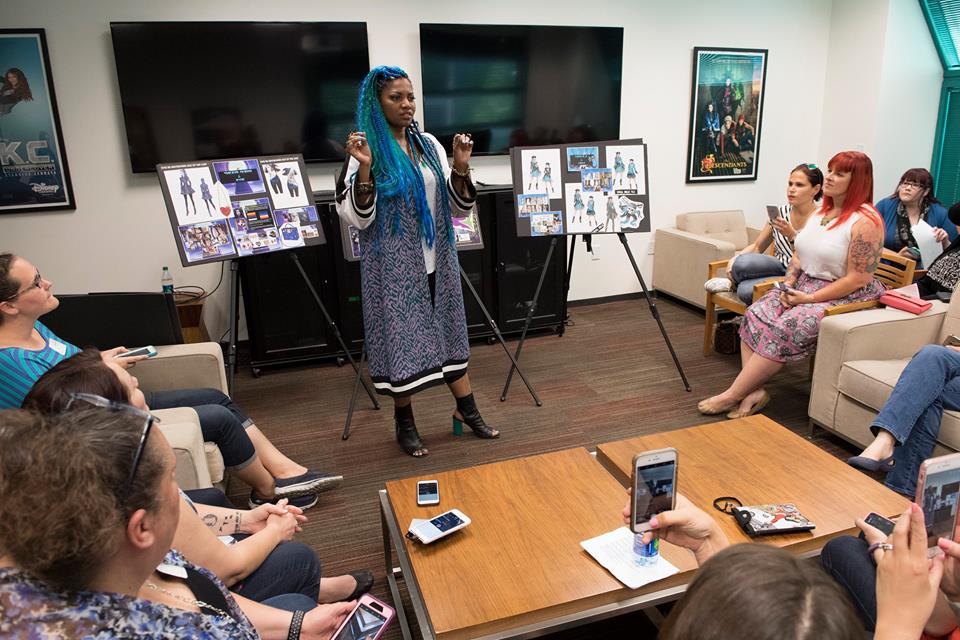 "So let's just start with Mal. In "Descendants 1," she was just getting to Auradon and now she has really become a whole princess. So I really wanted to create something for her that showed that she's been in Auradon for a while and she's transitioned so she's a little more polished. In "Descendants 1," it went from straight punk to a preppy punk, and now it's more of a polished punk. The fun thing I love about Mal is I really did create princess looks for her. She started out with this blonde hair. She's really trying to be a princess and she has little lavender gels and that's because even though she's trying so hard to be a princess, she's still the girl from the Isle. There's that whole story about keeping part of who you are, no matter where you go and so it was really fun to create these little princesses for her. A lot of Mal's dresses were very embellished and had lots of sparkle whereas in "Descendants 1" it was more leather and hardware and gold."
"This time it's rhinestones and embellished. Dove is just stunning in all of her wardrobe that was from the Isle. And then there's Evie. What I loved about Eve was that she's the designer of the group. Her business has picked up tenfold and she's designing for all her classmates and honestly it reminded me of when I was in high school and what I did. She's creating Cotillion gowns for all her classmates but I really wanted Evie to look like a young junior designer and so she has these great purses. Everything from head to toe for all the characters is custom.The shoes are custom. The handbags are custom and the accessories are custom."
" One really fun part about all the wardrobe is that all of the outfits are detachable. For instance, when you see Evie she's in the full dress. I can take the sleeves off. The sleeves came off. She has the vest, then it separates at the waist and she wears it as a skirt."
She then went through each character's outfits which was quite neat to see and hear that day! We saw the actual visual boards used on the Descendants 2. She also said after the Descendants 1, she thought instantly of the outfits for the second one. Once she had the script, she started researching. She said when she creates the wardrobe, she wants it to fit each character to a T. The stories are so strong and everyone can relate to them. She wants the costumes to reflect that as well.
—INTERVIEW WITH CAMERON BOYCE (CARLOS)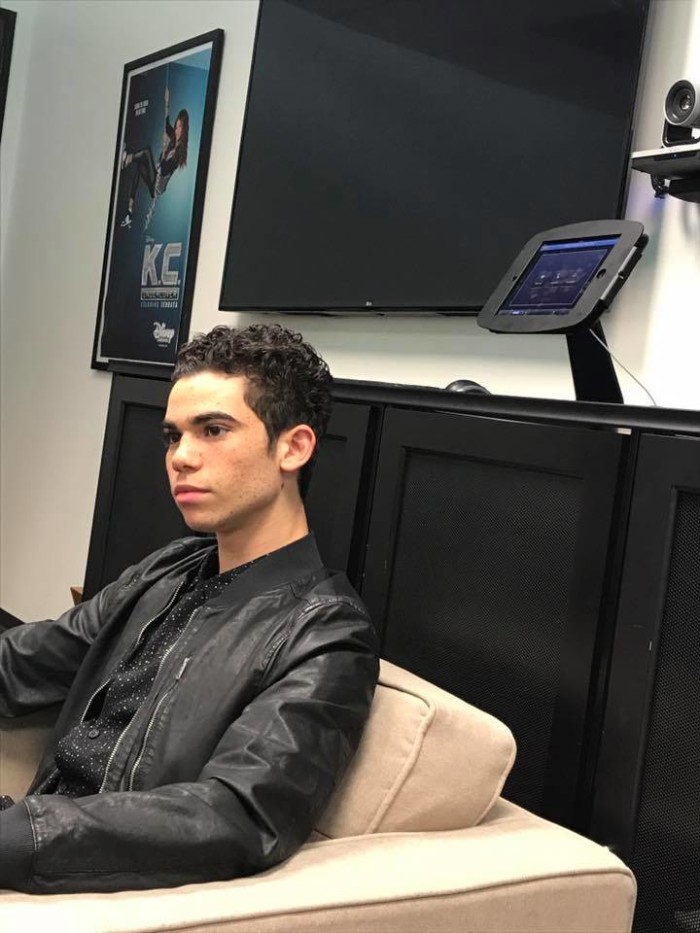 Question 1: The first movie was absolutely amazing. This set looks like it has 10 times as many props. How was that?
He told us it was crazy. He said after the first movie, he knew that they were going to do the second one.
"The whole time we were thinking, "Okay, how are we going to top that? How are we going to make something that's bigger and still better?" You don't want to just go bigger but you also want to go deeper with the characters, but the physical sets themselves are just insane in the second one. You guys haven't seen anything like this. I'm really excited for you guys to see it. But it's just like I said, everyone was really committed to taking the next one to bigger and better places, and I feel like we accomplished that. I think that you guys saw that, especially in the pirate set. It was all green screen and then through the magic of whatever they do in post-production, they made it amazing. In the beginning of the process, they showed us all the renderings of what it was going to look like. It helps you as an actor to get in that space where you're thinking, "Okay, this is what I'm around and it's really cool."
Question 2: Did you know going into the first one what a huge national phenomenon this would become?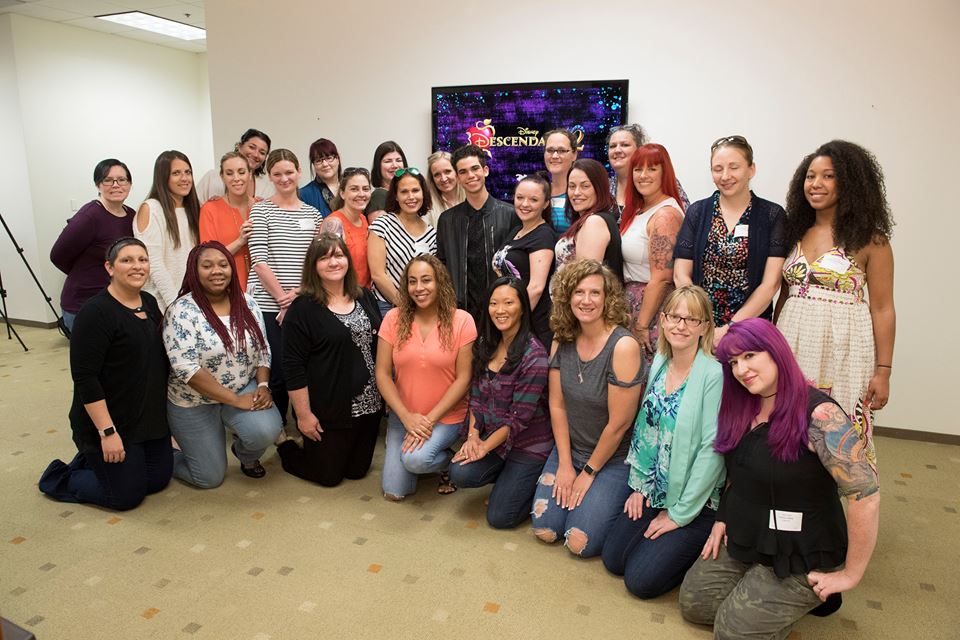 He said he had a feeling because Kenny Ortega was involved and he was coming off of High School Musical, which was a huge success.
Question 3: You have that quick "Hamilton" reference in the film. Are there other musical feels that you guys reference?
"Sure. Kenny is a real student of entertainment in general. I remember on the first movie, he showed us clips from 10 different musicals to get a feel for what he was going to draw inspiration from. There's a little bit of everything really. He showed us everything from "West Side Story" to "Newsies." There were so many different classic musicals that he pulled from to essentially say, "Hey, this is what we're going for." And that was for the first Descendants. For the second one, he kept up with that theme. Just having Kenny on set, you know that you've got to put your best foot forward and really bring it, but it's so fun."
Question 4: Of all the dance sequences that you guys had to do, which one was the hardest and longest for you guys to film?
He told us it was the finale. It took place over 5 really long days. He also said it was his favorite.
Question 5: Did you have any dance training prior to this?
He told us he had been dancing since he was in preschool. He loves to act but dancing is his bread and jam.
Question 6: Between the first movie's choreography and then the second, which was harder? The second one looks a lot more elaborate.
"Well, I wouldn't say the first movie's choreography was harder or more technical but there's a certain mindset that you have to bring because it can be challenging. We go three weeks before we shoot anything just getting into shape. A lot of people aren't dancers, they're just actors, so they have to figure that out and it's really difficult. So you have to really buy in and Kenny asks a lot from everybody. And he expects a lot. He does the important things, whatever he has to do, during the day and he comes back and he's expecting us to have something done. He'll say, "Five, six, seven, eight" and he is expecting us to do something. It can be a little scary at times. But I would say that on the first one I learned how to completely go hands-on and in the second one I was just excited to do that again. You have to be comfortable. On the first one there was a learning curve, but on the second one I was ready to dive into it."
Question 7: What's it like on the set?
He told us they are very much a family and really love each other. They are all very grateful for each other.
Question 8: How was it with new cast members?
"It was amazing. It's so exciting because obviously you want to see what happens to the characters from the first movie but these new characters all bring something that's so special. Everyone is so talented. It's insane. I'm very excited. They definitely blended in with our family immediately. There was no real transition. It felt like, "All right, come on in, let's do it!" It was really cool."
–INTERVIEW WITH SOFIA CARSON (EVIE):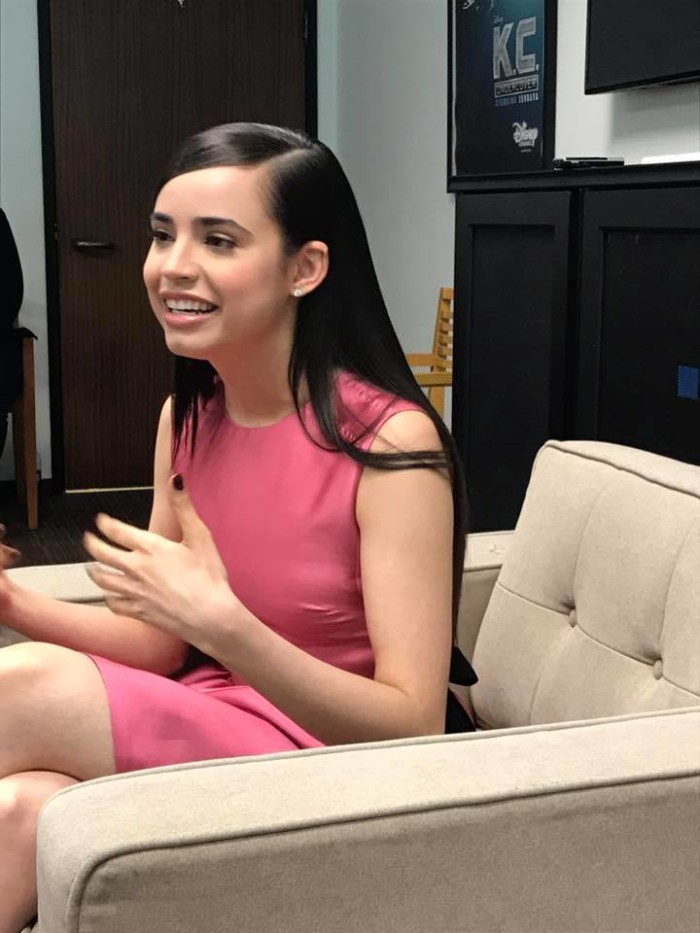 Question 1: How was it going back and filming the second Descendants?"
She told us it was surreal.
"The first "Descendants" was my first movie. It changed my life and I fell in love with Evie and loved being able to tell her story. We've become such a family and working with Kenny and everyone is just always a dream, so when we found out the sequel was green lit, we were just beyond thrilled. It was surreal to return to the characters and to tell their stories and see how they've evolved. The movie is just so much bigger in scope. It's so epic and beautiful and I can't wait for everyone to see it."
Question 2: What is your favorite part out of the acting, dancing and singing that you do in the film?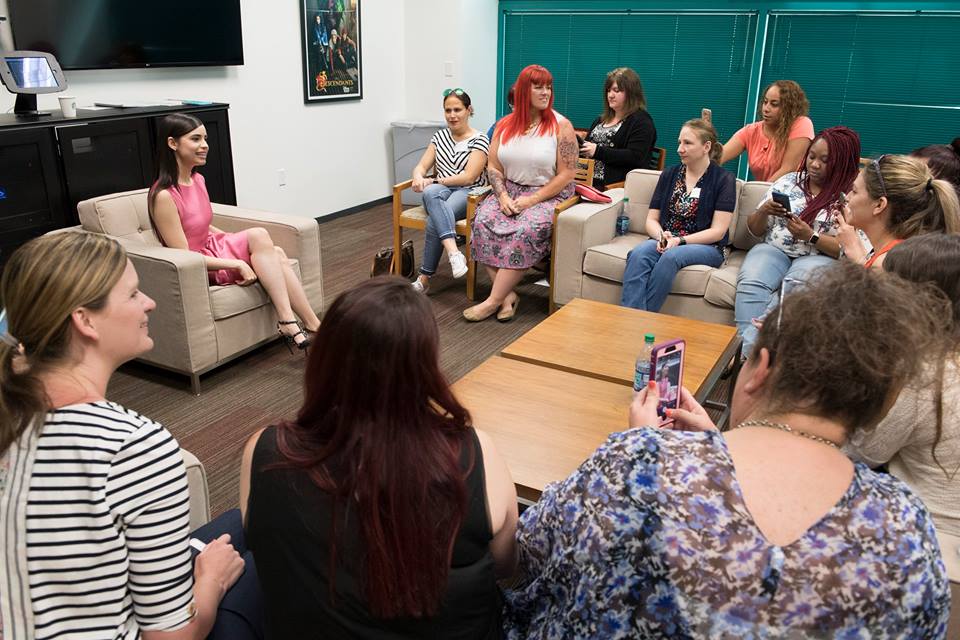 She told us she is a fan of it all as she loves to perform. She fell in love with performing at a very young age. She told us she is so lucky that she gets to do what she loves.
Question 3: What was it like working with the new actors?
She told us it was so cool.
"It's always an interesting dynamic because there was the four of us, the core four VKs, and they introduced these three new, awesome villains. From the very first day, Uma, Harry and Gil were always a part of the family and they really added such an incredible dimension to the film. They're so cool and so wicked. Gil is hysterical. It was a perfect match."
Question 4: Will we see more of Evie's villainous side in the film?
"You'll see a different side of Evie because in the first film, when we met her, Evie was very much her mother's daughter. She was very consumed in what she looked like and she was sadly willing to believe that her reflection in the mirror is what defined her as a person. At the end of the movie, she realized that as girls, our looks do not define us. That doesn't make us more important or beautiful or special. It's who we are in our hearts and to be the fairest of them all is to be fair inside. In the second movie, Evie has really grown into herself. She is strong and independent. She's smart. She's a fashion designer. She has made her dream come true without a prince and she's become a leader. At the same time, her best friend Mal, who is like her sister, is lost and really confused. Their relationship is really beautiful and important and it's a story of girl power, which I love."
Question 5: What is it like for you when you see fans wearing Evie-inspired costumes?
She told us that there is no feeling in the world that compares to it. She told us she has been very lucky to travel the world with this film and do press for it. She loves seeing the little girls wearing Evie costumes.
"Whether she's speaking Spanish or French or Portuguese, it's so impacting to see how far this movie has traveled and how many lives, how many little girls it can impact. I've had a really beautiful experience. I like to go to the Children's Hospital as much as I can. My sister and I went to the hospital for Halloween and I was dressed as Evie. I met a young girl was suffering from sickle cell anemia and she spoke to me about Evie in ways that I never even knew and in dimensions that I had never even considered. Hearing what Evie taught her and how she felt connected to Evie was the most incredible experience and I think this is why we're so lucky to do what we do. Yes, I get to dress up every day and sing and dance, but to be able to tell stories and have them impact young girls like that, that's why I feel so lucky to do what I do."
Question 6: Does fashion play a big part in your life?
She told us she loves fashion. She told us in Descendants 2, Kenny wanted to see a lot of her real self in Evie.
"In Descendants 2, he really wanted to see a lot of me in Evie's wardrobe because I tend to gravitate towards things that are very feminine and classic, but with an edge, but always very classic. He wanted to see that in Evie and I love that so much. I love icons like Audrey Hepburn and Grace Kelly, just that sense of timeless, feminine fashion."
–INTERVIEW WITH DOVE CAMERON ( MAL)
Question 1: What was it like getting back into the role of Mal? What was different from the first movie?
In the first movie, Mal never had anyone growing up and she couldn't ever really find her footing with the one person that she did have to rely on, her mother, Malificent. So she learned to rely on herself. In the second movie when they pick back up, she knows what it feels like to be authentically loved and to have a space held for her to be supported.
"Just like any other human, you gravitate towards whatever you're used to, and so she has no idea how to deal with that. It's almost impacting her negatively, because she's thinking, "Oh, I only know how to build up my walls. I don't even know how to function without my walls." Now she has to start over and find out her authentic identity for the first time in her life. Throughout the movie she goes through a lot of incarnations of what she thinks Mal is, and doesn't really find herself until the end. That was a weird experience for me as an actress, to feel like I knew the character really well, and then to lose her as she's losing herself, and then to find her as she finds herself."
Question 2: Is there anything that you brought from your own self into the film to help you with the changes, and dealing with that? Did anything from your personal life to help you with the stuff that Mal was going through in finding herself?
"As an actor, I do that as much as I can in every role, but Mal is my ride or die. I fell in love with her when I read the "Descendants" script back in 2013. Disney Channel didn't tell me anything. They didn't say, "We're going to set up an audition." It was more like, "Will you read this and tell us what you think?" I had an emotional, visceral response. I said, "She's my girl!" because I related to her so much. Even though all of the characters and Mal are in fantastical circumstances, their experiences are very relatable. A lot of people, a lot of kids, and a lot of adults who were once kids don't always have an easy home situation. That was something that I had such a lovely time with, for myself psychologically and also as an actor, to inject pain into an experience that we all share. This is a movie for children, and so we have to ride that line between communicating and relatable messages, but still keeping it light. That was challenging and interesting for me, and I did bring a lot of things I felt like I lacked from my own childhood. It definitely helped keep Mal real. It also helped me as a human to explore somebody else's issues, and to fix my own at the same time."
Question 3: What would you want kids to walk away with, the number one message after seeing this movie?
Dove told us one of her favorite storylines actually isn't her own, it's Lonnie's. She has this beautiful, empowering message for girls that gets her every time she see the movie. In terms of the whole movie, there's a beautiful synergy between the fact that the whole cast has been having this yearlong love affair with each other. They are there for each other in a sibling-like, familial way and it translates to the film. It projects a message of togetherness, of banding together, of supporting people that you love. She told us they are encouraged to be their own island. Especially with things like social media, they all have their own brand and image, and that's what's taught. There's not one character that doesn't go through some weird arc where they're much more fully formed and healthy. She told us the overarching messages would be the importance of help, togetherness, support trust.
–INTERVIEW WITH KENNY ORTEGA, JOSANN MCGIBBON AND SARA PARRIOTT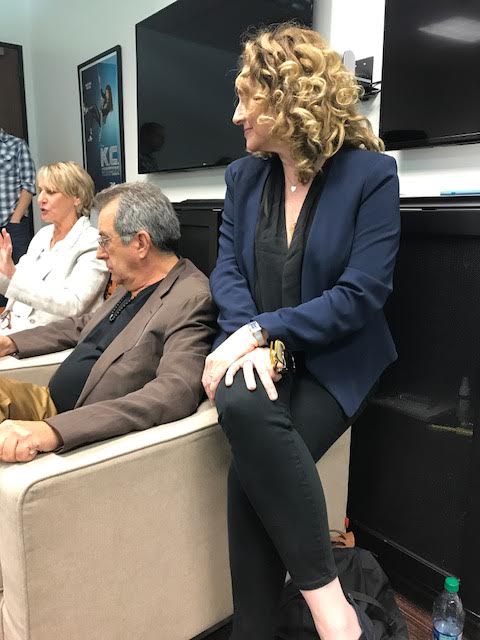 Kenny Ortega told us the writers are the one responsible for why he is where he is today on this film.
"Sara and Josie, who have created "Descendants" and who wrote both the first and second movies, really deliver. It's feature work, and the kids and myself, all of us, everyone, the production designers, choreographers, music people, we get so much out of what they place there. It gives us permission to travel in the capacity that we travel in, to adventure, to journey, to play, to take chances, to sing and to dance and to develop these characters. It all starts right here with the writing and we're so appreciative."
He also told us in this film above anything else, that they are going to have the ability to reach a far greater audience, a more dynamic range of audience. He told us they really have a movie that is family entertainment, focused on their core audience, your children. It evolves, it develops, and now looking at it, he says he is so entertained by it.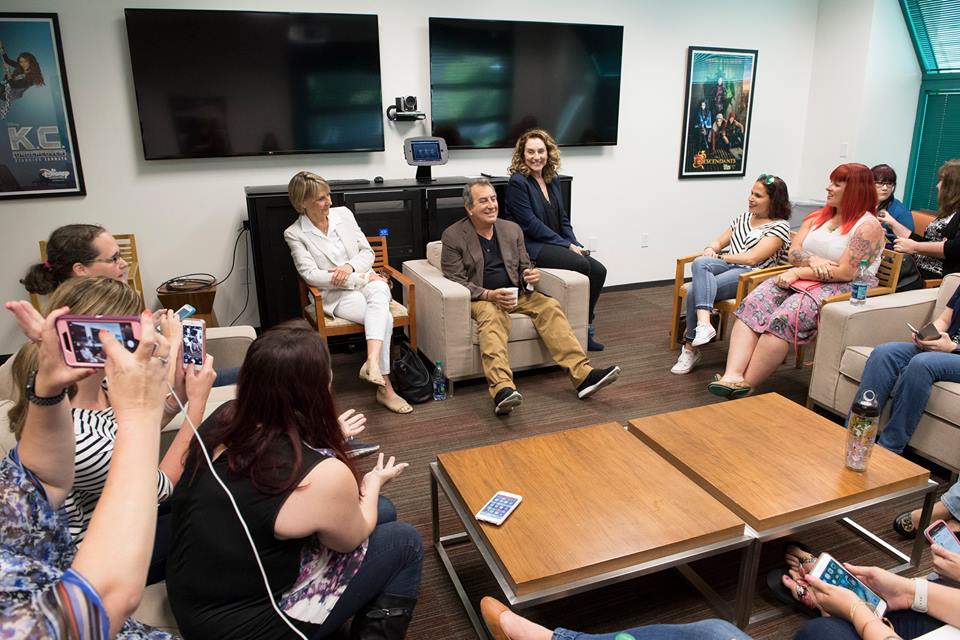 Josie and Sara both said they are so proud of it!
"Not just because I directed it but because it entertains me. I laugh and I'm moved and I'm touched, and I think the big surprise here is that the Disney Channel has a movie for everyone. "- Kenny
"The movie makes me cry every time and I've seen it 300 times."- Josie
Both writers said they pull from many different movies and shows when they write, such as Hamilton. They also love that the music is so fresh and that was exciting for them. Kenny allowed them to be in the whole process which is thrilling for them.
"Sometimes you're not involved but Disney and Kenny and Wendy want us to be involved, and it was fun just to be in the room where they're picking the songs. They have these wonderful writers coming in and doing songs and we're all sitting there. There will be a song that just pops out and you're saying, "Oh my gosh, I love it!" But you have the input into it because the songs are part of the story."-Josie
"Yeah, I have input. The lyrics are tweaked a little bit to carry the song along. But it was thrilling for Josie and me to be in those rooms and just be part of that process of picking a song. And I just love the music in this one. I love it."- Sara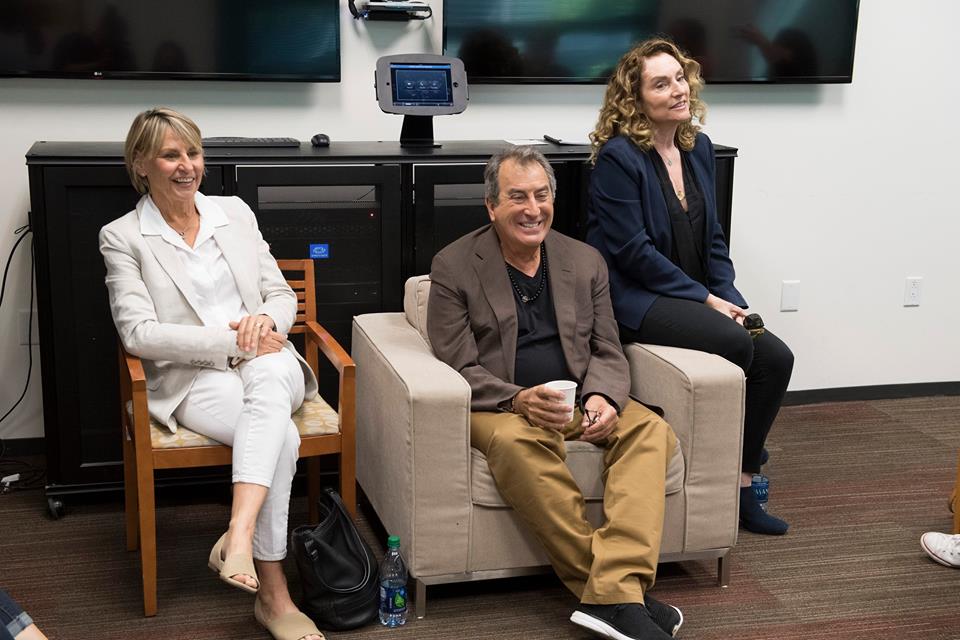 Kenny then talked about his experience with Jane Goodall.
"It's so interesting. I just had the most amazing experience. I got to talk with Doctor Jane Goodall, the scientist of primate behavior, who is now going way beyond saving the primate species for the planet and for our future generations. She's now an activist, out there doing everything she can to leave a legacy. She talked about how important it was for her that she gave up something that she really loved for something that she felt was more important. She was not serving herself but serving a greater idea, which was that in order to save a species you have to enlighten the people that live with the species. She put the legacy of it all, which was what I left with that day. It made me audit myself and think about what it is that I do. What I try to do always in my life and have for a long, long time is to make good choices. Entertaining people with fireworks and color and dance moves has never been something that I've been interested in. I've always been interested in those stories that are layered beneath the dance, beneath the words or beneath the music. And my choreography is always storytelling, and so there's a story that is living inside of all that movement. I hope that my legacy one day would be that I told good stories and that they were important stories, and that there were some good stories through my choreography."- Kenny
The female writers told us there's a goodness that shines through in Kenny's work and in the "Descendants" franchise, a hopefulness and mutual respect theme. They told us it is very inclusive and it's very optimistic and they told us they think that encourages kids.
They then talked about the new characters and they are all so glad to have them on board. They are very hopeful the audience will love them! Seeing the small clip we saw that day, we indeed love them!
–INTERVIEW WITH BOOBOO STEWART (JAY):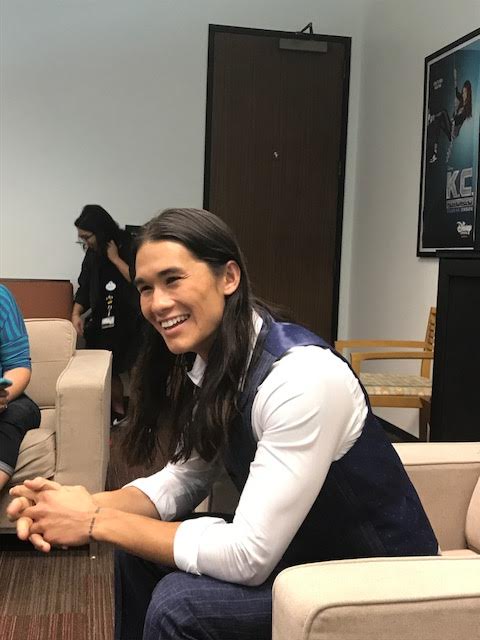 He started out that he was excited to continue on as Jay in the second movie.
We started out talking about about the new music video, Ways to be Wicked. He told us it was very hard to film that because they didn't use real apples to rehearse.
He told us they used tennis balls and things like that.
Question 1: Comparing "Descendants 2" to the first movie, how was the difficulty level? Did you find that you had to prepare yourself more?
He told us physically this movie was more demanding. The first movie was more of a mental challenge and this one is more physical.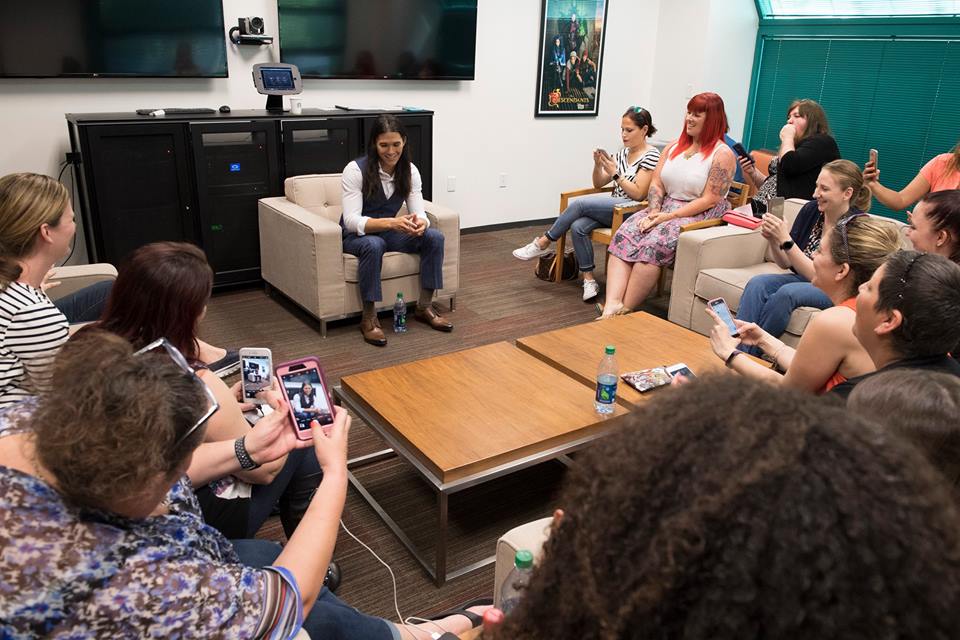 Question 2: There are a lot of lessons in this movie. What do you feel like was your favorite lesson that the audience sees?
"For Jay, specifically it's the ability to change. There's a really nice, subtle storyline that he has with the character Lonnie. He's the captain of the Swords & Shields fencing team and it's in the rule book that it's a guy sport. Lonnie shows up and pushes him to let her be on the team. As far as rules go, Jay has to decide between sticking to tradition or breaking the rules and being kicked off the team and losing his title. So he has to accept change and his decision there is a nice storyline.
Question 3: That's awesome. With that said, what would you like young boys to take away from your "Descendants" world?
"I feel like this lesson is touched upon the first film, but even more so in this film. Young boys are very competitive and they want to be the best. And Jay, in the first film, is a typical guy. He wants to be the best. Just having an open mind is such a different, rare thing for a young boy to have. So I'd like it to not even be a question that young people should have an open mind. It just should be how it is. Jay's opening the door for the people to follow. I want to make sure young boys come out of it with more of an open mind."
Question 4: Of all the musical numbers in the film, which one is your favorite?
He told us it is Chillin' Like a Villain.
" It's just really great. We had a great time shooting it. I say that we had a great time because it was actually a disaster in the best ways possible. It was a beautiful disaster! We were filming outside and it was not supposed to be a tsunami. Along with the wind and the rain, it was brutal, but you can't tell when you're watching it. I can't help but smile watching, not just because of the song, but because of the energy that's given to the performance."
Question 5: In what ways are you like your character?
"He's very active physically, and I'm a very active person myself. I just got into climbing and I do martial arts. Every other day, I'm training in martial arts. I like hiking and camping. But I know we are both very active."
Question 6: How do you handle that sort of attention you get? Because I sense that that's not something that, that you are really vying for.
"I don't know! From past films that I've done, I understand how to handle the attention. I've been around the industry from such a young age that I feel like I know how to handle it. I know who I am, so I try not to let that affect me, and I have friends and family who can tell me when it's gotten to my head just a little bit. They'll say, "Reality check here!" I think it's really important to surround yourself with people who you know are your true friends. You can have friends that know you through things that you've done. But we just have to engage and really know who your friends are who will bring you down to that level where you can be down-to-earth. It's really easy for fame to go to people's heads, and I see it happening. I see people go up and up in popularity and when it's over, when the attention isn't there anymore, that's when you have people fight. They go off the deep end, or you feel like you should be looked at a certain way. People forget about celebrities super fast. As quick as they love, they just as easily forget. So it's very important to know that this is something that will not be around forever and just enjoy the time that it is here. I'm happy that I'm able to be part of it. But I know that I probably won't get to be in "Descendants 10!"
–INTERVIEW WITH CHINA ANNE MCCLAIN (UMA)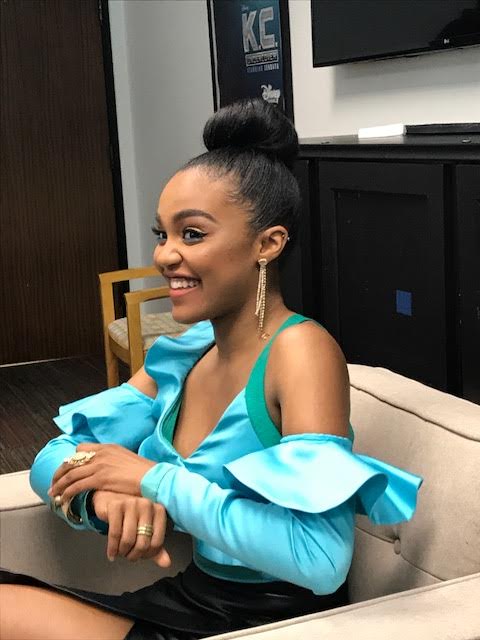 Question 1: What is it like joining the cast of "Descendants?"
She told us joining the Descendants was very surreal for her. She said it was such an honor because everyone loved the first film and she also loved it.
Question 2: How did you feel about being Ursula's daughter?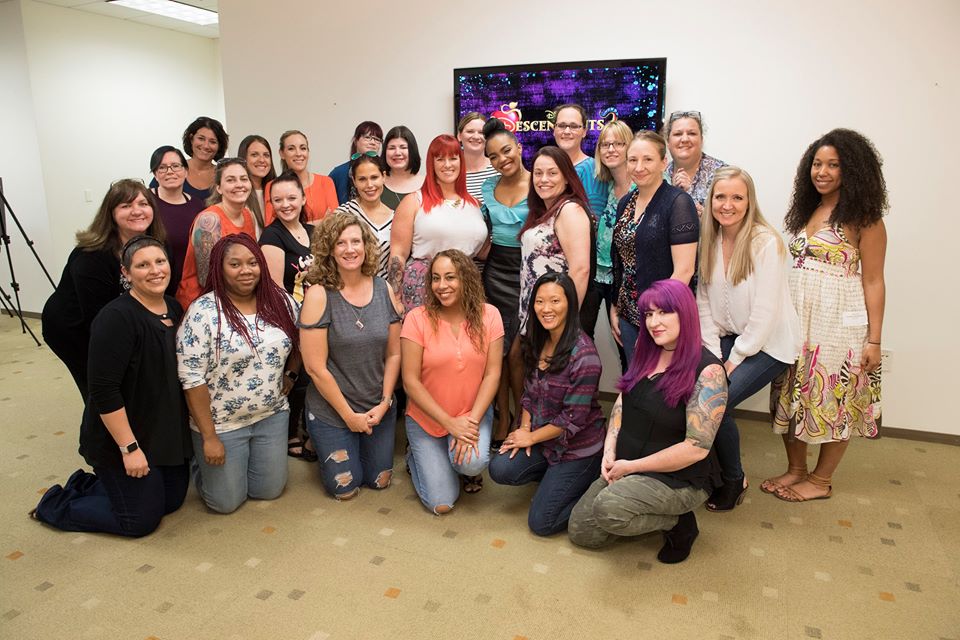 She told us she loves it because Ursula is one of her favorite movie villains. To prepare to film, she watched The Little Mermaid at least 20 times and observed all of Ursula's mannerisms.
Question 3: What was it like to be a villain?
She told us it is a cool to play a villain. She told us that we all have those feelings inside that we want to unleash on people sometimes. That was what it was like to play Uma. She had these bottled up feelings that she randomly unleashes on people.
Question 4: Your hair is so cool in this movie. Was it a wig?
"They braided the perimeter of my head in the back and the rest of it was a wig. They braided all of this with teal extensions and I walked around for the length of shooting with these braids. It was really cool and it was quick every day. You would think it would take a really long time, but they just slipped the wig on and put the hat on."
Question 5: What was it like working in those awesome, crazy costumes?
She told us it was difficult working in the costumes because she had a skirt and heels on and the braids/jacket was very heavy. She rehearsed for the three weeks prior to filming with her costume on.
Question 6: What was the biggest challenge playing her?
"I think the biggest challenge playing Uma was probably making her relatable and trying to make her likable because you can't mess with the VKs. The fans love the VKs and I see why because in the first film they are really, really good and they connected with a lot of kids. So, just making kids not dislike her and helping them be able to understand her was probably the biggest challenge.
Question 7: What was it like working with the legendary director choreographer Kenny Ortega?
She told us Kenny is a genius and he is so patient. He doesn't settle for anything less than their best. He will push them till they give it their all.
Question 8: What were the dynamics like on set? Any pranks or any good stories you want to share?
"I've known Cameron Boyce, fun fact, since he was nine. We're always picking on each other and playing pranks on each other. He and Booboo Stewart have the coolest relationship ever. They're really close, and a lot of the original cast and the new cast got close so quickly. It was like there was no difference between us. It felt like we'd worked on the first film, too. That's how comfortable they made us feel. So that was really cool."
BE SURE TO WATCH DESCENDANTS 2 ON JULY 21ST ON ABC, Freeform, Lifetime, Disney XD, and Disney Channel.