Happy weekend everyone! I am sorry I didn't post last week but I was in LA for the Cars event, and it slipped my mind.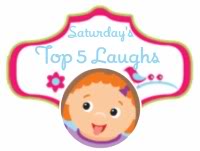 As always, come link up any cute or funny post. Definitely check out the other blogs who link up as they all provide a great laugh. Feel free to take my button or share on social media, although this is not necessary, just appreciated.
MY TOP FIVE LAUGHS:
5. Taylor knows how to climb out of her crib so I told her we will change her to a big girl bed. She says "No mommy.. I am not leaving my crib! I won't climb out again!" Okay Taylor!
4. Zane is so proud when he is the star of the day at school. He likes to sit down with me and tell me every single thing he did that day as star of the day. It is quite cute!
3. Hayley is miss little grumpy in the morning, as is her mom. She tells me, "Mom..I need to snooze a few more minutes!" Girlfriend, go to bed earlier!
2. Taylor's curls are so awesome this time of year. With the heat, the curls come out!
1. First and Last School Day for My Baby Girl!
YOUR LAUGHS: