Doing chores is something that can and does easily turn into an exercise in frustration – and often times, yelling. My kids are great. I love their spirits and intelligence and go get 'em attitude. Unfortunately, those attributes don't always show themselves when it comes to getting their chores finished. These days, I'm trying to encourage my kids instead of yelling or threatening to try to make doing chores something they'll want to do instead of something I have to threaten them into doing.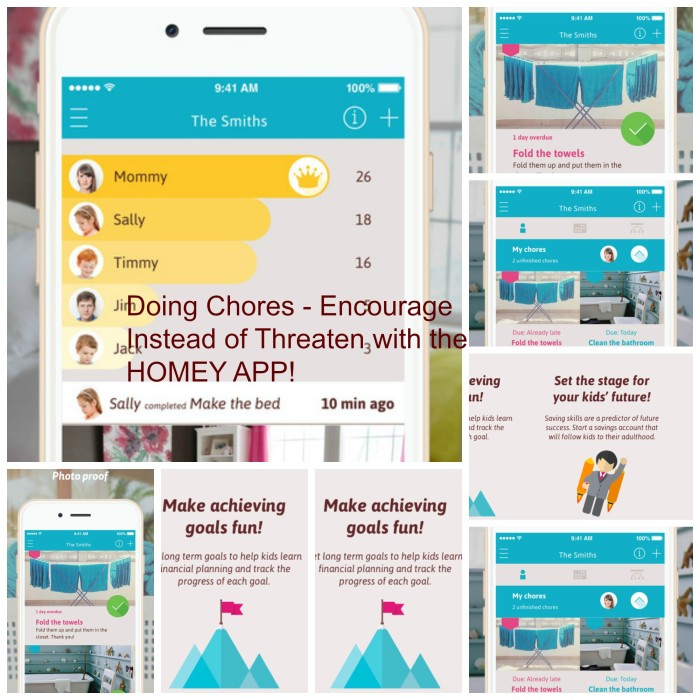 Make Doing Chores Exciting, Not Boring with Homey
Like anything else in life, doing chores requires incentive. Even the best kids (like mine, LOL) have a tendency to drag their feet when it comes to chores. I get it. They're young and full of energy, and chores are just SO boring. Nobody likes to clean. Well, some people do, but they don't live in this house. So how the heck can we make doing chores something the kids are excited to do and do well?
I'm glad you asked, reader. We can make chores something the kids do without a fight with Homey. This app. You guys, this is my favorite app in the history of apps. More than travel apps. More than money saving apps. More than educational apps. Homey is fantastic! It's an app that brings mobile technology to chores and the rewards and /or allowance the kids get for doing them. It allows us to get kids excited about doing chores while teaching them the real world value of work and how to manage their finances and time. It's AH-mazing. Here's how it works.
Homey is a Parent's New Homey
Homey is more than just an app that lists what chores need to be done by the kids. With this app, parents easily set chores to be completed by taking a simple picture with the phone. The kiddos get messages telling them when the chores need to be done so there are no excuses like, "You didn't tell me" or "I didn't know!" Of course, as you'll find out soon, your kids will NOT be trying to get out of their chores with this app.
When the chores are all finished, the kids take their own picture of what was done to ensure that we parents can see exactly what they did and if they did a good job. I like to think of it as turning in their homework or a work project. Every chore is worth a certain amount of in app currency called coins. These coins can be used towards whatever rewards we parents set for doing chores. It can be anything: game time, allowance, or physical money which they can choose to claim or bank to save up for something bigger that they really want. It's a FANTASTIC way to teach them about work, money, savings, and accountability. And what's even cooler is that with their latest update, Homey actually allows parents to transfer allowances directly to their kids' bank accounts!
Doing Chores Teaches Valuable Life Lessons with Homey
Homey is one of the best apps I have ever used. Not only does it make doing chores without a fight a reality, it also teaches kids about the value of work, how to complete projects on time (good for school and work), and how to manage their money. I've been using it for about a week now, and it's been a total game changer. Head over to the Homey website and get this awesome app on iTunes and Google Play today.
*This is a sponsored app review. All my opinions are my own and not swayed by outside sources.*