*Disney/Marvel provided me an all expense paid trip to LA for this event. All my opinions are my own and not swayed by outside sources.*

Guardians of the Galaxy Volume 2 opens today and I can tell you from watching it, you DO NOT WANT TO MISS THIS ONE!! It has such wonderful themes of family and the music is outstanding! If you want to see more about the movie, check out my review: #GOTGVOL2.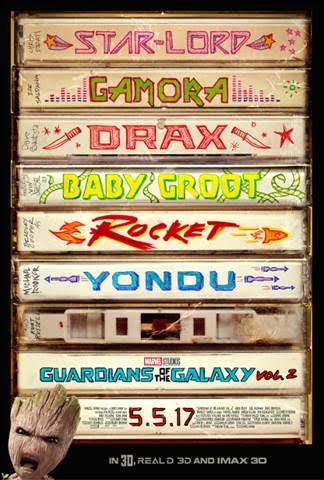 With the movie opening today, there is tons of wonderful merchandise that goes along with this movie. While in LA last month, we had the chance to visit the #GOTGVOL2 official merchandise room at the press junket, and I can tell you there is something for everyone.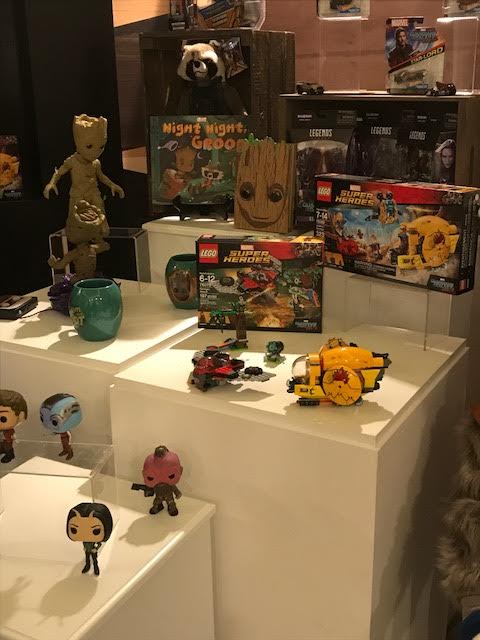 TIME TO GO SHOPPING:
1. My favorite item is Rock N Roll Groot. I keep this in my bedroom because I love it so much. Zane tries to steal it but Taylor tells him, "It is mommy's toy!" She is right! I love pressing the button and dancing along with Groot every night!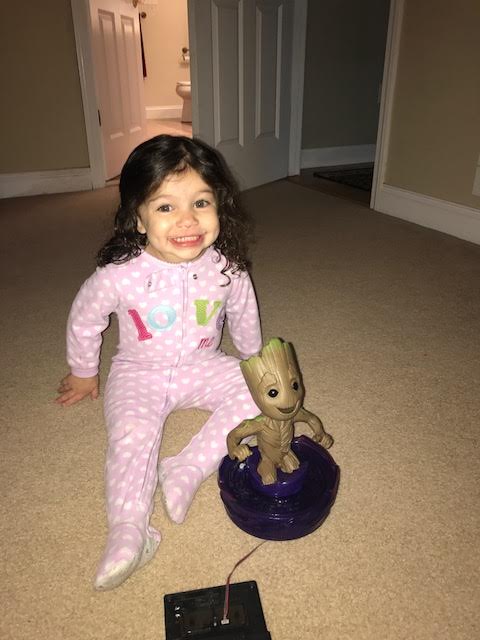 ABOUT ROCK N ROLL GROOT:  Groot dances to music from Guardians of the galaxy Vol. 2! 2 modes: free dance lets you control Groot, and Groove mode Let's him do his own moves to any song. Groot can even get back upright after dancing on his side! "Shout out" button triggers 4 different "I AM Groot" phrases
2. Star-Lord Mask:   Imagine gearing up like Star-Lord with this out-of-this-world Star-Lord mask! Kids can pull on the mask and imagine blasting into intergalactic battles with a rag-tag teams of guardians that might be more than the galaxy can handle. Mask fits most heads. Superpowers not included.
3. Star-Lord Elemental Blaster:  Gear up like Star-Lord with the Star-Lord Elemental blaster! The Star-Lord Elemental Blaster boasts 3 unique blasting settings with different lights and sound effects that just might pack enough galaxy-saving dominance to shut down the bad guys. Rotate the blaster to access new elemental modes, including Water, Fire, and Electricity.
4. 6-inch Legends Series Figures:  Assemble a rag-tag team of misfits from Guardians of Galaxy with the Marvel Legends Series! With the Marvel 6-inch Legends Series, both kid and adult Marvel fans can start a legendary collection of comic- and movie-based Marvel characters. This 6-inch Star-Lord figure is highly articulated and features a movie-inspired design, making it an epic addition to any Marvel collection. 
5. Groot Journal:   Let your imagination do the talking and jot down your brilliant ideas in this notebook inspired by Groot from Guardians of the Galaxy Vol. 2. It comes with a galaxy of pages and a handy little bookmark so you never lose your place!
6. Sound Machine: You'll be in tune with Star-Lord and the rest of the Guardians of the Galaxy with this cool Sound Machine. Inspired by the "Awesome Mix" cassette tape in the original, this features cool sound effects and music at the touch of a button.
7. Water Bottle: The local landfill will be thankful when you upgrade from disposable bottles – this one holds 25-ounce, and is made of durable, shatterproof Tritan(T) for long-lasting utility. It fits in most car cup holders and has a built-in carrying loop in the lid, so it's easy to take anywhere you go. The bottle has a wide mouth that fits ice cubes for cooling down on hot summer days. With an extremely clear surface that won't craze over time, it's effortless to see the beverage inside. The lid is made of high-impact ABS plastic, with silicone inserts over the spout and vent to make it watertight and leak-proof. The cap flips open easily and locks in place, so it won't swing around while you're drinking. This bottle is entirely BPA free and top rack dishwasher safe. Do not microwave. Recommended for children ages 12+.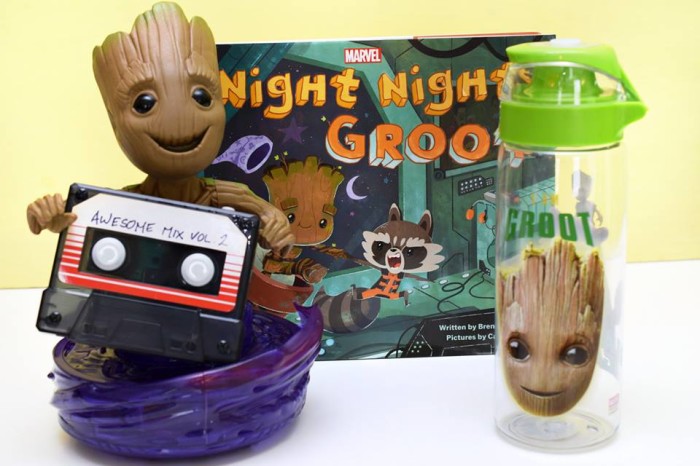 8. Night Night Groot Book: A 32-page bedtime picture book told through the eyes of Marvel's lovable characters Rocket and Groot. It's been a long day for baby Groot and he's ready to be tucked in for bed. Just as his eyes start to close, Rocket Raccoon bursts onto the scene! Groot can't go to sleep yet, there's a whole galaxy that needs to be defended and they must work together to save the day! Then maybe, just maybe, Groot will finally get the rest he deserves! 
9. Reusable Tote Bag:  With help from the Guardians of the Galaxy, shopping has never been better. Grab all of your essentials and toss them into this recycled tote bag designed to make your next retail excursion easy-peasy.
10. Funko POP:
a. Funko POP Star-Lord
b. Funko POP Gamora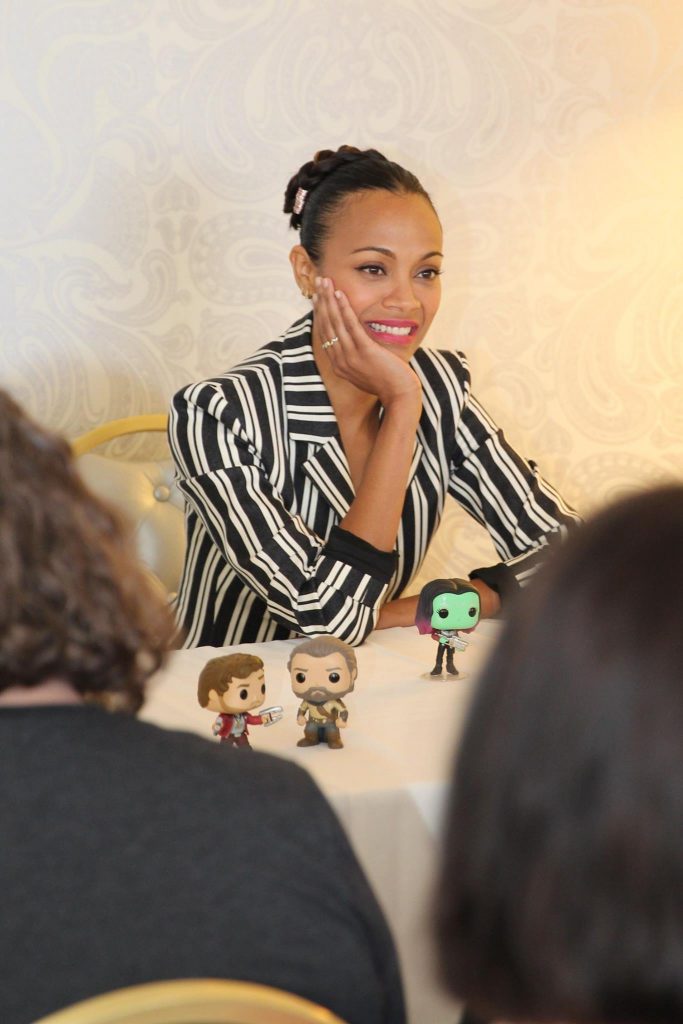 g. Funko POP Ego