Happy weekend everyone! It is finally going to be gorgeous out so enjoy!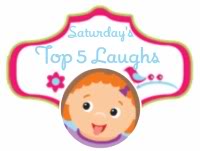 As always, come link up any cute or funny post. Definitely check out the blogs who link up as they all provide a great laugh. Feel free to take my button or share on social media, although this is not mandatory, just appreciated.
MY TOP FIVE LAUGHS:
5. Taylor is fully potty trained now. YAH! She gets so proud to go to the bathroom herself. She tells us she is such a big girl. I love her!
4. On the topic of going to the bathroom, Taylor wants zero help using the potty. She is little miss independent. When I tell her I can help she says, "Mommy..I pendent!" I think she means she is independent.
3. Hayley is off from school next week. She told me it is the most favorite week of the year being on vacation LOL!
2. Zane loves to watch Yo Kai. He is obsessed. The other night I heard a noise at 3 AM. It was him watching Yo Kai. He told me he couldn't sleep. I need to take away that computer LOL!
1. Taylor loves to do everything her brother and sister do. When I ask her if she needs help her response is, "Mommy.. I just as big as Hayley and Zane!" Okay Tay Tay if you want to think that!
YOUR LAUGHS: