*Disney/Marvel provided me an all expense paid trip to LA for this event. All my opinions are my own and not swayed by outside sources.*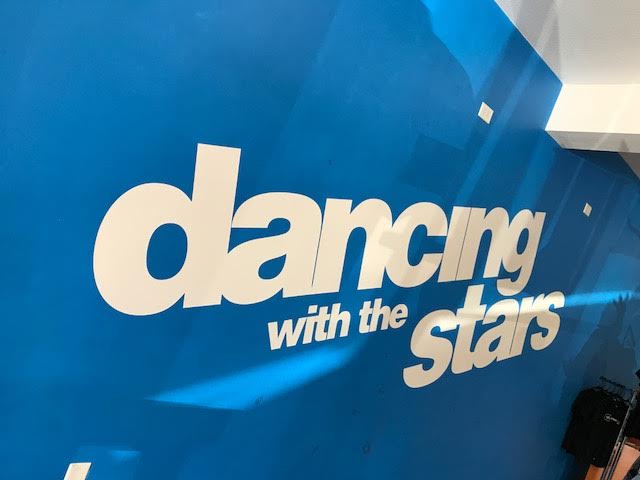 23 seasons I have tuned into Monday nights at 8 PM EST for Dancing with the Stars. Now Season 24 just started on March 20th and honestly it is better than ever. Being a big Dancing with the Stars groupie, I was ELATED when I found out when we would be actually dancing with the stars at the #GOTGVOL2Event in LA. When I heard we were going to be dancing with the one and only professional troupe on Dancing with the Stars, I may have squealed in excitement.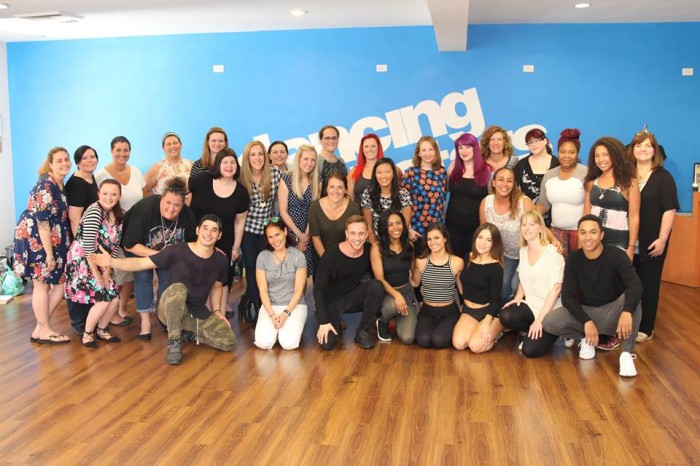 The moment arrived last Wednesday when we visited the 101 Dance Center in Universal City, California which is where a lot of the professionals and celebrities train for the shows. When I stepped foot into the city, I immediately noticed the Dancing with the Stars sign which made me giddy like a school girl! Being obsessed with the show, being able to meet the dancers and actually dance was a dream come true.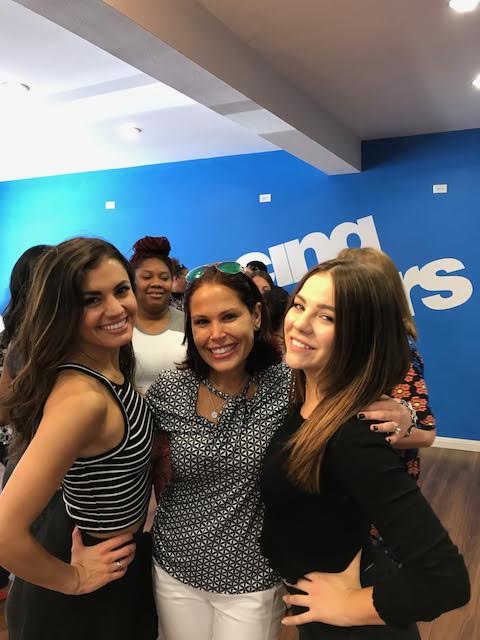 Immediately we were introduced to the "Dancing with the Stars" Troupe members  Alan Bersten, Brittany Cherry, Britt Stewart, Hayley Erbert, Brandon Stewart and newest member Artur Adamski. The troupe is a group of immensely talented dancers who perform on every episode in special dance bits and as back-up dancers with the celebs & pros. We started out taking a lot of pictures with them because this is the actual troupe on Dancing with the Stars that does several numbers a week throughout the shows.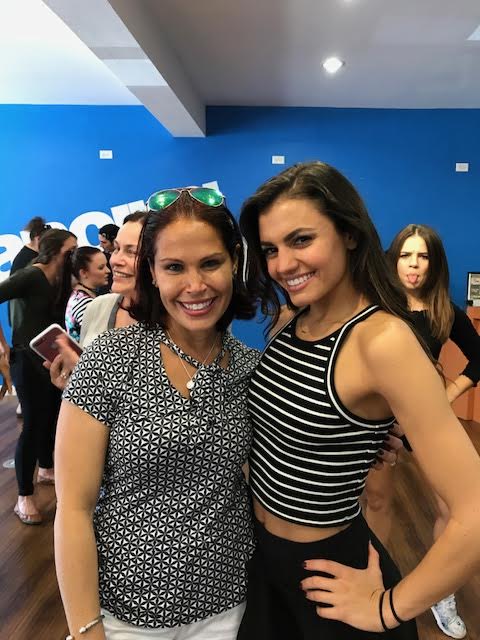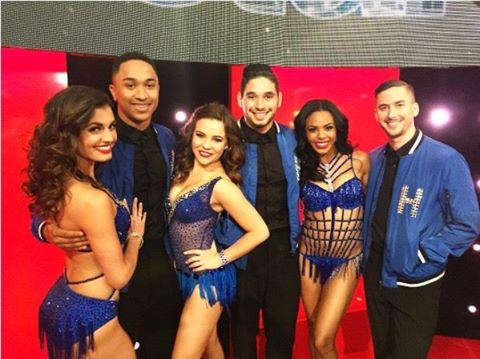 Then we did a question and answer with them where Alan Bersten took the reigns and rounded up the troupe to tell us about their schedule. First to note,  Alan Bersten was hysterical! You may have recognized him as the fill in for Maksim Chmerkovskiy when he was injured.  Everything that came out of his mouth that day made me laugh. Each of them told us about their experiences with Dancing with the Stars and how much they truly love it. You can tell that they are one big family and while this is a job, they are doing it because of their intense passion and love for dancing. It was so refreshing to see these young dancers and how supportive they are of each other. They all have danced most of their lives and they are honored to be on such a prestigious show.

Then it was time to actually dance with them! We broke into small groups and learned a small routine to compete against each other. My leader was Artur Adamski who actually just started on Dancing with the Stars last week. He was scheduled to start at the beginning of the season but with some international travel issues, he is grateful that he is now on the show and will be a regular troupe dancer. He is AMAZING!!! To see him shake and shimmy made me in awe of the true talent these dancers have. You see it on television but to see it in real life, takes it to another dimension.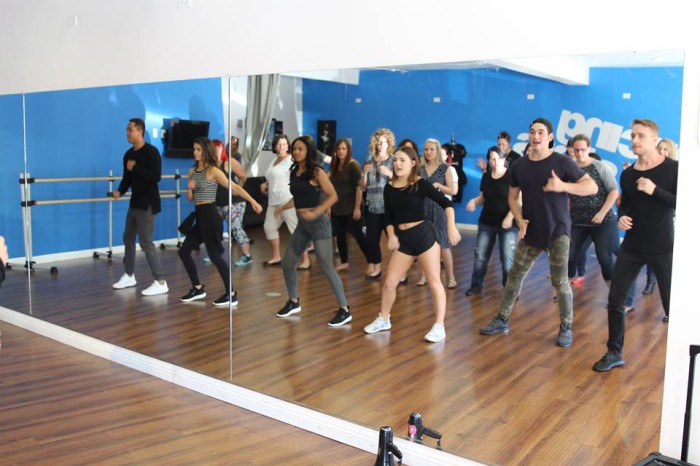 I learned my moves and while I am definitely not a dancer, I think I did okay! Did we win? I am not sure but I am going to walk away with a yes that we won LOL! It was so awesome dancing with our group and our leader, Artur. He is one of the nicest guys too, talking to him for a good half hour about his passion and love of dancing. He has many accolades throughout his dance career and I am sure we are going to see a lot of him in the future.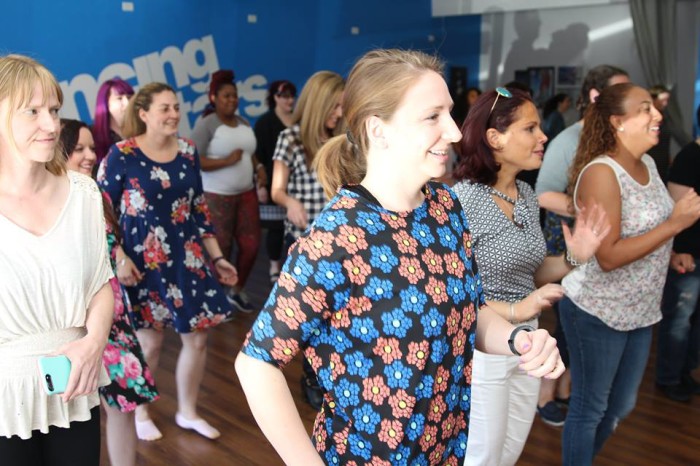 Here is a small bit of our dance routine: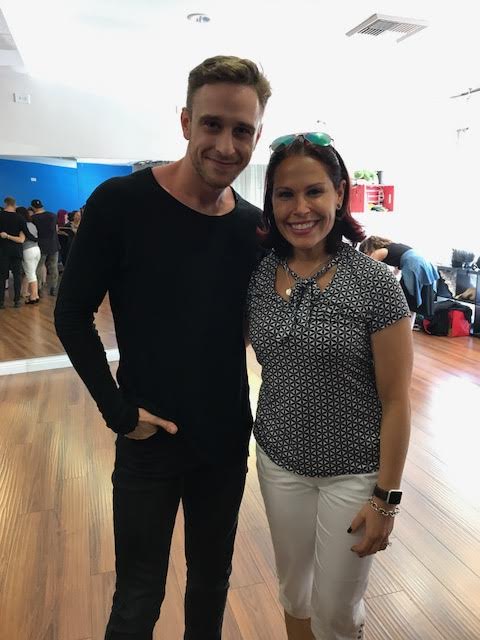 Be sure to tune into tonight, April 24th at 8 PM EST on ABC for a brand new Dancing with the Stars episode.
THE EIGHT REMAINING COUPLES DANCE TO SOME OF THE MOST ICONIC SONGS FROM FAMOUS BOY BANDS AND GIRL GROUPS THROUGHOUT MUSICAL HISTORY, ON 'DANCING WITH THE STARS,' MONDAY, APRIL 24
The Celebrities Compete Against Each Other in Team Dances – Men vs. Women
Backstreet Boys' Nick Carter Is a Guest Judge
Maksim Chmerkovskiy Returns to the Ballroom Floor
One Couple Will Be Eliminated at the End of the Night
"Episode 2406" – The eight remaining celebrities will dance to songs from some of the most popular boy bands and girl groups throughout history, and the men and women will also compete against each other in team dances, on "Dancing with the Stars," live, MONDAY, APRIL 24 (8:00-10:01 p.m. EDT), on The ABC Television Network. Backstreet Boys' Nick Carter joins Len Goodman, Bruno Tonioli, Carrie Ann Inaba and Julianne Hough as a guest judge.
Some of the iconic boy bands and girl groups, whose songs will be danced to, include Simone and Sasha performing a samba to Destiny's Child, Bonner and Sharna dancing a rumba to Backstreet Boys, Nick and Peta jiving to The Beach Boys, Normani and Val dancing a salsa to The Pussycat Dolls, and David and Lindsay performing an Argentine tango to *NSYNC, among others. Also, after being injured, Maks makes his return to the ballroom floor, where he and Heather will perform a rumba to TLC.
To add some spice to the competition, it's Team Dances with men vs. women:
TEAM BOY BAND
Bonner Bolton, Nick Viall, David Ross and Rashad Jennings will dance to a medley of "Dancing Machine" by Jackson 5, "You Got It (The Right Stuff)" by New Kids on the Block and "Best Song Ever" by One Direction.
TEAM GIRL GROUP
Simone Biles, Nancy Kerrigan, Normani Kordei and Heather Morris will dance to a medley of "My Boyfriend's Back" by The Chiffons, "No Scrubs" by TLC and "BO$$" by Fifth Harmony.
Each celebrity will perform a samba, rumba, tango, paso doblé, salsa, Argentine tango or jive. At the end of the night, based on scores and votes from last Monday, one couple will be eliminated. Each Couple Will Dance to the Following Songs (in alphabetical order):
Simone Biles & Sasha Farber – Samba – "Survivor" by Destiny's Child
Bonner Bolton & Sharna Burgess – Rumba – "I Want It That Way" by Backstreet Boys
Rashad Jennings & Emma Slater – Tango – "Reach Out, I'll Be There" by The Four Tops
Nancy Kerrigan & Artem Chigvintsev – Paso Doblé – "Free Your Mind" by En Vogue
Normani Kordei & Valentin Chmerkovskiy – Salsa – "When I Grow Up" by The Pussycat Dolls
Heather Morris & Maksim Chmerkovskiy – Rumba – "Waterfalls" by TLC
David Ross & Lindsay Arnold – Argentine Tango – "I Want You Back" by *NSYNC
Nick Viall & Peta Murgatroyd – Jive – "Fun, Fun, Fun" by The Beach Boys
Hosted by two-time Emmy-winning host Tom Bergeron and Erin Andrews, "Dancing with the Stars" is the hit series in which celebrities perform choreographed dance routines that are judged by a panel of renowned ballroom experts, including head judge, Len Goodman, dancers/choreographers Bruno Tonioli, Carrie Ann Inaba and Julianne Hough.
Don't forget to vote!
For week six, viewers may cast their votes for their favorite couples via phone during and up to 60 minutes after the end of the "Dancing with the Stars" broadcast in each time zone. Online voting at ABC.com at http://dwtsvote.abc.go.com/ and on Facebook at http://bit.ly/2cdE4PL is open for 24 hours, beginning from the start of each episode on the East Coast at 8:00 p.m. EDT/5:00 p.m. PDT and closing at 8:00 p.m. EDT/5:00 p.m. PDT on Tuesday evenings.
What an experience we had that day and now I can't wait to watch the troupe perform their awesome numbers for the rest of the Dancing with the Stars season! TUNE IN!
DANCING WITH STARS AIRS MONDAY NIGHTS ON ABC AT 8 PM EST!