*I work with Summer's Infant. My sister was a blog contributor on this post. All her opinions are her own and not swayed by outside sources.*
Finally! A gate that is steady, secure, fits most stair openings, and looks beautiful. Added bonus for a product that takes less than 30 minutes to install, and doesn't cause major havoc in a relationship!
I had the chance to review the Summer Infant Modern Home Gate, and jumped at the chance. The reason I was so excited was because I had the most difficult time finding a gate that was sturdy and looked good in the house. Once my toddler Alexa was running around the house, I knew it was time to find a gate. I usually do a lot of purchases online, but I was having a hard time finding a nice gate online. The reviews were dismal.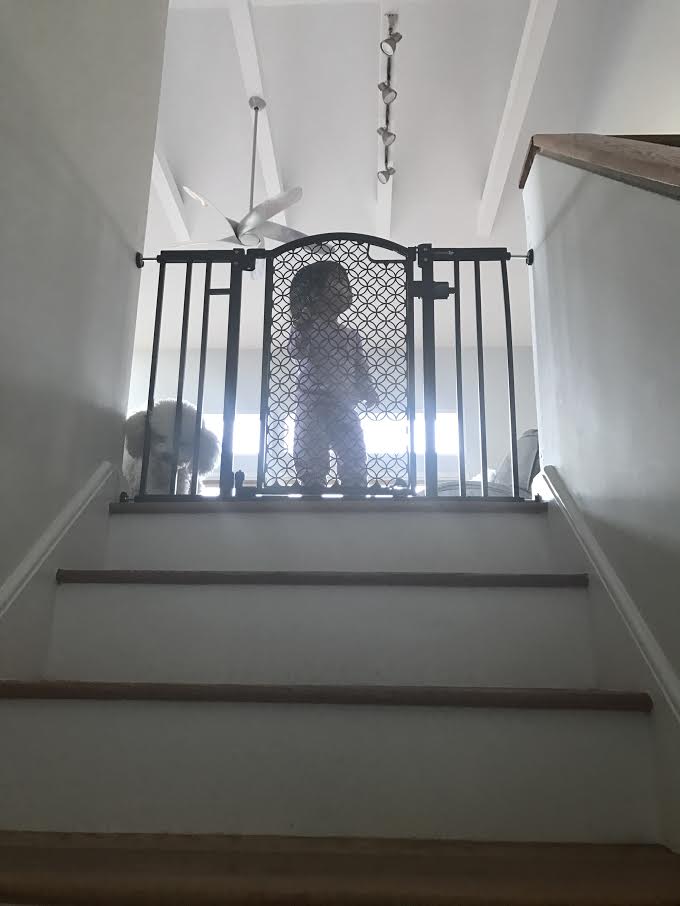 One day, hubby and I visited home depot. There was a very small selection of basic gates, so we invested in one that costs about $100. When we took it home, we realized the installation was more difficult that it seemed, and we actually hired a handyman to install. The process took him about 90 minutes, and involved sawing to make the gate fit. It worked OK for the first two weeks or so, and then guess what? It became faulty. It stopped closing all the way and got loose all the time. It put me in a severe panic. It was hard to leave my toddler alone in the living room, when I was in the kitchen or even the bathroom without thinking the worst. When it comes to safety and the true dangers of stairs, I know something needed to change. Every time hubby came up the stairs, I checked that the gate was actually closed. It gave me such a headache. Hubby and I got in SO MANY FIGHTS about the darn gate!
And then, almost magically, one day the email came to my inbox asking if I wanted to review the Summer Infant Modern Home Gate! It looked stunning on the email, and I noticed the cost to buy was less than $50. I always have found great comfort in Summer Infant Products, so I was way excited to try.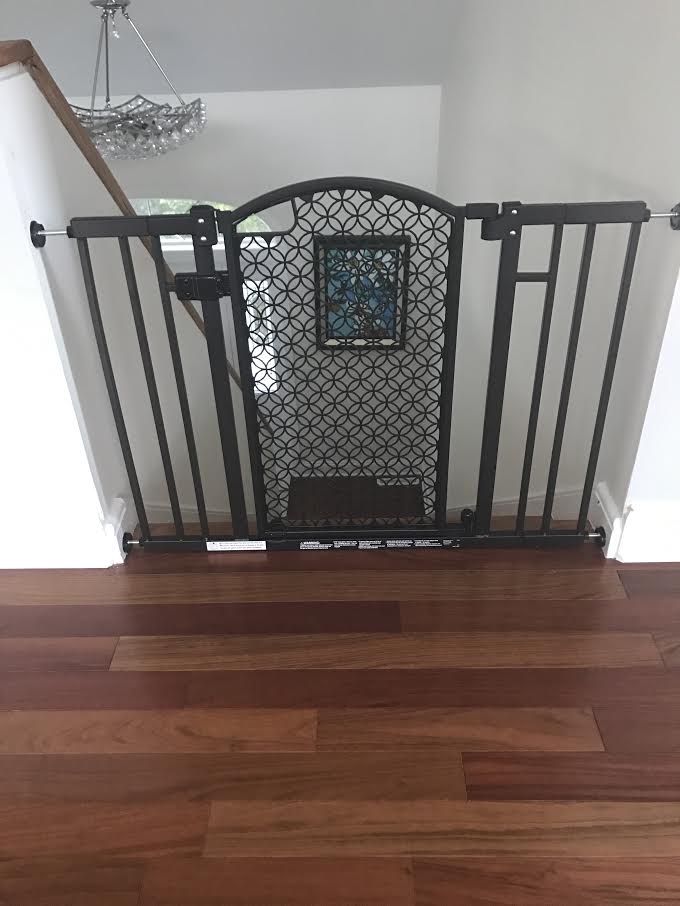 It took just a few days to get to my house. I think I have insinuated above, but my husband HATES putting together ANYTHING having to do with furniture or baby furniture. He does not have patience, and honestly I am just not great with it either. I find myself being a cheerleader a lot of the time, and forcing him to finish a project. Most of the time, cheering him on doesn't work and I resort to name calling, which starts major arguments. When the Summer Infant Modern Home Gate came, he gave me a multitude of reasons why he just couldn't install. The most major was it would be much easier to install with a drill, and he didn't have time to go to the store. After a few weeks of waiting and knowing we had to put the gate in, I finally went to the Home Depot and purchased a drill.
This weekend was our weekend to install! So, after my toddler's nap, we got to work. Hubby commented that this gate already looked much easier than the other one. We found the directions super simple. I'm not kidding when I say there was no fighting and it took maybe 30 minutes in total to get it perfectly stable and steady. Hubby was thrilled! It made for a very nice Saturday!
All weekend long, he commented "this is a MUCH better gate". "This makes our house look even nicer". We love that there is NO WAY our toddler can open the gate by herself. It was the topic of the weekend. It is totally childproof. We love that its actually very beautiful and expensive looking. It fit perfectly into our large opening for the stairway. It actually closes by itself, meaning the second you leave the gate, it slams shut. No more making sure sixteen times that it is closed!
We would hard pressed to find a better, more sturdy and secure, and nice looking gate. Easy installation, beautifully crafted, extremely safe, and beautiful to look at- we couldn't be happier! I would HIGHLY, HIGHLY recommend this gate for your home safety needs. And personally, I would pay double for this gate than the retail price. It's quite a good deal.
Hubby felt so good about this, that the next day he tackled another piece of furniture. Too bad that one wasn't as easy.
Giveaway: One winner will receive this gate. This giveaway is run via rafflecopter so click read more to see the actual giveaway. The only mandatory entry is to visit Summer Infant and tell me your favorite feature of this gate. While the other entries are optional, I highly suggest filling it out to increase your chances of winning. US only. Good luck!
a Rafflecopter giveaway