*Disney/Marvel provided us an all expense paid trip to visit the set of Guardians of the Galaxy Vol. 2 in Atlanta. All my opinions are my own and not swayed by outside sources.*
The interview with Michael Rooker who plays the role of Yondu in Guardians of the Galaxy Vol 2 was absolutely hysterical. He came dressed in full costume to talk to us about his role in this movie. He even brought in his teeth so we can see it. It was actually one of the coolest things to see him right before our very own eyes. He is a fabulous actor and was incredible to talk to that day.
INTERVIEW WITH MICHAEL ROOKER: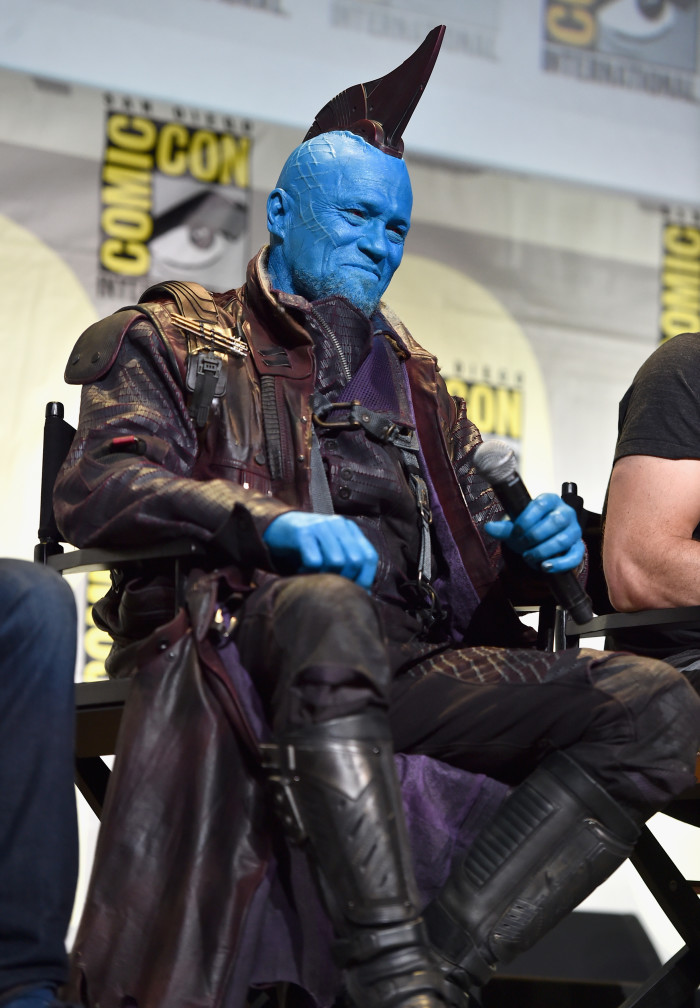 Question 1:    How long does the makeup take?
He told us it takes about two hours to get into full makeup. It takes a while to become blue he told us:)
Question 2:    Is the new addition heavy?
"Yeah! The fin's not heavy. Not at all. It is hollow and I thought they were going to put practical lights and different things in it, but they decided not to. They just decided to keep it natural and well a fin in not natural- it is growing out of my head."
 "So they didn't put the lights in. If they're going to do that kind of stuff, they'll do it in post-production."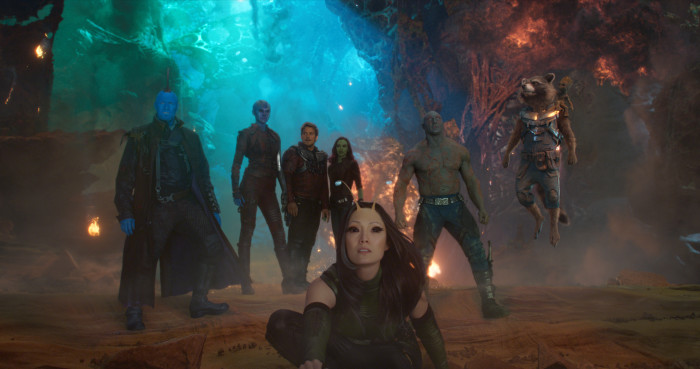 Question 3:    Is the fin in the storyline?
He told us yes it is in the storyline. In this film, he has the short fin and the fin that is much bigger.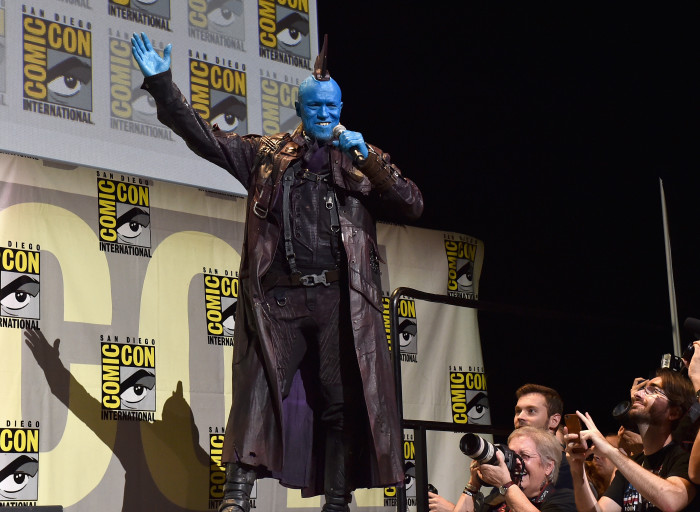 Question 4:    Have you teamed up with some of the Guardians of the Galaxy?
He was such a jokester and told us they teamed up with him because he can whistle, lol:)
Question 5:    How did you feel about that shift when you read the second script?
"It is a great script. James Gunn wrote it and it's a continuation of Yondu in the first script. He wrote that for me, so he just wrote more odd things that I get to do and stuff because he knows me and he knows I'm a wee bit odd. He just plays on it and writes some silly things. It's not all silly, but it's fun. It's a lot of fun."
" I have a good time doing it and he's a good writer. Great director and I was forced  to be in this movie."
Of course he was joking about being forced. He said it is the biggest pleasure to get this job from James Gunn.
Question 6:    Do you hope the audience sees a different side?
He told us you will see differences from the first one. With the first Guardians, you don't get too into depth. With this one, you learn more about him and his relationship with Peter Quill.
Question 7: How hard is it to get into character?
He told us it is not too hard because it is written for him. Also the costume helps him get into character.
 Question 8:    Does your crew rebel?
He was laughing asking who told us that.
"They are always trying to challenge me in the background and stuff and trying to figure out ways for me to be the leader and all that kind of stuff. Like any kind of rebel, skull and cross bone group of crazy maniacs. Who knows, right? And so they're always loyal."
"There's loyalty going on, but there's also a lot of rivalry. Almost in everything. That is kind of what the dynamics, that's what is going on. There's this rivalry and for me it goes on all the time because of who Yondu is. He's the leader of this whole ravaging group, so."
Question 9:    Have you been doing a lot of stunts?
"There's some wire stuff going on but it's pretty safe. We got these harnesses and everything, the cables are like quarter, I mean, they're really heavy, they hold thousands of pounds."
 "But we're not doing any real stunts. I don't consider it stunts. It's just part of what we're doing, some of the action that we're going to be doing, requires the wires, the wire work and stuff."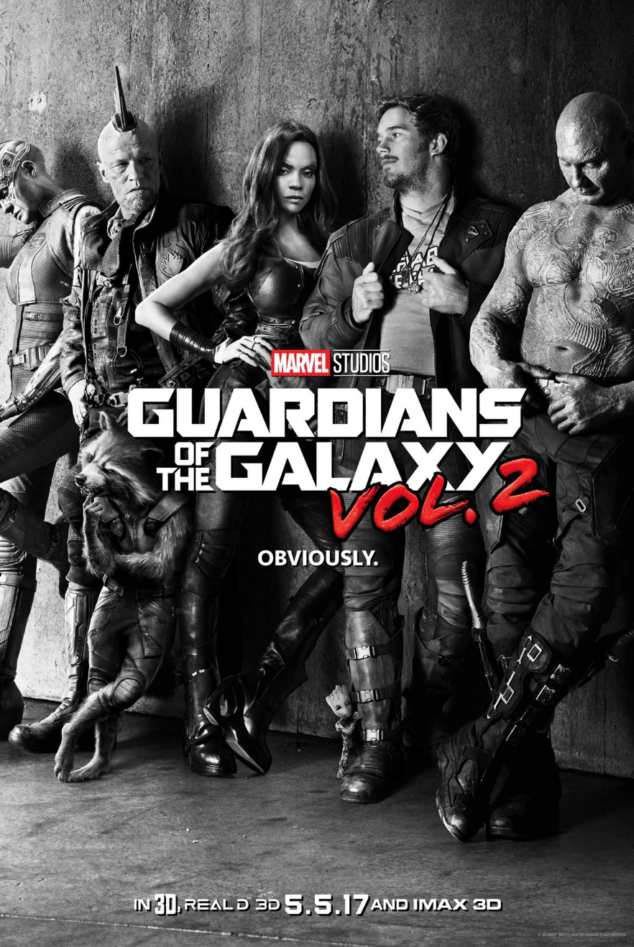 Question 10:   Do you have a stunt double?
He told us yes there is stunt doubles.
Question 11:   If you had a choice, what would have attracted you to this role?
He was funny on his answer to this!
"The pay day. Kind of nice. The pay day's nice and my pay day's not the biggest pay day, but it's a good pay day. It's nice for my mortgage and people like me more when I have money."
Question 12:   Who is your favorite character besides your own?
He said that would be Rocket because he has attitude and reminds him of James Gunn.:)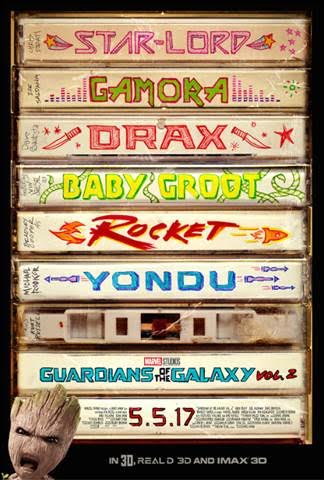 I LOVED HEARING HIM TALK TO US THAT DAY AT PINEWOOD STUDIOS. BE SURE TO BUY TICKETS TO GUARDIANS OF THE GALAXY VOL.2 WHERE MICHAEL ROOKER PLAYS THE ROLE OF YONDU!