I can't believe that Christmas is only a handful of days away! It seems like just yesterday that the leaves were beginning to change and we were celebrating Halloween with the little ones. Two months have definitely flown by and if you're anything like me, the panic has set in. You've suddenly remembered that you have several people left on your list that you haven't bought gifts for because they're notoriously hard to buy for or you left a few extra gifts for the kids till the last minute. What ever the case, there's no time like the present to hit your local retailers before the real rush starts on Christmas Eve!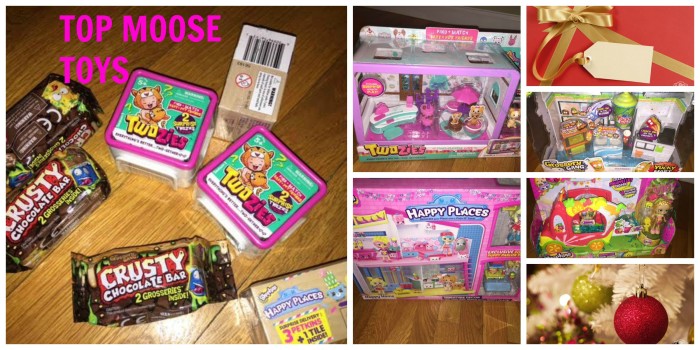 I might not be that great at figuring out the best gifts to buy for adults (gift cards are my go-to) but I'm pretty good at picking out presents that the kids will love. As a mom and Aunt I've had a lot of practice in the gift buying department for little ones. This year I decided to do a lot of my shopping at Moose Toys. The company has a large range of toys for little ones starting at age 5 and go all the way up to 12+, with big name brand toys like Shopkins, Qixels, Little Live Pets and more! While doing my holiday shopping I decided to put together a list of my favorite items just in case my readers were getting a late start on shopping or doing some last minute buys.
TOP MOOSE TOYS!
Shopkins Happy Places Lil' Shoppies Pack. Ideal for ages 5+, Lil' Shoppies go perfectly with the Shopkins Happy House. Your little ones will have fun using them in conjunction with their Petkins friends. Each pack includes 1 Lil' Shoppie, 1 small exclusive Petkins, 1 Exclusive Mini Petkin, 1 Catalog.
Shopkins Glitzi Globes Jewelry Pack. If you have a little girl at home who is obsessed with jewelry then this is definitely a great gift option. The pack contains 4 Shopkins characters and includes everything you need to create 4 adorable Glitzi domes that you can attach to either a bracelet, necklace, or ring to make the coolest jewelry around.
Shopkins 12 Pack. Can you tell I have a Shopkins obsessed little one on my list this year? This 12 pack comes with 10 visible Shopkins and 2 Shopkins that have been hidden inside 2 backpacks. As an added bonus there's even 2 bonus Shopkins charms!
Qixels Kingdom Castle Attack. Savage trolls have attacked King Qixels castle and are trying to take control! Your little one will enjoy hours of fun helping the King build up his forces to defeat the trolls. They'll customize the castle and build an army out of Qixels, the innovative cubes that are held together by water.
The Zelfs Medium Zelf. This adorable little creatures are perfect stocking stuffers. There are a total of 12 different Zelfs to control and each one has more colorful spotted and striped hair than the next!
Wild Pets Spider. Great for a little guy that loves the creepy crawlies, the Wild Pets Spider is pretty realistic and allows you to pick him up and pet him–using your touch to control his behavior. This creepy spider feels and moves just like the real deal. He'll operate on two modes, adventure mode where he'll explore and attack mode, allowing him to track down and attack any target!
Chocolate Bar Maker. I don't care who you are, kid or not, this is the ultimate stocking stuffer. Who doesn't love chocolate? The kit comes with everything you need to make yummy chocolate treats right from the comfort of home.
Glow Show Sticker Launcher. For anyone who decorated their room with glow n the dark stickers when they were a kid, this is the new and improved method of getting your stickers up in those hard to reach places. Choose your glow sticker, charge it up and launch it!
The Ugglys Pet Shop. Little guys will love this gross spin on Littlest Pet Shop. The 8 pack features a pack of putrid pets are just downright stinky!
Shopkins Sweet Spot. If your little one is head over heels for Shopkins then the Sweet Spot should definitely be on your list this year. They'll love sending their characters down the gumball machine or taking them for a ride on the candy cart!
*Samples received. All opinions are my own and not swayed by outside sources.*