The most wonderful time of the year is also the most fertile time of the year. Did you know that December 11th is the most popular date for conceiving babies? That's because the most popular birthday is September 16th. If you're planning to have a little bundle of joy, the most wonderful time of the year could be YOUR time. So let's keep this wonderful time wonderful and not full of stress.
*This is a sponsored post. All my opinions are my own and not swayed by outside sources.*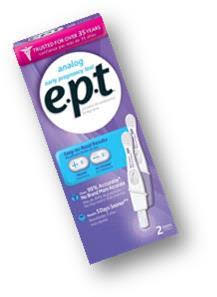 The Most Wonderful Time of the Year is Different These Days
I remember when my husband and I were trying to get pregnant. It was a time filled with excitement and expectation. We tried to keep the stress to a minimum, but it was still also a time filled with wondering if we would conceive, how long it would take, and how soon we would know. And I really think it's like that for any couple trying to start a family. Of course, you want to believe that everything will go smoothly, but you're also afraid that you might be that couple that has a difficult time.
e.p.t is the name we all know and trust in pregnancy to help us know what's what as soon as possible. This year, they upped their expertise and asked over 600 women within the age group of 22 – 34 and age 60 and over what their thoughts were about finding out whether they were pregnant and what their experiences were. It's a very interesting survey about the experience of conception across a wide cross-section of women, and I've included the highlights below.
45% of women those surveyed  said their pregnancy was unplanned.
55% said they were relieved to find out that they weren't pregnant at the time.
37% of women taking a home pregnancy test said they were more scared than excited, while 28% said they were more excited.
Before home pregnancy testing was a thing, 82% of women made appointments with their doctors to confirm their pregnancy. Of those women two-thirds said the waited up to 8 weeks to make the appointment.
47% of modern women learn that they're pregnant within the first 4 weeks of pregnancy.
40 years ago, 38% of women 60 or over surveyed said they were skeptical about the reliability of home pregnancy tests. Today, 81% of women consider them the first step in confirmation.
8 out of 10 women leaned they were pregnant form a home pregnancy test. Nearly 50% said they took it immediately after they purchased it.
In contrast, only 16% of women over 60 who were surveyed said they'd ever taken a pregnancy test.
Pretty interesting, isn't it? Home pregnancy tests have come a long way. That's important because they can help reduce the stress that can come with trying to conceive.
The Most Wonderful Time of the Year with e.p.t
Whether you're actively trying to conceive this holiday season or you think you might have an unexpected holiday gift, e.p.t can help make the most wonderful time of the year MORE wonderful and less stressful. e.p.t is the name we all know and trust in home pregnancy tests, and with over 99% accuracy, you can trust the results. If you're looking to make the most wonderful time of year the most baby-rific time of the year, trust e.p.t to help you while you try to get the oven cooking that bun!