Happy weekend everyone! We just got our first snow today and it is also my anniversary! I hope you all have a blessed day with whatever you do!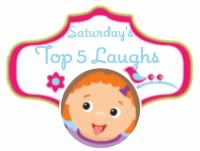 As always, come link up any cute or funny post. Definitely check out the other blogs who link up as they all provide a great laugh. Feel free to share on social although this is not necessary, just appreciated.
MY LAUGHS:
5. Taylor every single morning tells Greg, "You my best friend!" When I tell her she is my best friend she answers," No only daddy best friend!" It is not like I birthed her or anything!
4. Zane is the sweetest boy. He had a bad dream a few nights back and really believed the dream was true. We cuddled from 2-4 AM and it was the best! I miss the sweet cuddles from him.
3. Hayley is continuing to be a diva! Just call her diva Hayley these days. It is her way or the highway. I am scared for the teenage years.
2. Tay loves to have full on conversations with herself in the crib. Girlfriend talks nonstop! How do you get a 2 year old to stop talking?! LOL!
1. And this picture:
YOUR LAUGHS: