Playtex Baby just made it easier to have the Diaper Genie on hand when you need it. With Diaper Genie Expressions, you can keep your Diaper Genie exactly where you need it without it being an eyesore. The New Diaper Genie Expressions from Playtex Baby has five decorative sleeves that make it possible for you to help keep your Diaper Genie just where you need it and still keep your home looking cozy and welcoming. I have one, and I love it.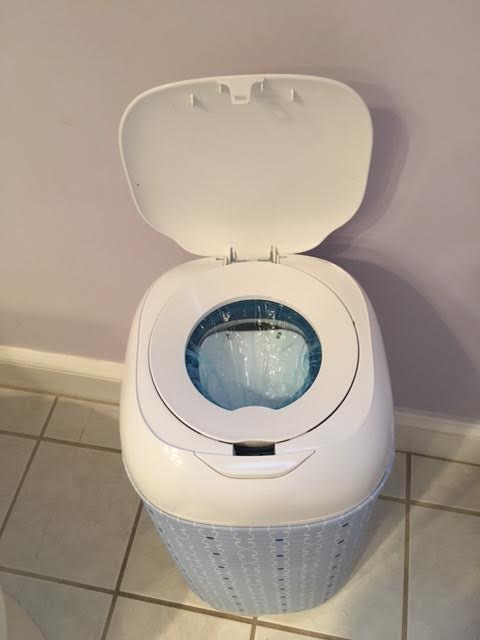 *This is a sponsored post. All my opinions are my own and not swayed by outside sources.*
Playtex Baby and Diaper Genie – Express Yourself
My youngest one isn't to the potty training stage yet, so the diapers are still in full effect. I've had a Diaper Genie for a while, and I love it, especially when the kids get older. As they get older, diapers need to be changed more often because they get fuller faster. It's gross, but it's true. That means I need my Diaper Genie on hand and readily accessible at all times. I'm in love with my Diaper Genie, but I've always wished it could blend into my home decor at least a little bit, so it's not so "HEY! HERE I AM!" You know?
Apparently the Playtex Baby designers have been hearing the same thing form other people, because they've come out with a brand new line of sleeves to make the Diaper Genie more visually friends. Diaper Genie Expressions is a line of five decorative sleeves that you can use to cover your Diaper Genie and help it blend into your home decor. these five designer fabric sleeves come in Pink and Grey, Blue Tile, Grey Clovers, Blu Knit, and Pink Starburst. With so many options, you can easily find the one that fits your decor, or mix and match to keep things fun.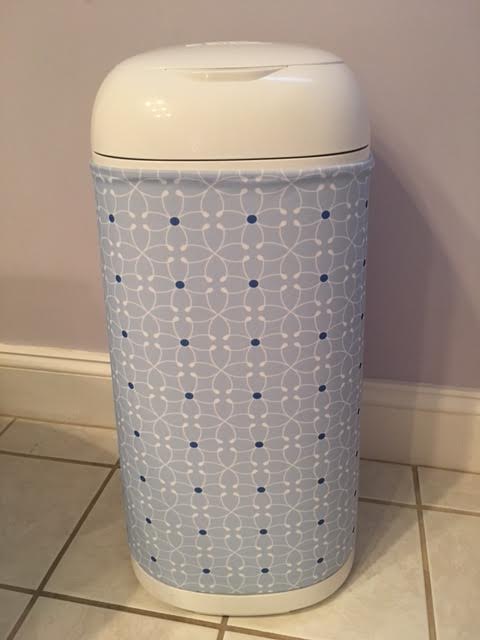 Diaper Genie Makes Changing So Much More Pleasant
I'm so glad that Playtex Baby came our with these Diaper Genie Expressions sleeves. I love my Diaper Genie, and I love that these sleeves help make it more attractive. If you've never used a Diaper Genie, here are some reasons why it's amazing.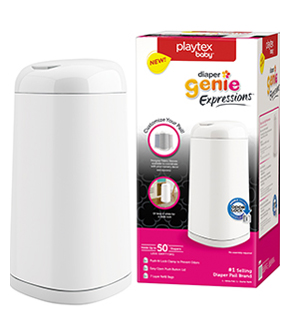 Easy to Use – One hand operation. Open the push button lid and insert a diaper quickly, easily, and simply using only one hand.
Stink Stays Away – The new double secure odor lock system features Push-N-Lock clamp to prevent odors from escaping.
Super Seven  – Diaper Genie Branded refill bags use seven layers that work together to give me Barrier Technology, locking in germs and providing ultimate odor lock protection.
Less Changing – Holds up to 50 newborn diapers, so I don't have to switch out bags all the time.
Playtex Baby Diaper Genie Expressions – Yay!
With Playtex Baby Diaper Genie Expressions, I get all the odor and germ protection and ease of use that I love from Diaper Genie, and I get it in five attractive options. I love all five of these new sleeves so much, that I've been interchanging them every time I change the bag. It's a fun was to keep my favorite piece of baby equipment on hand and keep it from being an eyesore. I'm absolutely in love with my Playtex Baby Diaper Genie Expressions. If you have a baby, and you do not have one of these, you're missing out!