Start from scratch. It's the phrase we've all heard our entire lives. But to people with eczema, it means something different. Eczema is a painful, itchy, very visible skin condition involving dry, rough, irritated patches on the skin. Worse than the physical symptoms of eczema is the stigma surrounding it. Because the disease is so visually prominent, many eczema sufferers do all they can to cover themselves or stay away from people when they can. Start From Scratch is a campaign from National Eczema Association for Eczema Awareness Month. It's designed to encourage those suffering form eczema and their families to look past the physical symptoms, overcome their fear of being seen as different, and live happy, healthy lives.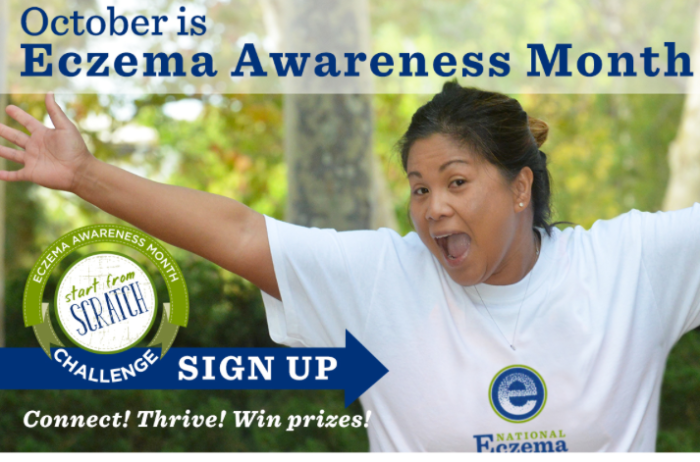 *This is a sponsored post. All my opinions are my own and not swayed by outside sources.*
Start From Scratch to Start Living
At its core, National Eczema Association's Start From Scratch is a campaign designed to help eczema sufferers learn to love themselves again in spite of a disease that can often leave them feeling ugly or different. That is not the case at all. The stigma of the disease is far worse than the physical symptoms, and Start From Scratch wants to help people with this condition learn how to live full, happy, healthy, and comfortable lives. It's one more thing that the NEA is doing to help advocate for eczema sufferers.
Beginning the October, the NEA challenged the eczema community to complete weekly Start From Scratch Challenge activities to help show them that those suffering from eczema are NOT defined by the limitations of their disease. These activities empower those with eczema and their loved ones with tools to help them live their lives free from the physical and social limitation of the disease. Participants simply enroll in the NEA Start From Scratch Challenge page here, and weekly challenges are sent to them every week via email during Eczema Awareness Month. Participants are encouraged to share their experiences via Twitter of Facebook using the hashtag #startfromscratch to empower themselves and encourage others with eczema to live their lives to the fullest.
Support Start From Scratch
If you, a loved one, or a close friend suffers from eczema, support Start From Scratch with the new Thunderclap campaign they've started to raise awareness for Start From Scratch and how it can help people with eczema live their lives to the fullest. And for more information on National Eczema Association, what they do, and their commitment to advocating for people with eczema, visit the NEA website. Eczema is a skin condition, not a death sentence, so Start From Scratch and take back your life with the help of NEA.