*This is sponsored with First Check. All my opinions are my own and not swayed by outside *sources.*
Modern parenting is required in this modern world. The days of "Leave it to Beaver and Mayberry"  problems are far, far behind us, you guys. These days, we have to worry about more than cheating on a test or taking a candy bar without permission. These days we have to worry about everything from cyber bullying to drugs. This modern world of ours requires modern parenting solutions to make sure our kids make it to adulthood in one piece.
Modern Parenting for a Modern and Scary World
I don't want to sound like an alarmist, but it's a scary world out there. When I watch the news, my stomach just does flips. My oldest is in her first year at school, and my middle child isn't far behind. And what I see on the news is terrifying. Lock downs and cyber bullying and predatory teacher behavior seem to be commonplace these days, and I know my kids are going to have to navigate those waters. Between all of that and the ever present threat of drug use, the world is a terrifying place for this mom, so I do what I can to help keep my children as safe as possible in this sea of sharks and dangerous currents that my kids are going to have to swim through.
Internet Safety
As a blogger, I'm always online in some capacity. My children see me online and see all the interesting things there are to see on the web, and they want to take part in it, too. Even though they're young, I want them to take part in the wonderful world of the web. The best way to keep them safe from something is to teach them about it, in my opinion. So I take the modern parenting approach of introducing them to the web and also making sure they understand the dangers.
I've taught my oldest all about being safe on the internet. Without going into the extra gory details, of course. She knows never to talk to people online – even though she doesn't have access to any form of chat capabilities – and she knows to never give out information. I've also set up a program on the computer that blocks adult content and filters for profanity to ensure that her tender little eyes and ears aren't assaulted by adult topics or words. My second child also knows these things, but he's still at an age where filtering is enough until he can really process the points I'm making.
Predator Safety
Predator safety is an even bigger part of the modern parenting approach than it was a few years ago. We used to worry about stranger danger. Then we had to worry about stranger danger and internet danger. Now it seems we have to worry about stranger danger and internet danger AND teacher danger! What has happened to the world, you guys? I have made very sure – again without gory details – to educate my kids on all three aspects of predator safety. We all know about the first two, but I've also made sure my daughter knows that even though teachers are the authority in school, she should never EVER let them do anything that makes her uncomfortable and that they have no right to touch her or otherwise invade her personal space in a way that gives her the creeps.
Drug Safety
With more and more states legalizing marijuana and calls to legalize all drugs – which is whole other topic I'll stay away from right now – I've been focusing on drug education with my kids, especially my oldest daughter. While she is not at an age where drug use will be an issue, she's old enough for me to start instilling in her the fact that drugs alter her mind and make her less than she can be. We've used the good part of the internet to research the side effects of all kinds of drugs and how addiction can ruin lives.
I've also started getting her used to the idea that my modern parenting will include at home drug tests when she's older. I'm putting it to her in a way that makes it just a normal part of life and not an attack or invasion of privacy. Luckily, she's young enough to embrace the idea, which is what I was counting on. I figure by the time she's old enough for drugs to be an issue, these talks will have prepared her for testing and help her to understand that it is purely a preventative measure. I'm also hopeful that all the love that her family gives her will be enough to prevent us from ever getting a positive!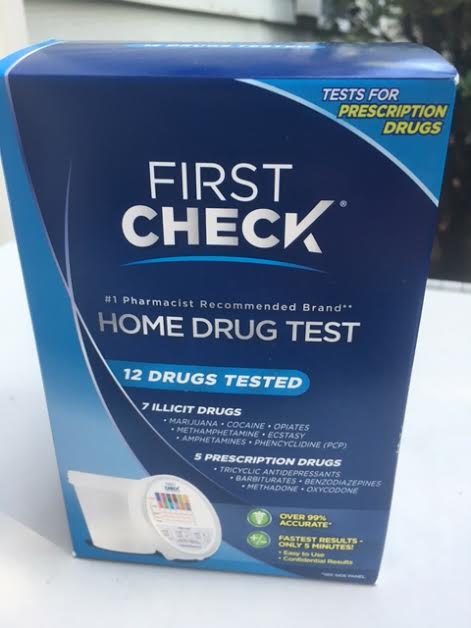 Modern Parenting and Drug Safety with First Check®
When it's time to bust out the home drug testing, I'm glad to know that First Check® is there for my family. First Check® has a variety of at home drug tests that let you test for everything from marijuana to methamphetamine. It's a fully comprehensive line of tests to help you detect and protect your family from almost all illicit drugs that are floating around out there. I love it because in this modern world, modern parenting is absolutely required, and First Check®  is a part of that. It feels good to know that there's a product out there like First Check® to help me protect my kids from every aspect of this super crazy world they'll be coming up in.
Winner: 5 winners will each receive a Home Drug Testing Kit. For this giveaway, simply leave me a comment telling me why you would want to win this. Please remember a valid email address. Contest ends 10-10. Good luck!