Sample was received. All my opinions are my own and not swayed by outside sources.
When I get contacted by a brand about promoting their handbags and beach bags, I get very excited. I love fashion, flare, and fun in the summer and what better way to style myself than with a beautiful summer bag. ClaudiaG offers just that with their unbelievable selections of boutique-style gorgeously handcrafted and sophisticated handbags, accessories and on-trend jewelry.
How ClaudiaG started:
Founder Claudia Gutierrez has always had a passion for jewelry and handbags and dreamt that one day she would start her own business in the fashion industry. At a very young age, Claudia started making her own jewelry and selling it to friends, family and neighborhood boutiques. The ClaudiaG Collection officially launched in 2012, when Claudia created her first handbag line, selling to women nationwide in small tradeshows and boutiques.
Direct Sales Opportunities:
Today, the ClaudiaG Collection not only offers stylish women's handbags, jewelry and accessories as well as a line of bags for men, but the company also provides a unique, life-changing opportunity for women who want to start their own business just like Claudia did in 2012.   ClaudiaG offers its gorgeous products exclusively through a growing network of trained independent consultants in the United States who earn commission by selling at private in-home trunk shows, fundraising events, and online.
The ClaudiaG social selling model provides opportunities for personal growth and financial independence.  Direct sales is a $30 billion industry with huge potential. Among the women in America who make more than $100,000 a year, 82 percent of them do it through direct sales. Ladies who join ClaudiaG as consultants enjoy a close-knit network of support from other women who are always there for each other in all aspects of life.
As with any new business you start there is an investment upfront. With ClaudiaG, the consultant sees a return on their investment almost immediately.
There are three kits available for consultants to get started ranging from $199 to $599.
All consultant kits currently average a 65 percent savings and include everything necessary to start their own business.
o   To learn more about becoming a consultant, visit https://www.claudiagcollection.com/cg-consultant.aspx.
Our thoughts on the ClaudiaG Delia Large Tote: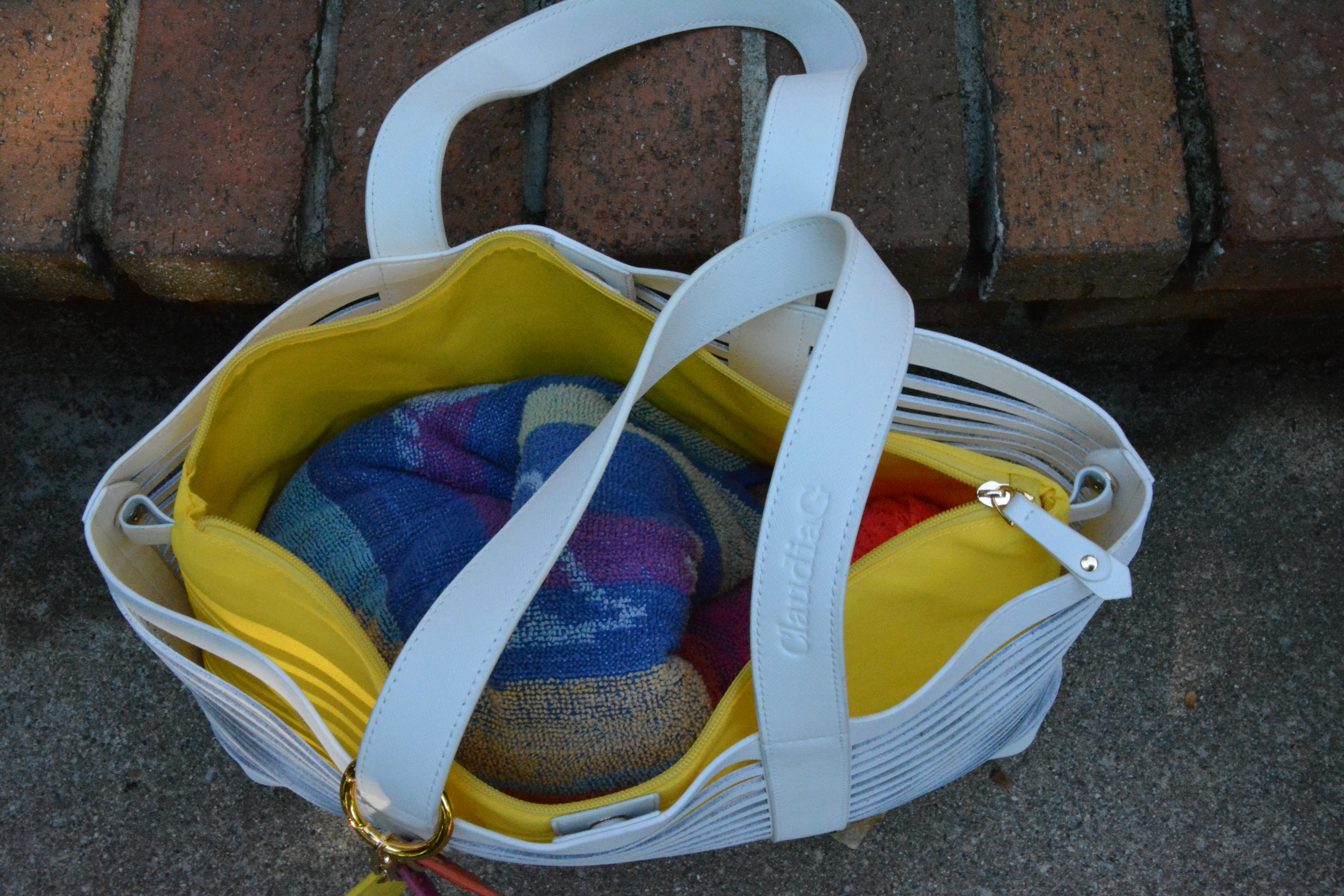 I was on the hunt for a great bag to bring to the beach and I found just that with the ClaudiaG Delia Large Tote.  First off this is a stunning and most importantly big bag. I am able to fit at least three towels in there, sunscreen, and a change of clothes with room to spare. Besides the ample room inside, there is additional pockets to store some of the summer essentials like your keys or phone.
Besides the traditional look of a beach bag, it comes with three different interiors so you can constantly change the look of the bag. The inserts are of various fun colors like watermelon, canary, orange,  that can readily be taken out and used as a clutch. It has so many multi-uses which is very important being the mom of three small kids. I need something versatile, functionable, and affordable which is exactly what my Delia Large tote provides.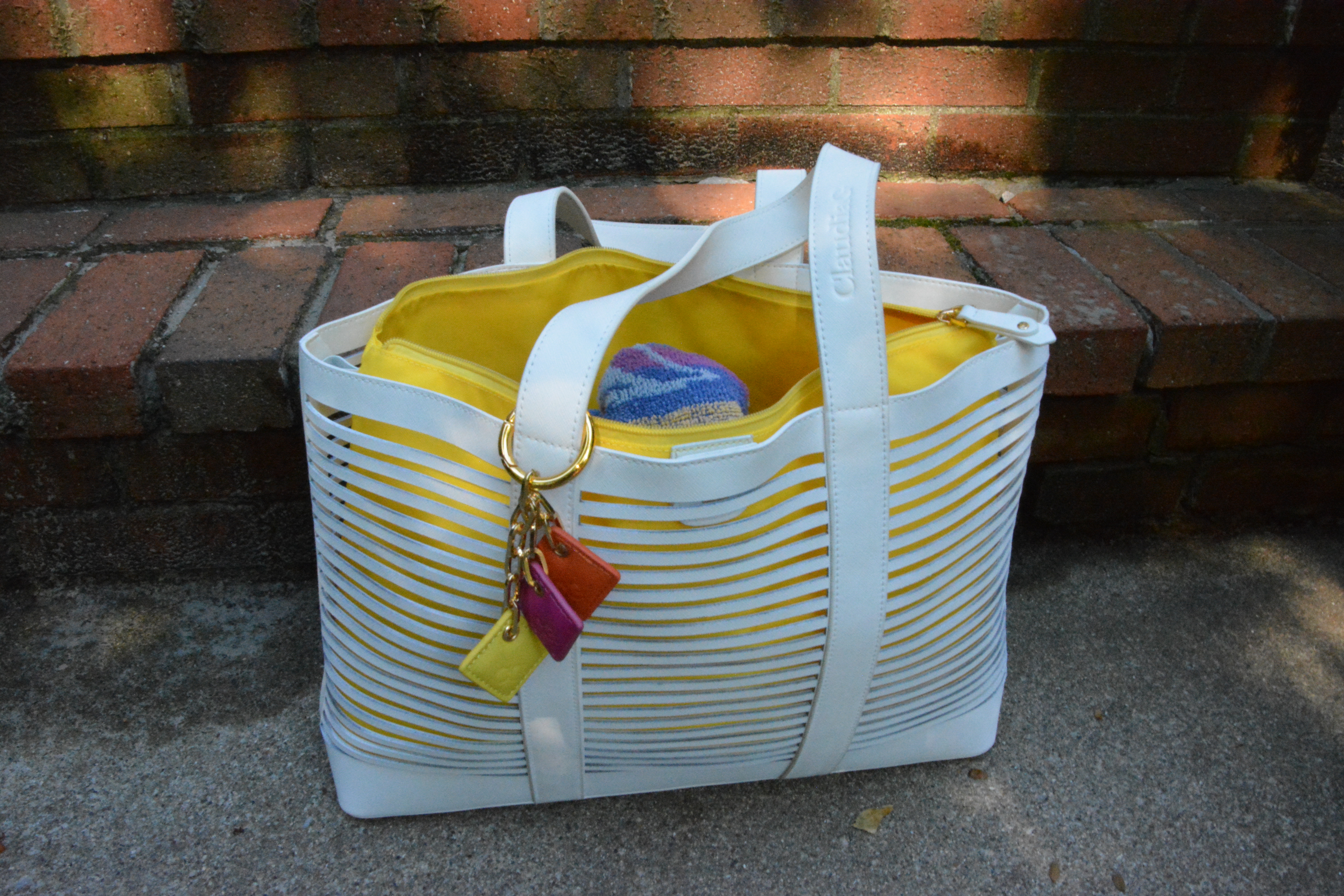 It also features a beautiful white leather with laser cut strips. As said before, you truly get 3 different looks and 3 bags in one. You can't beat that!  This is the end all be all of bags. I am so happy with my ClaudiaG Delia Large tote! Be sure to check out ClaudiaG today for all the wonderful bags this summer!