Just in time for Father's Day! Give Dad the ultimate gift he deserves by making him the coolest dad on the block with Graco Modes Jogger Click Connect Travel System. For Dads (and Moms) on the go, this new and easy to use infant to toddler stroller gives everything you need and more! It's the best stroller around for joggers. In addition to that, I absolutely love mine since it's so easy and convenient to use and to close. If the baby is sleeping in the SnugRide 35 car seat that comes with it, you can simply unlatch the car seat and put it directly into the stroller base and you can take that sleeping baby anywhere you need to go!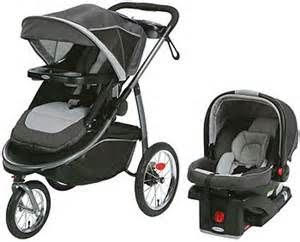 We love ours and are so excited that this all in one travel jogger travel system will be perfect to for our little one to ride comfortably in for the first few years of life. Beginning when baby is first born to when they are a toddler, you and your baby will be set with the Graco Modes Jogger Travel System!
Overall there are five ways for your little one to ride in this stroller/car seat combination set. The top-rates SnugRide 35 infant car seat facing parent or the world, stroller seat facing parent or the world, or traditional travel system.
These are 5 different ways to ride:
1) Carseat inward/parent facing to look directly into your baby's eyes and engage with them.
2) Carseat outward facing for your baby to see the world and explore his surroundings and of course for everyone to see your cute little baby's face!
3) This is the best part for when they are really little or when you want to them to sleep. You can simply fold the seat down into a bassinet style lounger for your newborn to rest comfortably and be almost flat and safely contained while being strolled in their carseat.
4) Stroller Inward facing seat for your infant-toddler. He can talk to you directly this way.
5) Stroller Outward facing seat for your infant-toddler. He can see and explore the world around him.
In all of these scenarios, there is an awesome large UV50 canopy with breathable mesh to keep your baby cool and shaded while you jog or stroller or while baby sleeps.
The super cushiony air-filled tires are ideal for a very smooth ride so baby can sleep and stay asleep. There is one tire in front so you can jog or run with the stroller with tremendous ease and flexibility. It's super easy to maneuver and a wonderful stroller to keep active while keeping your baby happy and safe. There are red reflectors to be able to be seen by others.
Little conveniences like cupholders for both you and child, and smartphone storage, make this jogger comfy and smart! One-hand, standing fold makes travel with baby easy.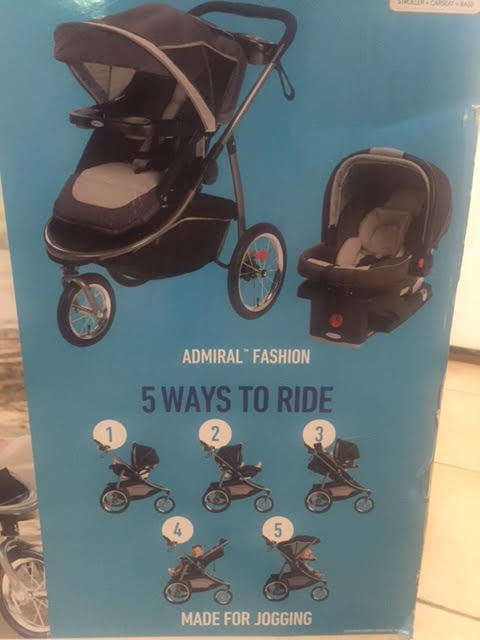 Measurements:
Stroller:
Length: 25.50″
Width: 39.50″
Height: 41.50″
Folded:
Length: 25.50″
Width: 18.5″
Height: 42.5″
Care and Maintenance
Stroller: To clean stroller frame and seat pad , spot clean using mild soap and warm water Never Use Bleach. Use light oil if wheels squeak.
Infant Car Seat: Wash removable seat cushion in cold water on delicate cycle and line dry.
Recommended Use
Stroller: For child up to 50 lbs
Infant Car Seat: Rear-facing for infants 4 to 35 lbs & up to 32″
So overall we love ours and we know your hubby will love his too. Why get him another tech gadget or grill toy when he will really love this jogging stroller to use with his little one! Give dad the freedom to run, jog, stroll or just go anywhere with this awesome stroller and car seat set from Graco. It will truly be a Father's Day gift he's sure to remember and it will be time and money well spent!
Pick yours up today at www.gracobaby.com or exclusively at
http://m.toysrus.com/product/index.jsp?productId=69964016
*My contributor received this product for review. All my opinions are my own and not swayed by outside sources.*