This is a sponsored post. All my opinions are my own and not swayed by outside sources.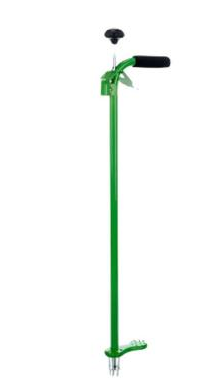 Weed Zinger is making lawn care a lot more fun for me and my family. My kids are great, but if there's one thing that they give me a hard time about, it's weeding. I don't blame them. I don't like to weed any more than they do. It's uncomfortable and hard on your  back and your knees, and it's really not the most fun way to spend a few hours on the weekend. So when I heard about the Weed Zinger, I was really excited.
Weed Zinger – A Different Kind of Weeding Tool
The Weed Zinger is an upright weeding tool that further adds to the ease of these kinds of weeders. Not only does it offer the convenience of other upright weeding tools – no kneeling or getting on my knees – it also has one other unique feature. It can actually shoot the weeds directly into whatever you're using to hold all those weeds you've pulled. It's also easy for kids to use. It weighs less than 4 pounds, and its easy enough to operate that even kids as young as 6 can use it – with supervision, of course.
Weed Zinger Specs
Spring loaded trigger ejection mechanism for "shooting" weeds into receptacle
No bending, kneeling, or lifting
Works well for tough weeds like dandelions
Steel construction
Keeps hands clean
With this unique upright weeding machine's spring action, kids can quickly pop up a weed and then shoot it at whatever you're using to hold your weeds. It makes weeding fun, which makes it easier to get the kids to help.
Weed Zinger Makes Weeding More Fun and Less Horrific
It can be tough to get the kids out to help weed without at least some conversation, but with the Weed Zinger, the kids will be happy to get out there and help get all of those ugly weeds out of the yard. I love that because it helps parents get a little help, and the kids aren't miserable.
If you have weeds – and who doesn't – I highly encourage you to give the Weed Zinger a try. It's easy to use, saves your knees and your back, and it works really well on dandelions, which are always toughies. I think the Weed Zinger is a great invention and a great take on the upright weeder. You can also check them out on Facebook to learn more.