*This is a sponsored post with Lunchbox and Schwinn bikes. All my opinions are my own and not swayed by outside sources.*
Riding a bike is a big thing for kids. Learning how to ride a bike is a rite of passage that all kids go through. It's one of those milestones in a child's life that cements their own sense of autonomy and self reliance. Of course, we help them get started, but when it's all said and done riding a bike is the childhood equivalent of climbing Mount Everest. It's a HUGE accomplishment.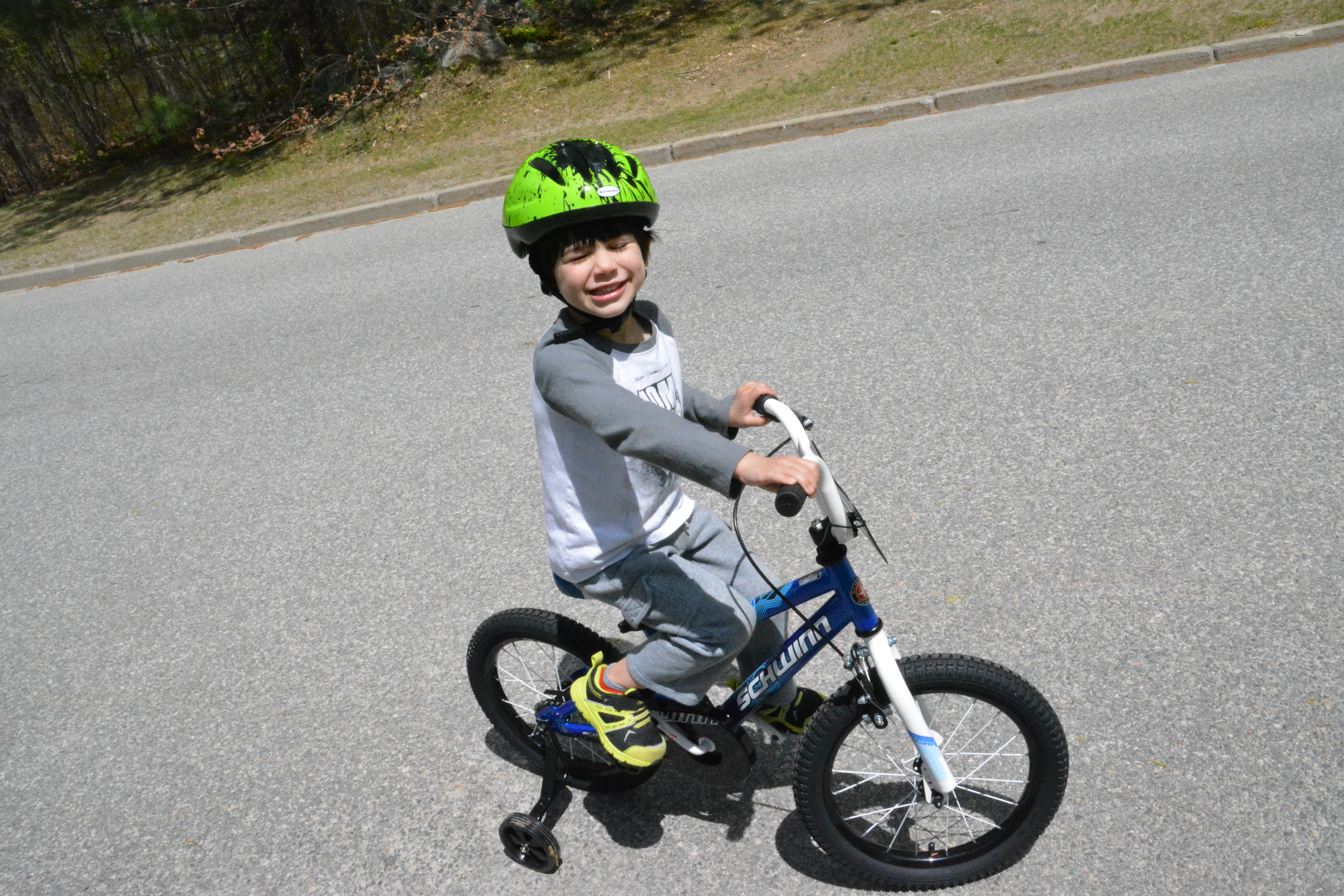 Riding a Bike is More Then Getting on and Going
Teaching the kids to ride their bikes is a big responsibility for us. I remember when I first learned how to ride a bike. You've heard of sink or swim, I'm sure. Well, that was riding a bike for me. Only it was peddle or fall! While I learned to ride like that, I'd prefer for my kids to have a better experience. Maybe a little more excitement and less terror. 😉
Schwinn feels the same way. That's why they want to be a part of the journey for first time riders. Schwinn was established in 1895 and today, they're still the go-to resource for recreational bike riders. These guys know their stuff, and they're sharing that knowledge with the rest of us.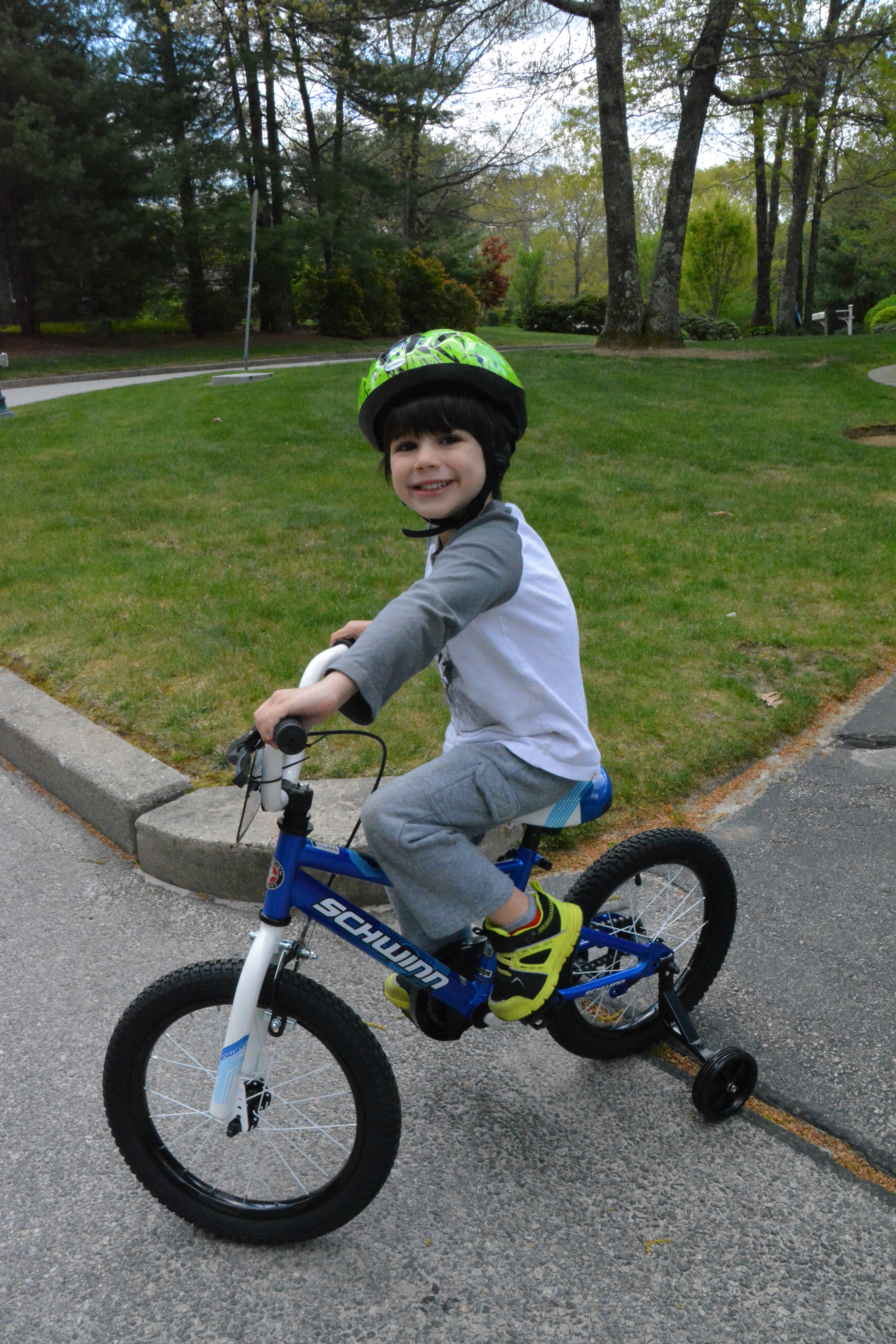 I used the handy dandy bike riding infographic below to help me better help my child ride. This infographic can help parents with teaching their kids about riding a bike with advice on everything from picking out a bike with a comfortable fit to the best way to introduce them to the actual act of riding a bike. It's a great resource from Schwinn and their partner in the endeavor ToysRUs.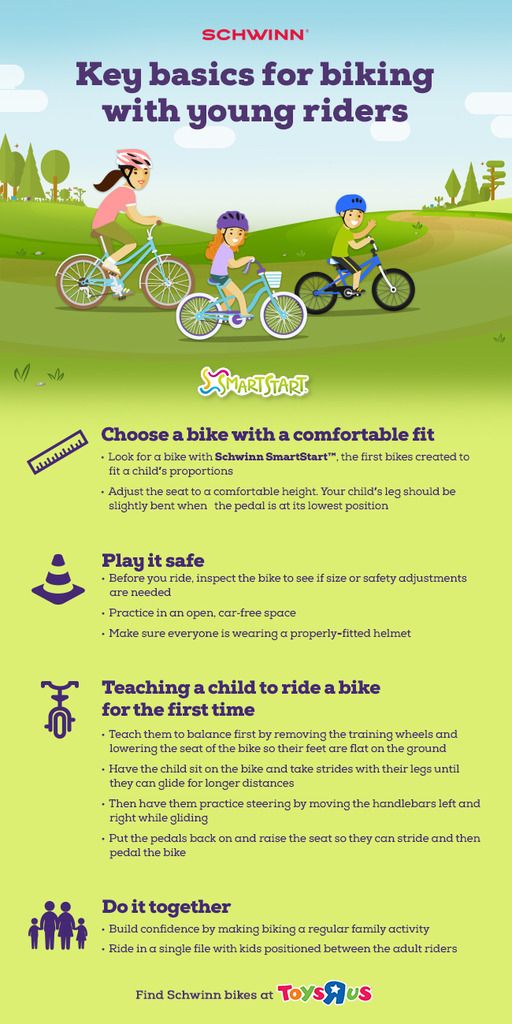 Schwinn SmartStart Bikes at ToysRUs
ToysRUs has the largest selection of 16″ bikes around, and whether you have a son or a daughter, Schwinn SmartStart Bikes, available at ToysRUs, are perfect for learning to ride a bike. With these bikes, riding a bike can be a thing of joy for the kids. They'll be off the training wheels in no time!
Classic 16″ wheel size perfect for new riders
Better balance for easier learning
Less wobble, more safety
Light-weight for more stability
Seat shaped and sized for children
Bike grows with your child
Smaller grips for smaller hands
Pedal width matches child hip width
Limited lifetime warranty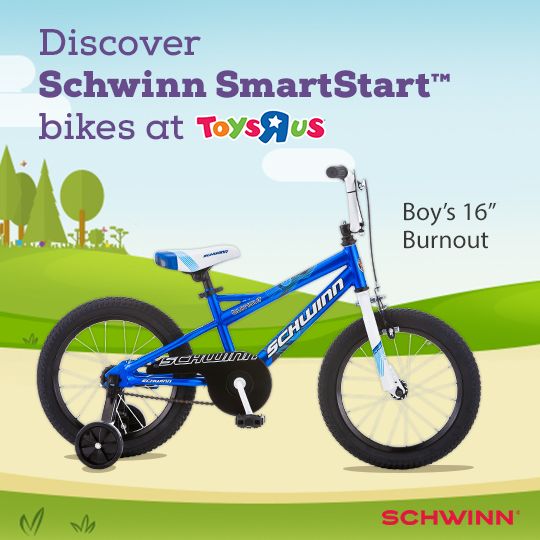 Riding a Bike with Confidence Thanks to Schwinn
Using the informative infographic on riding a bike form Schwinn, teaching my son to ride on the Schwinn SmartStart bike has been joy. My son is so excited to be riding a bike, and there hasn't been one skinned knee! Schwinn SmarStart bikes makes riding a bike a quick and easy proposition with all the information we'll need, as well as, a bike designed to practically guarantee success. If your child is talking about riding a bike, check out the Schwinn SmartStart line at ToysRUs.
For even more information on teaching kids to ride, take a look at this video. For more information on Schwinn SmartStart take a look here.
Now enter this sweepstakes for your chance to win a $400 Family Fun Prize Pack!
Schwinn SmartStart Family Ride Sweepstakes