Happy Weekend everyone! This week I am going to relax because I am tired-LOL! LONG WEEK! Have an awesome weekend everyone!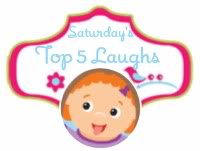 As always, come link any cute or funny post. Definitely check out the other blogs who link up as they all provide a great laugh. Feel free to take my button or share on social, although this is not mandatory. Thanks!
MY TOP FIVE LAUGHS:
5. Zane asked Taylor if he was her favorite sibling.  She said yes because she has no idea what he said! He goes around the house now saying he is the best big brother!
4. Zane went to school this week with two shoes that did not match. He insisted that they matched so I let him go to school with them on.
3. Hayley continues on with her lovely matching habits. Girlfriend needs to take a lesson on matching LOL!
2.  Taylor is just the most 'snuggliest' bunny!  She loves her mommy but it is her daddy who stills her heart!
1. Zane went around telling me he needs to go back to school because he is bored at home. Well I am glad he likes school!
YOUR LAUGHS: