Happy Weekend everyone! This week I am going to relax because I am tired-LOL! If you are looking for something to do, go see The Jungle Book.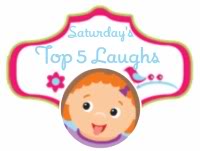 As always, come link up any cute or funny post. Definitely check out the other blogs who link up as they all provide a great laugh. Feel free to take my button or share on social media if you would like.
MY TOP FIVE LAUGHS:
5. Taylor is calling out her siblings names now. However, she does it on repeat 24/7. Hayley turned around today and said, "Yes Tay.. I know my name is Hayley!"
4. Zane got a big boy haircut last week and he looks so grown up. I told him he looks so big and he told me he is only five. Okay then!
3. Hayley is still strutting her fashionista habits by wearing polka dots with stripes. Girlfriend sure knows how to pick out her clothes.
2. Mommy fail- I again washed my clothes without detergent! SCORE!
1. So cute!
YOUR LAUGHS: