*I received toys for review. All my opinions are my own and not swayed by outside sources. *
TinToyArcade.com is an unique toy shop for kids of all ages. They are the premiere online shop with many classic and vintage toys that can be hard to find. Yes.. I am talking about the awesome Jack In The Box and so much more!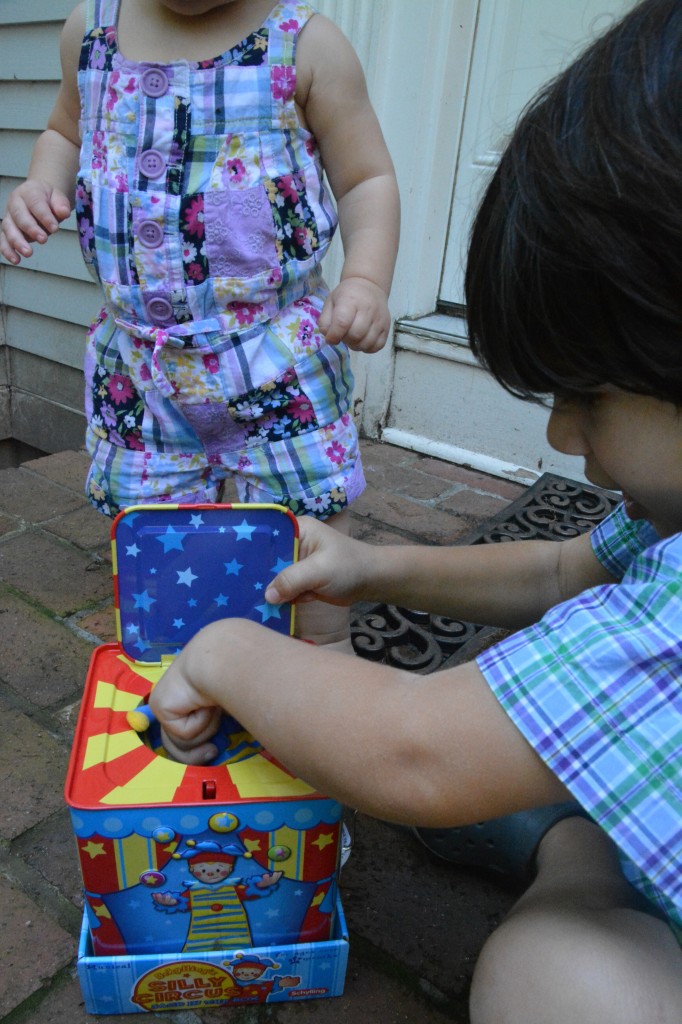 Zane, Hayley, and Taylor were sent some toys from Tin Toy Arcade and let me tell you that they absolutely love playing with them. The first toy we received was the Silly Circus Jack In The Box.  It is your classic jack in the box but brings colorful additions to this classic toy. Taylor loves cranking this box and see the surprise come before her very own eyes. Once you turn the crank, a melody plays and then once that melody stops, the little jester comes out.  The song is the classic "Pop Goes the Weasel!"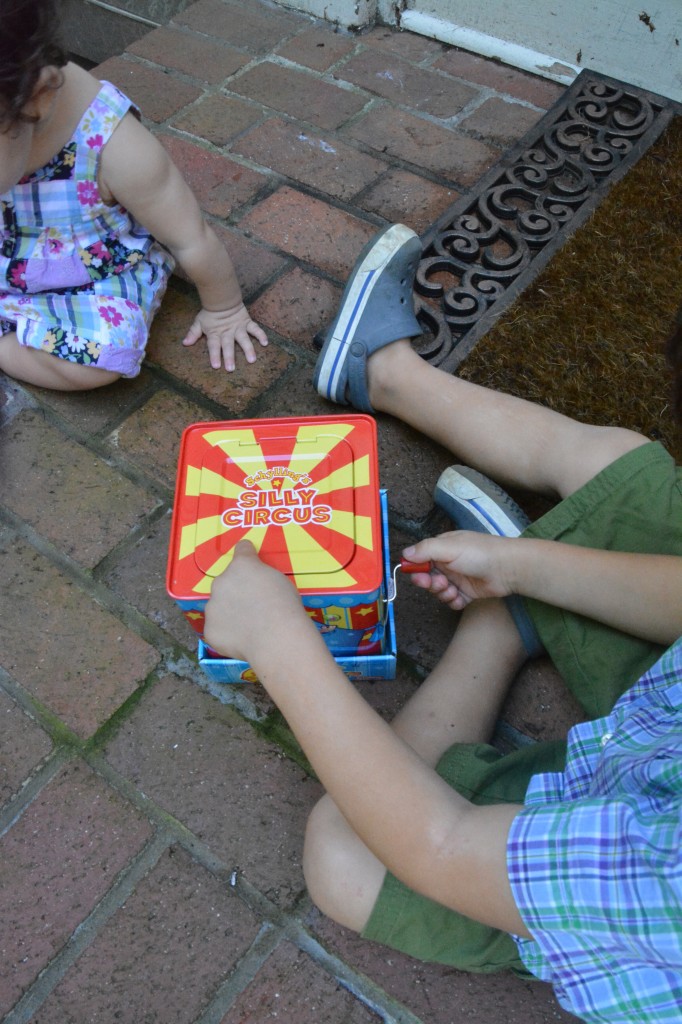 We also received the Curious George Jack In The Box. It features happy, delightful drawings of the famous Curious George. Turn the crank and the melody plays. When the music stops, out pops the little monkey. Tin Box with plush George puppet – Plays "Pop Goes the Weasel." Zane is really into Curious George so he loves cranking this for Taylor and she laughs in hysterics once George pops out.
We had the Melissa & Doug Rainbow Wooden Stacker for Hayley when she was younger so we know what a great toy this is.  This is the ideal toy for teaching kids coordination. Taylor is at the perfect age when she loves to stack these up independently. With this toy, all the colors of the spectrum are represented by these eight smooth, easy-grasp wooden pieces. Stack them on the solid-wood base designed with rocking edges for safe and intriguing play. I remember playing with this when I was a young child and now I can pass it on generation to generation.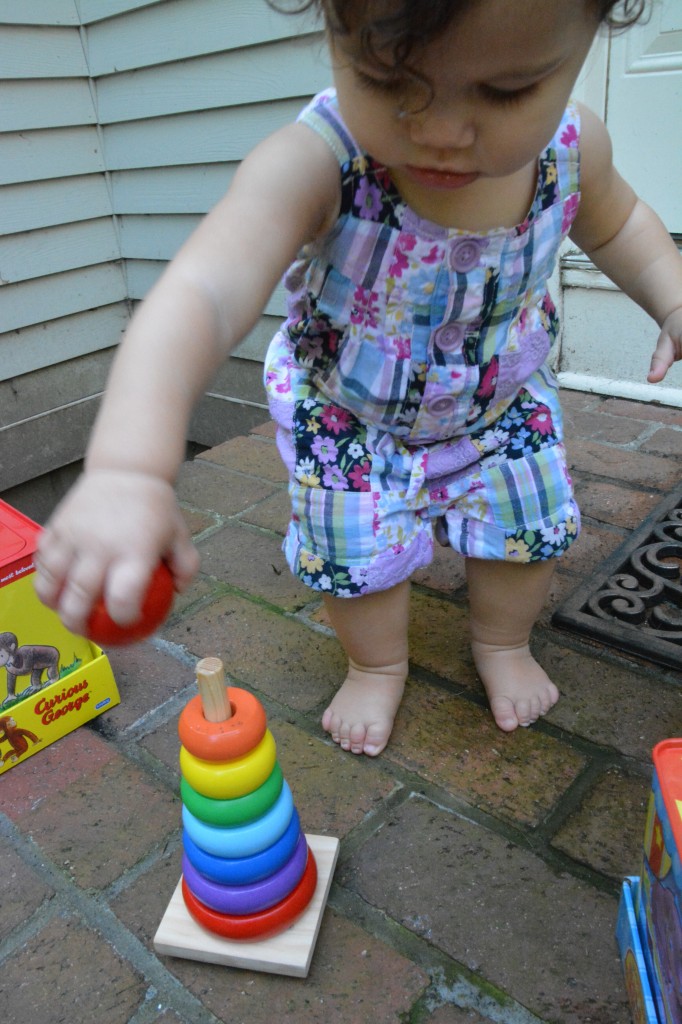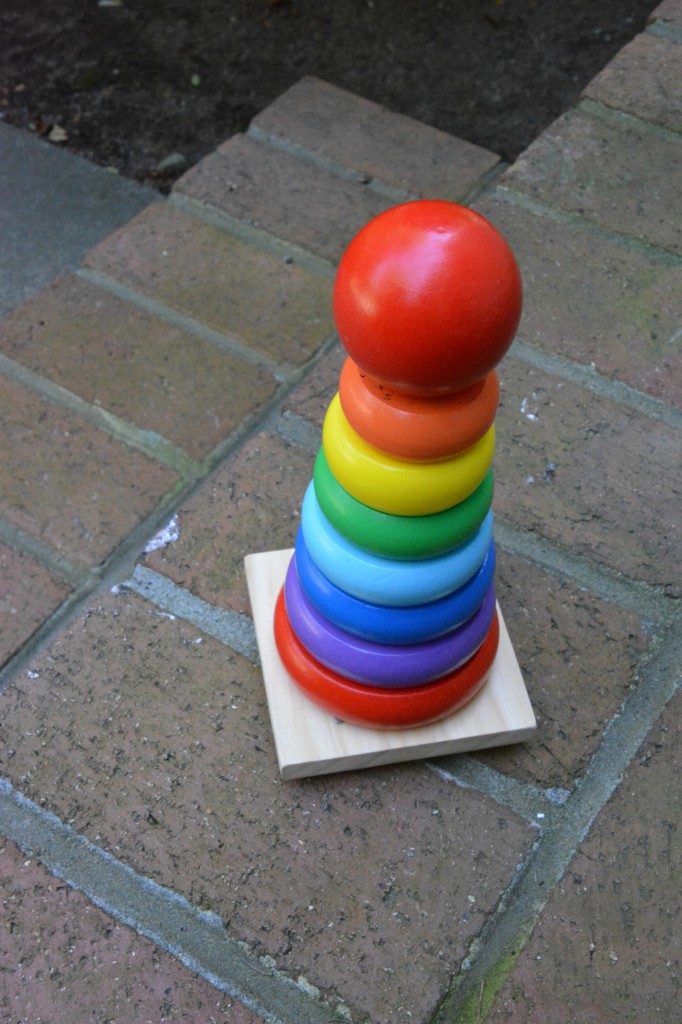 Lastly, we were sent the Fisher Price See N Say The Farmers Said.  This is the most adorable toy to teach children the animal sounds. Do you remeber See 'N Say "The Cow Says … Moooo?" The way it works is you simply point the arrow at an animal and pull the string to hear the animal sounds. Their   Fisher Price See 'N Say is a perfect reproduction of the 1965 The Farmer Says talking toy. See 'N Say was the first talking toy that allowed children to pick the animal and hear the sound of one of the 12 farm animals. This colorful interactive toy is still wonderfully sweet fun. Zane loves pulling the string for Hayley and teaching her this way. It is a fabulous toy for the younger generations.
Be sure to check out Tin Toy Arcade Toys for unique gifts and presents this holiday season.