*I work with Disney on DVD reviews. All opinions are my own and not swayed by outside sources. *
When we were on our Disney Cruise in April, we had a chance to be one the first ones to see Monkey Kingdom. Even though it was a midnight showing, I brought along my 4 and 7 year to watch it with me, and we all LOVED it! This movie is just too cute for words!

Now is your chance to see Monkey Kingdom, because it is out today on Digital HD, Disney Movies Anywhere (DMA) & Blu-ray Combo Pack. This is one movie you do not want to miss this fall season!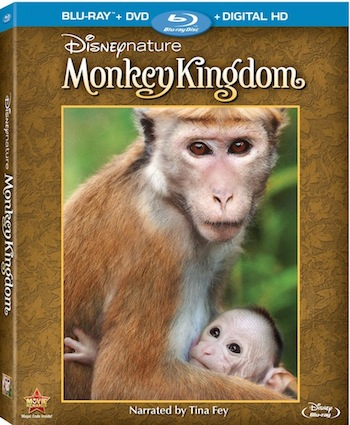 Synopsis:
From Disneynature, the studio that brought you Chimpanzee and Bears, comes MONKEY KINGDOM, a spectacular tale set among ancient ruins in the storied jungles of South Asia. Maya, a clever and resourceful monkey, finds her world forever changed when she welcomes her son Kip into her colorful extended family. As Maya strives to keep Kip safe through unexpected and sometimes perilous adventures, amazing footage captures all the magic and surprises of their magnificent world. Maya and her family will make you laugh and warm your heart as she realizes her dreams for her son's future.
Besides being an awesome film, this is why you want to order this spectacular DVD!
Conservation Program: 
For every Digital and Blu-ray Combo Pack sold during first-week sales, Disneynature will make a donation to Conservation International in your honor to help protect endangered species in their natural habitat, supporting conservation project across Indonesia, Cambodia, and Sri Lanka. How amazing is that?!
This is a must own DVD! Maya is just too cute and it really gave me an appreciation for these wonderful animals. I sure hope to see a sequel to this because we truly loved it so much!
Be sure to check this out tonight as well!
Monkey Kingdom Facebook Q&A: LIVE With Dr. M. Sanjayan
TODAY at 5:30pm PST/8:30pm EST
For a live Q&A with Dr. M. Sanjayan, the Executive Vice President of Conservation International and a Disneynature Ambassador.
Host: Disneynature Facebook- https://www.facebook.com/Disneynature