*This is a sponsored app post. All my opinions are my own and not swayed by outside sources.*
I love a good family locator app. When I'm out and about, I want my family to know where I am in case of an emergency. Likewise, when they're not at home, I want to know where they are. That's why I love FamilySignal. It's a family locator app that's a cut above other apps of its kind. With FamilySignal, I've got a family locator app that gives me useful tools for my and my family's piece of mind.
A Family Locator App Makes Life Easier
I'm all about safety, and FamilySignal is big on that. With their real time tracking, I can see how far away my family members are, their estimated time of arrival, and their exact location. We can even let each other know we're on the way. In addition to that, I can use the app for other things like asking my husband to pick up some milk if he's at the store or see which one of us is closer to the school in case of emergency.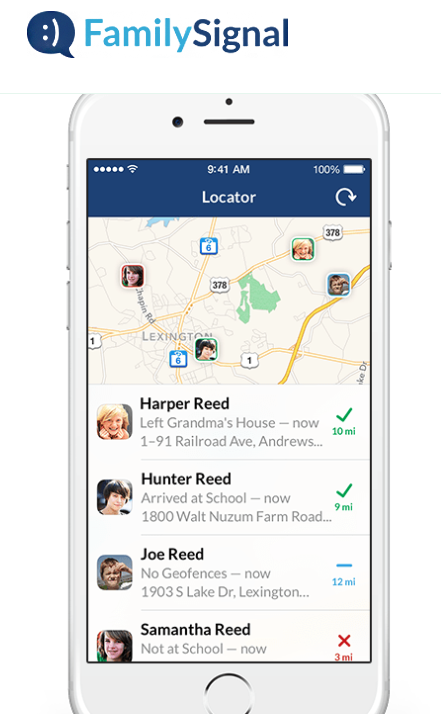 FamilySignal is so impressive, because it has all the features of a good family locator app and more. It's the only app of its kind to use portable location devices called beacons for an enhanced location experience. For example, if you have teen drivers, FamilySignal can alert you when they get into the car, because the car has a beacon that talks to the app. There is really no end to the way you can use this app.
What Sets FamilySignal Apart
Advanced Technology – FamilySignal is the only family locator app to use location beacons for a more complete view of a family members location. This is a major advancement in this field.
Real Time Tracking – See how far away a family member is and their ETA.
Touch Base – A quick way for kids to check in their parents with a touch of a button.
On My Way – Another feature designed for the kids. My kids can see my ETA and actually watch me get closer on their map.
Safety – FamilySignal features a panic button setting which alerts parents and authorities in emergencies. In addition, their beacons can be used for added security.
FamilySignal – A Family Locator App That Does it All

I think FamilySignal is a great step forward in the family locator app arena. It has everything that a standard family locator app has and so much more. With its "Touch Base" and "On My Way" features, as well as their unique beacons, FamilySignal is a family locator app that seamlessly combines, convenience, connectivity, and safety  into one app.