*I am a Sesame Place ambassador. All my opinions are my own and not swayed by outside sources.*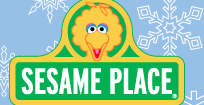 I am absolutely honored to be a Sesame Place ambassador because I get to bring you all my favorite parts about this park to all of you my readers. Sesame Place is an amusement part and a spectacle for kids of all ages. If you think your child is too young, they are not! If you think your child is too old for Sesame Place, they are not. Trust me when I tell you that it is the perfect place for the entire family to visit!
Going on now, is the 35th anniversary of Sesame Place, which brings along a whole lot of fun festivities. In celebration, they are hosting a party all season long featuring fun and festive birthday decorations and a fantastic new Neighborhood Birthday Party ParadeTM. For the first time ever, the park is decorated for the celebration with bright balloons and garland, a giant, inflatable birthday cake, and a line of life-sized candles all the way down the Sesame Neighborhood. New character photo spots will be stationed throughout the park and the adorable Sesame Street character topiaries will be outfitted in their birthday best! Now is the time to visit Sesame Place!
I decided to give you some of my best tips when you are planning your Sesame Place visit. I hope you enjoy them!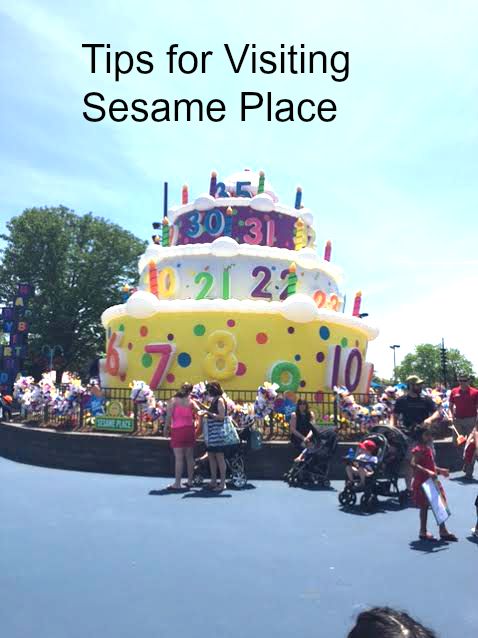 1. Plan your vacation early and make it a weekend in Pennsylvania you will remember. While you can try to do the entire park in one day, I can assure you that it will not happen. There is too much action, shows, and rides to do it all in one day. What we like to do is visit the park for a 7 hour day (my kids max) and then visit the following day. If you have Sesame Place season passes (it pays itself in three visits) you can visit anytime you like. If not, you can take advantage of the save $10 and get the second day promotion that you can find online. This is a fantastic deal!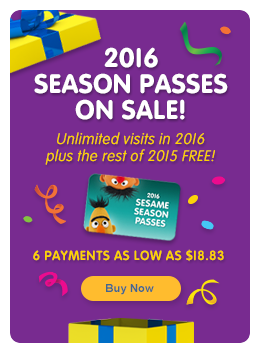 2.  Have a plan of action for the time you visit. Look at all the fun attractions in advance and decide which ones you want to go to and when. My little trick is if you have seen the parade before, go do the rides during this time. They are usually much less busy at these times. When you get in the park, be sure to get a map and decide any additional stops you like to make. The shows play at various times of the day and you do not want to miss any of them. However, I know all kids want to go on rides and meet with the characters, so you will need to have a game plan of action to make the most of your time. Some of our favorite Sesame Place shows going on right now include Elmo- The Musical Live !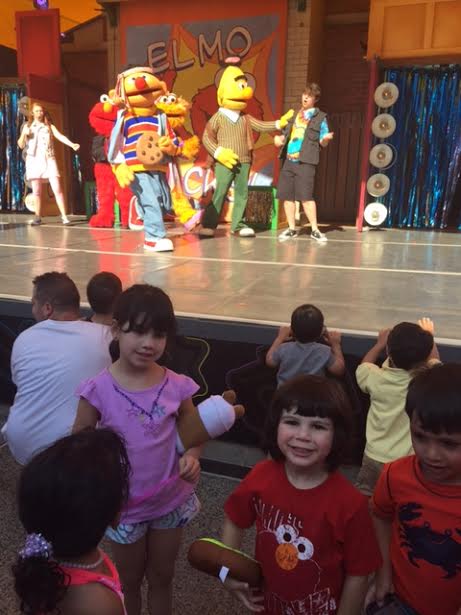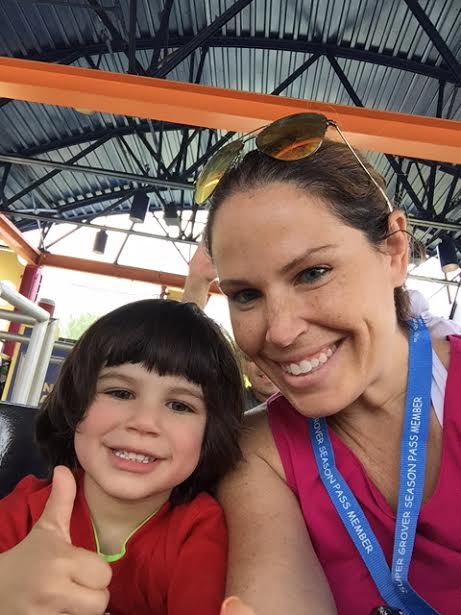 3. Make reservations at Dine with the Characters. While the characters are available for meet and greets, there is nothing as exciting as actually dining with the characters. They will get to have a full dance party and do some limbo fun with Elmo, the Count, Oscar, Abbey, and more. This year we also went to the BBQ that they have on site. While there was not characters there, we had a wonderful BBQ and it was less than $15 a person. A steal if you ask me and the food was so good! You can find the BBQ near the lazy river.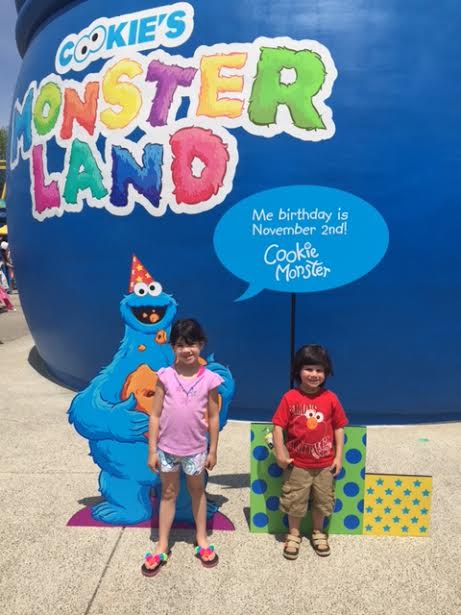 I will also note that Sesame is fantastic with food allergies. My son has a severe peanut allergy and they helped me greatly along the way deciding what he could have. They even have dessert options for kids with food allergies which was a huge help!
4. If it is a hot day, bring your bathing suits. They expanded their water section so there are many areas where you can enjoy the hot fun. They have slides, water spray parks, lazy rivers, and more. The Count's Splash Castle is my kids favorite and they could spend all day there if time permitted. They also love Bert and Ernie's Slip and Slide.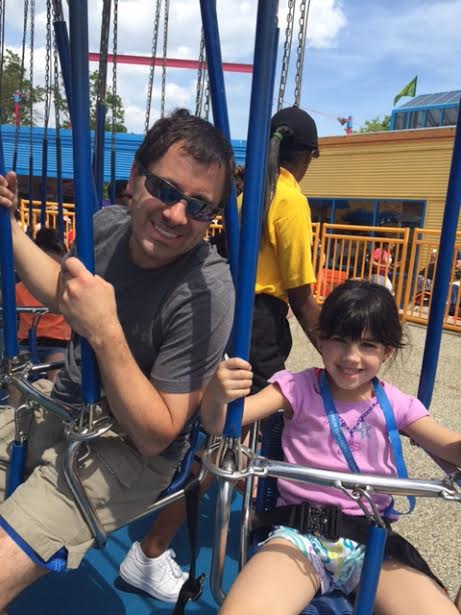 5. I talked about it before but absolutely get a Season Pass for Sesame. Right now, you can get Sesame Place 2016 Season Pass tickets. You can get 18 months of fun for 6 payments as low as $18.83. You can not beat this! If you are planning more than one weekend to Sesame, you will want to get a Sesame Place Season Pass! There are different tiers too of passes so you can find one that fits your needs.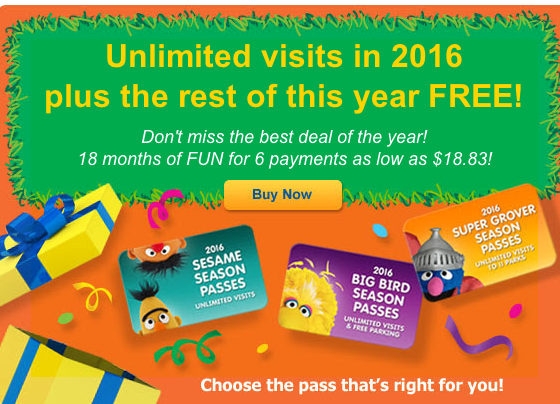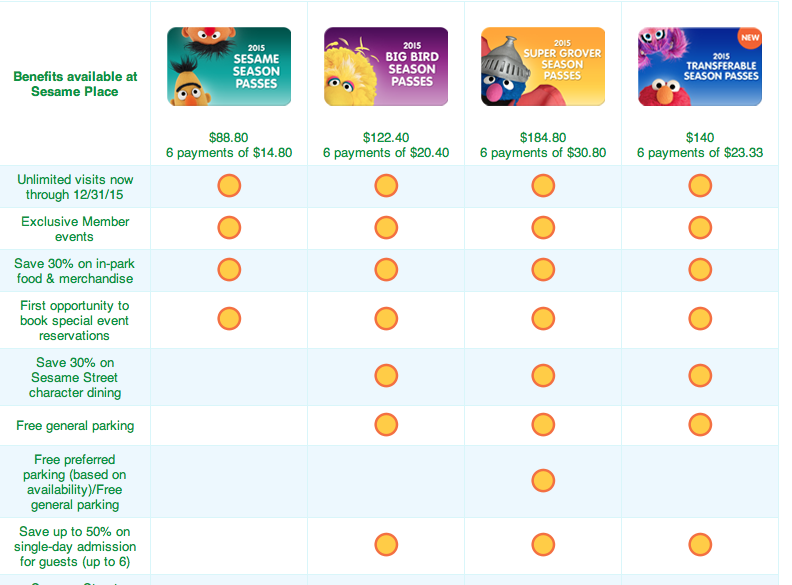 Win it: One winner will receive a 4 pack to Sesame Place. These tickets are good for the entire 2015 season and expire end of December. This giveaway is run via rafflecopter so click read more to see the actual giveaway. The only mandatory entry is to visit Sesame Place and tell me why you are excited to go. Please put all comments in comment section proceeding the post. While the other entries are optional, I highly suggest filling them out to increase your chances of winning. US only. Good luck!
a Rafflecopter giveaway