*I work with Tomy on reviews. All my opinions are my own and not swayed by outside sources.*
Calling all Miles from Tomorrowland fans!! TOMY just launched their innovative new toy line for the awesome Disney Jr. TV show. If your kids are anything like mine, everything is about Miles! All day long, they want to watch Tomorrowland. That is why we were really excited to receive some of the best Tomorrowland toys on the market from Tomy!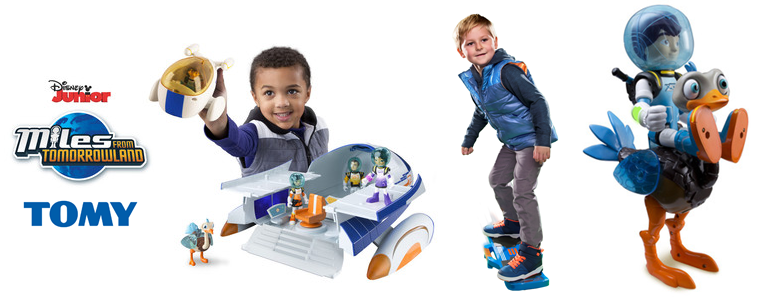 TOMY is bringing storytelling and space adventure to life with an innovative Miles from Tomorrowland toy line that captures the sense of wonder and exploration from the show. The product line focuses on evergreen play patterns and includes vehicles, figures and playsets that kids can use to recreate adventures from the TV episodes, or to discover new stories for Miles and his friends. The line also includes role play toys with Miles' futuristic gadgets, plus big action and big fun with large-scale characters complete with voices and cool accessories. The entire line is full of connections and thoughtful design that links toys across the line to provide added features and additional play value.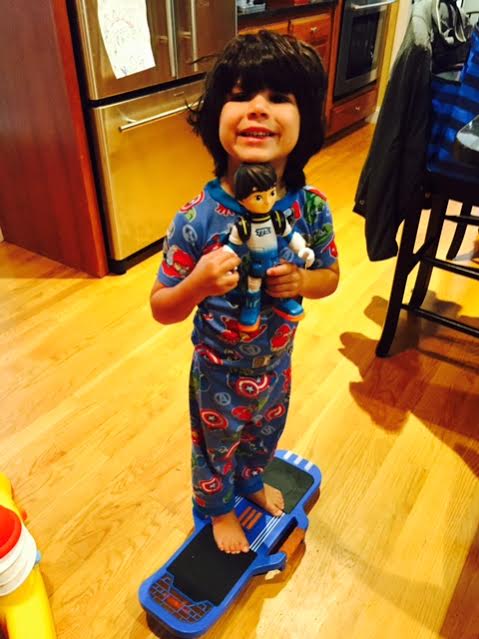 For our review, we received Maximum Miles which is a  10-inch tall figure of Miles and he could say 8 phrases from the show. With Zane being a huge Miles fan, he now brings his Maximum Miles with him wherever he goes. It comes with accessories (space helmet, blast board) to add life to Miles. When Miles rides the blast board, it lights up which causes Zane to get all excited!
There is also the great Superstellar Blastboard for Miles to ride on which retails for $34.99. This is Miles favorite form of transportation when he is going around.  It is jam-packed with three fun games, lights, sounds and more! You can watch Miles race, surfing, and balancing on the Blastboard. It also allows you to beat levels to increase in difficulty. The blastboard is a fun toy for all!
Be sure to check out these TOMY Tomorrowland Toys which is now available at your local Toys "R" Us, Walmart, Target and Amazon!