Happy weekend everyone! I hope you all have a great weekend with whatever you do!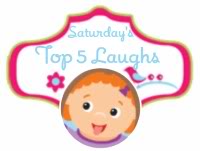 As always, come link up any cute or funny post. Definitely check out the other bloggers who link up, as they all provide a great laugh. Feel free to take my button or share on social media although this is not necessary.
My top five laughs:
5. Zane likes to fall asleep everywhere but his bed. This week, I found him in the hallway passed out cuddling with his stuffed teddy bear. I just left him there because it was useless to move him.
4. Taylor is an eating machine. Girlfriend got weighed this week and she is 7 percent height, 75 percent weight. Little chubbers!
3. Hayley is so sassy these days. I asked her to get dressed this morning and her response back was, "Mommy.. I will get dressed when I feel like it!" So SASSY!
2. Taylor took a few steps this week. However, she hates when she is walking. Every time she takes steps, she cries. LOL!
1. Zane is obsessed with Ant-Man. All week he has been asking Siri to play Ant-Man. I told him Siri can't play it because the movie is still in the theatre. He does not take no for an answer. He keeps trying and trying all while I laugh at him!
Now your laughs: