*Sarah, one of my blog contributors, reviewed 2 free nights at Hotel Hershey and amenities in exchange for a review.*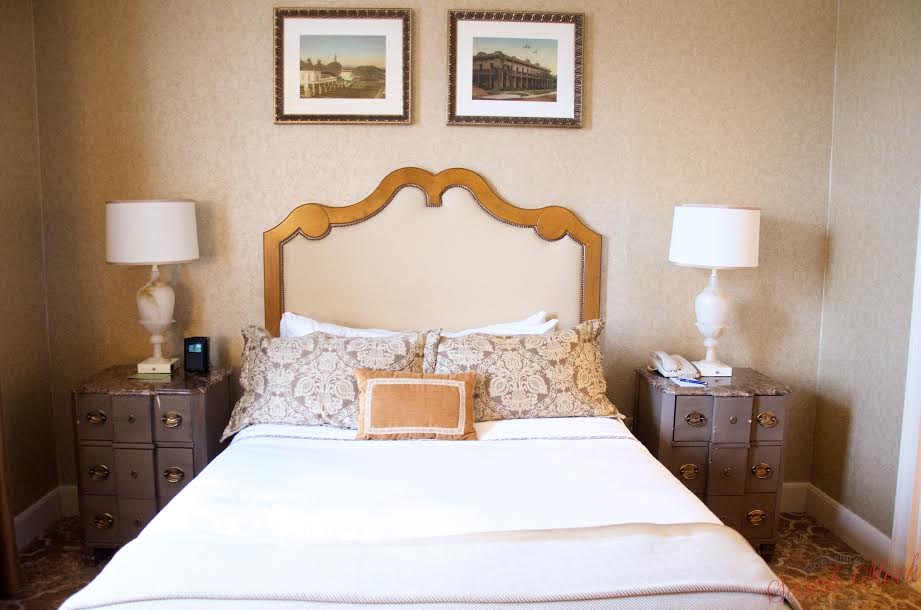 Hershey Pennsylvania is known for its chocolate, Hersheypark, Milton Hershey School and the Penn State Milton Hershey Children's hospital, just to name a few. Once you have become accustom to the constant fragrance of chocolate hanging in the air and the gigantic Kiss shaped street lights you may decide you need to spend more than a few hours in this delicious town.
The Hotel Hershey
I had the opportunity to spend a few nights at The Hotel Hershey and this hotel offers more than a clean, comfortable place to rest your head after riding a few roller coasters.
Built in 1933 at the direction of Mr. Hershey during his 'Great Building Campaign' this Mediterranean design inspired hotel offers 276 delux guest room and 48 premium cottage rooms. Mr. Hershey built The Hotel Hershey during the Great Depression, hiring the townspeople to build his projects and keeping his neighbors employed during the lowest economic depressions our country has ever seen. He even had homes built for his workers and sold them back to them AT COST. This was just the tip of the iceberg of how much Mr. Hershey loved his community and the people who lived there.
Speaking of icebergs, Mr. Hershey had a ticket for the Titanic. Aren't we glad he didn't make the voyage?
Here is a quick room tour video of my room:
Part of the turndown service at the hotel is Hershey Kisses and a fluffy terry robe placed on your bed. I tell you, I could get use to this type of service! Now to get my kids to leave chocolates on my pillow….
Once you have settled into your room you might want to head down to the Iberian Lounge for a signature cocktail.
I have the signature 'Kiss & Tell' chocolate martini pictured here but I also tried the Brunette (with caramel highlights) Chocolate Caramel Martini and they offer the Raise Your Glass to the perfect pair Peanut Butter Cup Martini.
I will not lie and tell you that they go down EASY.
Yes.
Easy.
Also I may or may not have gotten the recipe. (ok. I have the recipe and I hope to share it with you in a future post. Shhhh.)
For more dining options check out the dining page of their website.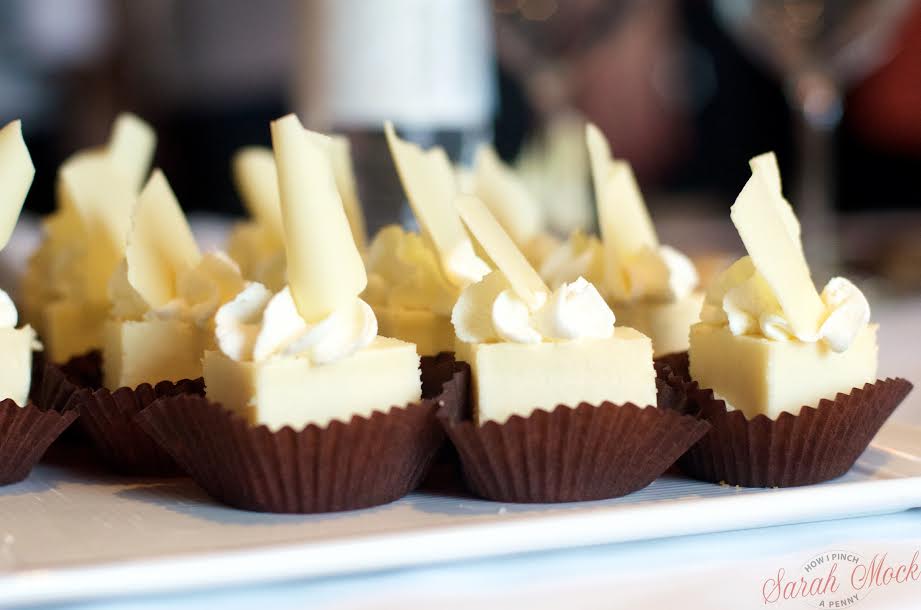 We were treated to a mini chocolate and wine paring class.
I love wine and I love chocolate and turns out I love them together! Classes are offered from time to time so be sure to check the Dining in Hershey page for more information.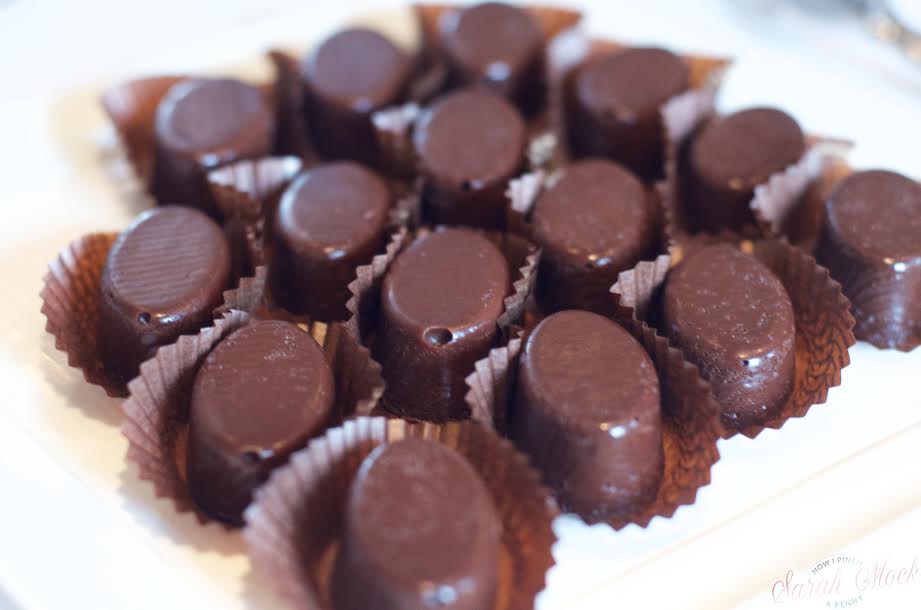 And here is the white chocolate cheese cakes that we were served with the Moscato wine. The richness in the cheesecake perfectly balanced out the sweetness of the Moscato.
Who knew?
Not me.
But now I do and you do too!
And then there is The Spa at the Hotel Hershey. Or as I like to call it: Heaven on Earth.
The spa opened in 2001 but quickly became so popular they had to expand the facility in 2004 to double the size. The three-story, 30,000 square foot Spa is a full-service European-style that overlooks the Hotel's formal gardens and reflecting pools.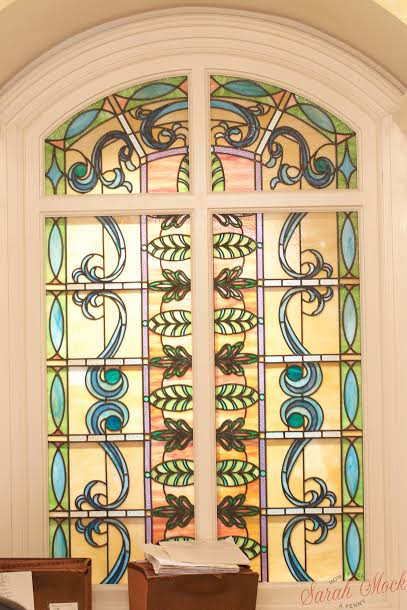 The interior decor of the Spa was inspired by the home of Mr. and Mrs. Hershey. It was evident to me that the Hersheys loved stained glass, fine details and elegance that is not pretentious. I wish my home has just a fraction of the ambiance that this Spa shares with its guests.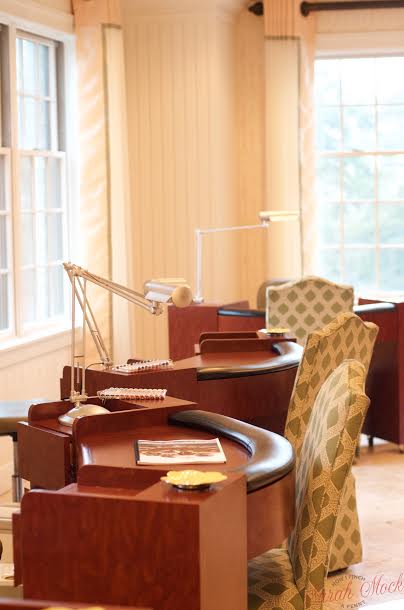 The manicure room overlooks gardens and the tables are arranged for easy conversation between friends. I am sure there is lots of 'girl talk' that happens behind these tables! I can tell you from experience that those chairs are so comfortable to sit in! Definitely one of the many details that go into your elegant spa experience!
There were 3 manicure chairs at the end of this room and they had a beautiful view.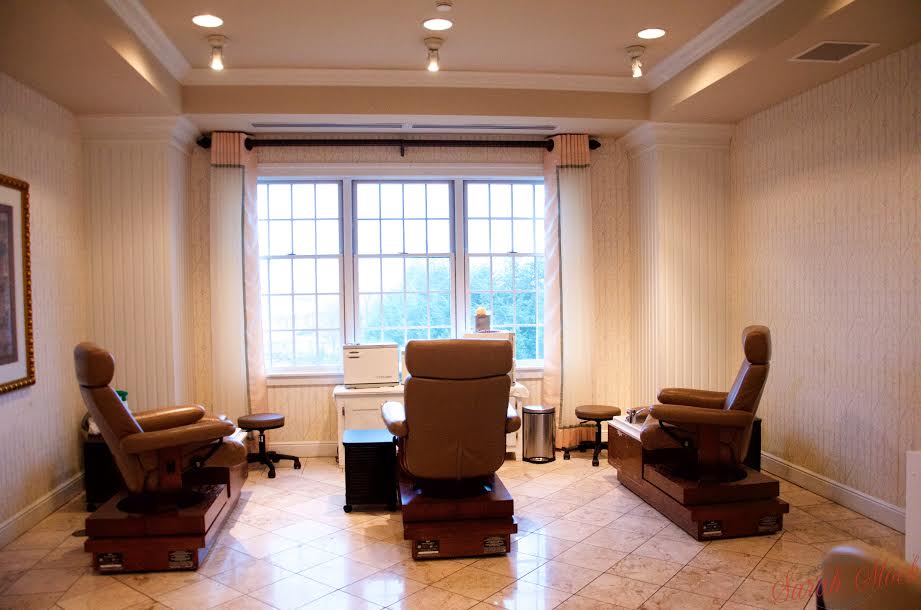 Can't you just picture yourself sitting here with your best friends, Chocolate Martini in hand, being pampered?
Look Up.
As the wife of an architect I have learned to always look up. We walk in a new city and my husband is always looking up. There are so many details above you.
The same holds true at the Spa.
Look up.
Even the ceilings are beautiful. Hand painted, the rose detail is a nod to Mrs. Hershey's love of roses.
The Oasis
The Spa has its own restaurant. It is the Oasis Spa Restaurant and Lounge. The Oasis is a relaxing restaurant that you are able to enjoy a drink or have lunch at the buffet but here is what makes it extra special, it is for Spa guests only. That is right, when you have treatments at the Spa you have access to your own restaurant! But you are in your robe!
What are you to do!?
Go in you robe!
That is right!
Robes are welcome at the Oasis and there is an Oasis only elevator to take you to your meal.
Specials
I love that the Spa is always offering specials. Here is perfect excuse to avoid Mondays at home. Have a spa day!
I was chatting with Manager of the Spa and she was telling me about their popular Chocolate Spa Club and how it attracts members from all over the country. I am always looking for value and this is a delicious value!
I think this is going to be my Christmas wish list. How fun would it be for you and your best girlfriends to be Chocolate Spa Club members?
Benefits:
Complimentary $150 spa credit
15% discount on spa services Monday – Thursday
Complimentary open house events with priority reservations
Dedicated member spa reservation line
10% discount on spa retail
Exclusive member gift
6 Invite-a-friend passes (certificates for an accompanying friend to receive a 15% discount for a visit to The Spa)
Seasonal complimentary access to the Outdoor Pool for member and 1 friend, when each has 50-minute service. Spa service Monday – Thursday only.
4 complimentary Oasis lunch certificates
Private Chocolate Spa Club member website
Complimentary one-night stay at The Hotel Hershey+. For booking details, please see membership disclaimer below.
Use of special Chocolate Spa Club robes when at The Spa
Ready to visit?
I was at The Hotel Hershey for just two night and I feel like I have just scratched the surface of all it has to offer. I love that it is just 45 minutes from my house but it feels worlds away! There are restaurants I would love to dine in, pools that need to be relaxed in and I could see myself getting a couples massage with my husband in The Spa.
I also think it would be a wonderful, memorable experience to take a few best girlfriends to the resort for a few days to experience The Spa and Hotel instead of going to the class reunion!
Who has a class reunion coming up this year?
How much will you spend to go to the reunion?
How many of those people do you ACTUALLY want to spend time with? Grab your best girls or a few couples and spend quality time at The Hotel Hershey. Book a few treatments at The Spa and enjoy time together with the people you WANT to spend time with in a place that is glorious.
I will be seeing my BFFs this weekend when one of them gets married and I will be sure to make this suggestion that we skip the reunion and head to The Hotel Hershey. One of the best investments we have ever was investing in each other. Read all about how and why I love these ladies in this post.
More on Hershey, Pa
I had the pleasure of spending the weekend with some pretty awesome women who happen to be bloggers. I wanted you to read what they wrote about the weekend. Here are some of their thoughts:
The 13 Things Better Than Chocolate in Hershey, PA from All Things Fadra
Who Are You Supporting When You Buy A Hershey Product Or Visit Hershey, PA? from Being Allison
7 Places You Much Check Out In Hershey,Pa from Life Without Pink
Attachments area