*I received the DVD for review. All my opinions are my own and not swayed by outside sources.*
When I was a little girl, I remembering watching My Little Pony over and over!! Do you all remember? Now I have some great news because My Little Pony Tales: The Complete Classic TV Series is now available on DVD! How cool is that!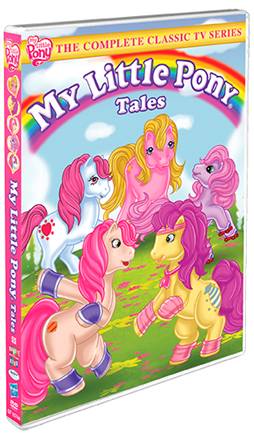 Attention My Little Pony fans of yore, My Little Pony Tales: The Complete Classic TV Series is available now on DVD in the U.S. and Canada from Shout! Kids in collaboration with Hasbro Studios! The 2-DVD set includes all 13 episodes of the show, originally airing on television in 1992, as well as sing-alongs.
Ponyland is full of excitement, if you know where to find it, and now all of your favorite My Little Pony Tales are finally collected in one amazing set! Join the 7 Pony Friends—Starlight, Sweetheart, Melody, Bright Eyes, Patch, Clover and Bon Bon — for 13 episodes of outrageous fun! Games, picnics, ice cream shops, roller derbies and even UFOs… nothing is off-limits when it comes to grand Pony adventures!
This is such a wonderful DVD set and one that I can now relieve over and over again with my own children! Now that Hayley has watched it, it has quickly became one of her favorites. Both her and I cuddle up on the couch and watch it together. We are now making new memories!
Win it: One winner will receive this set. For this giveaway, simply leave me a comment and tell me why you want to win this set in the comment section proceeding the post. While the other entries are optional, I highly suggest filling it out to increase your chances of winning. US only. Good luck! Please remember a valid email address. Ends 5-15.