*I work with One Step Ahead on promotions. All my opinions are my own and not swayed by outside sources.*

I'm a huge fan of fitness for kids. I really believe that if I can make physical activity fun for my children now, it will set them up for a lifetime of fitness. I want my kids to embrace fitness for the rest of their lives. That's why I was so excited to to try out the Fun & Fitness Treadmill for Kids from One Step Ahead and why I'm so excited to give one away, too!
Fitness for Kids Means Fitness for Adults
I want my kids to have a great life. I want them to be healthy and happy in whatever they do. One way to ensure that is to make sure I instill a love of physical activity in them while they're young. The healthier they are, the less health problems they'll have in the long run. The less health problems they have, the more time they'll have for their families and friends. That's why fitness for kids is so important to me. It just sets them up for a better overall quality of life. I know this so well because there was a period of time when I fell out of my fitness routine, and I could feel it. My energy plummeted, and I generally felt very "blah" all the time. I don't want my kids to feel that way!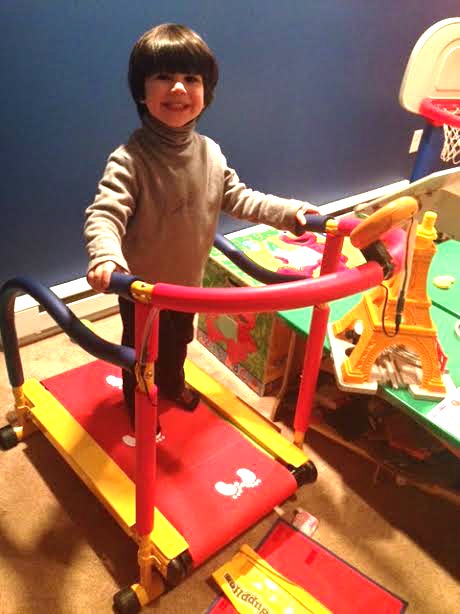 I'm an avid runner, and when the weather gets bad – like it was this past week – I bust out the treadmill. My daughter is always asking me if she can run on the treadmill. I love that she wants to run like mommy, but there's no way I'm letting her on a machine like that. So when I was approached to review the Fun & Fitness Treadmill for Kids from One Step Ahead, I was on it in a flash. I was excited, but Hayley was practically jumping out of her seat. She asked me everyday when the treadmill was coming. Just when I thought she couldn't hold out any longer, it arrived. Just in time, too. She was starting to lose hope! P.S. It only took a few days to arrive, but that's a century in kid time. =D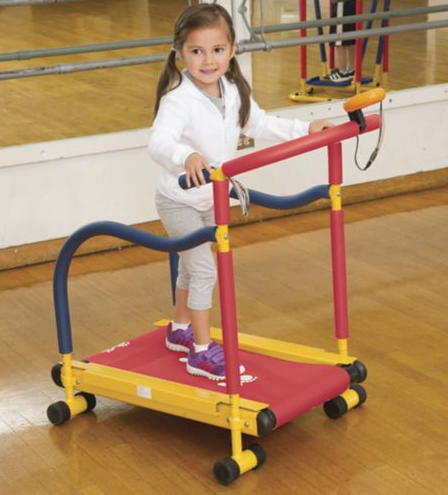 The Treadmill Arrives
So the treadmill came after what Hayley will tell you was an eternity, and we went to work putting it together. It was quite easy to put together, which made my husband VERY happy. Hayley supervised, excitedly directing me and my husband while simultaneously jumping up and down like a jackhammer. I can tell you now, she got in a good workout just by watching us put it together!
The Treadmill is put Through the Paces
As soon as we got the treadmill set up next to mine, Hayley was on it. I've never seen her so excited. She was getting to run just like mommy. That's a key element for encouraging fitness for kids. When they see us do it, they want to do it. I took the opportunity to get on my treadmill, too, and Hayley and I had our first mother/daughter treadmill date. That's what we've decided to call it. I was really impressed by the construction of the treadmill and how well it held up to Hayley running on it. I was also impressed with her. She ran/walked with me for 30 minutes!
I Love the Fun & Fitness Treadmill for Kids
This treadmill is awesome. It's absolutely the perfect thing to encourage fitness for kids. It was easy to assemble, and it's just adorable. What's more fun that bright red and yellow?! I like that, because part of encouraging fitness for kids is making it fun. Anything that helps make it exciting is a plus in my book. Besides being easy to assemble and looking great, I love that this treadmill has all the bells and whistles that I look for in a treadmill like a working odometer that tracks time, speed, distance, and calories burned. It also has a powder coated steel frame with soft foam handles to protect kids in case of a fall. Another great safety feature of the Fun & Fitness Treadmill is that it's kid-powered, so there's no chance of them falling on a moving belt that won't stop. I want to stress that this is a workout machine for kids. This is NOT a toy. It's safe, but you shouldn't ever leave the kids alone while they're on it.
Overall, Hayley and I had a great experience with this treadmill. That's why I'm excited to give a Fun & Fitness Treadmill for Kids to one lucky reader. I think this treadmill is a great way to encourage fitness for kids, and I can't wait to hear about my winner's experience with it.
Giveaway: One winner will receive this treadmill for kids. This giveaway is run via rafflecopter so click read more, to see the actual giveaway. The only mandatory entry is to tell me what other products from One Step Ahead you like. Please put all comments in comment section proceeding this post. While the other entries are optional, I highly suggest filling them out to increase your chances of winning. US only. Good luck!
a Rafflecopter giveaway