*I received a DVD for review. All my opinions are my own and not swayed by outside sources.*
Ahoy Mate! Disney Junior's Jake and the Neverland Pirates is back with an all new DVD entitles Battle of the Book. For any little Jake fan, such as my son, being introduced to a new Jake episode is the highlight of his whole week. This new Jake DVD did not fail to disappoint and quickly become one of Zane's favorites! The concept of teamwork really made it a favorite for both him and I! This DVD provides 2 hours of fun for the whole family!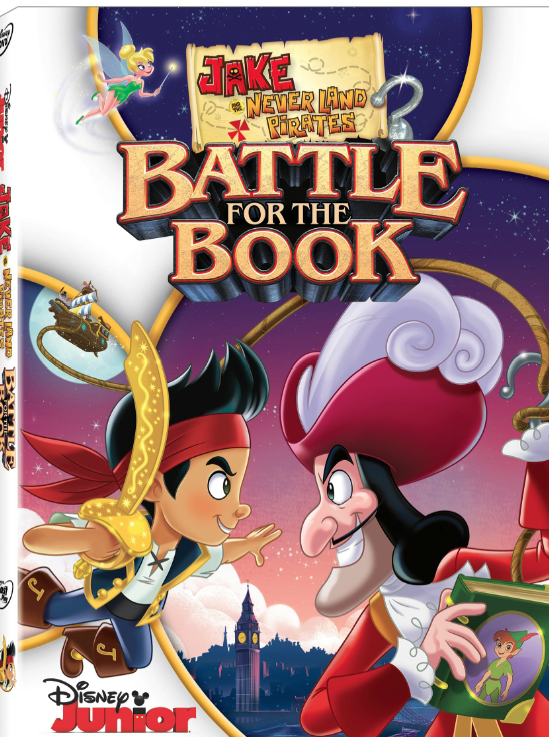 Join Jake and his friends as they battle Captain Hook to save Wendy's storybook and the story of Peter Pan! Embark on a magical adventure with Jake and Captain Hook in JAKE AND THE NEVERLAND PIRATES: BATTLE FOR THE BOOK on Disney DVD now!  This DVD is value packed with four additional episodes and a FREE exclusive checker board bandana with gold coins fit for any aspiring young pirate!
Synopsis:                                When Wendy's special Storybook is stolen by Captain Hook, Jake and his mates go to London to help Peter Pan's friend (from the classic movie Peter Pan). The longer the book is out of Wendy's hands, the more she and her brothers (John and Michael) forget about their past adventures on Never Land. The battle for the book continues in Never Land, where Hook plans to destroy the book and its stories in the legendary Ring of Blue Fire. It's up to our young heroes to save Wendy's Storybook and the Story of Peter Pan!
Talent:                                      Sean Ryan Fox (Life Tracker, East of Kensington)as Jake, Madison Pettis (Cory in the House, Beverly Hills Chihuahua 2 and 3, The Game Plan) as Izzy, Jadon Sand (Frozen, Wreck it Ralph) as Cubby,David Arquette(Scream movies) asSkully, and Corey Burton (Star Wars: The Clone Wars) as Captain Hook
Executive Producer:       Rob LaDuca
Producer:                               Mark Seidenberg
Director:                                 Howy Parkins