Have you ever wished there was a better way to keep track of Birthday present  lists or your company's supply needs or the supplies for your family's next party or even find ratings on products from the people you know and trust? Now you can. Group ecommerce shopping is the wave of the future, and Cartonomy is leading the way with their revolutionary approach to ecommerce solutions.

Ecommerce Solutions that Make Me Happy
I adore Cartonomy. Its approach to online shopping is like nothing I've ever seen before. I signed up, and then I invited friends and family who routinely shop online to join. Together as a group, we can collaborate on lists for everything from party supplies to birthdays to things around the home (from Ziploc bags to cleaning supplies). I love that, but what makes Cartonomy my newest love is the ability to see ratings on items from people I know and trust. When a member of my shopping group rates an item, I know that I can trust that rating. Another great plus with Cartonomy is that I can shop all my favorite brands across all of my favorite stores. Using this wonderful new approach to online shopping, I scored some items that I know are going to be great because I trust the other shoppers who have purchased them. I ordered diapers, a mirror, and some great  gifts from multiple stores from the convenience of my own home and with the confidence that I could trust their reviews. It was great!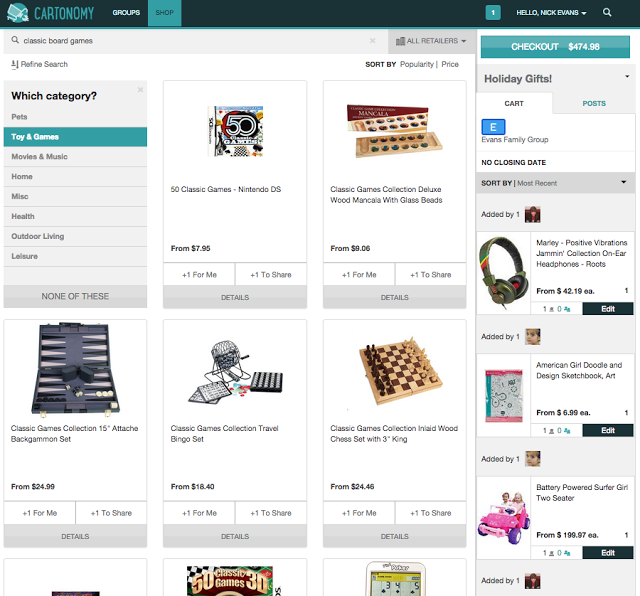 Cartonomy Benefits
Create a group of online shoppers with your friends, family, and even coworkers
Created, coordinate, and fill shopping lists for you, your team, or your family at great prices
 Customer reviews you can trust because YOU know the customers
Access to thousands of products from the biggest, most popular retailers
Sophisticated search algorithms quickly find what you're looking for
Integrates products from major retailers into Cartonomy's easy to use platform
Cartonomy is great. My shopping experience has been nothing but positive since I began using it. Its ecommerce solutions make just about every aspect of online shopping quick and easy. With my schedule, quick and easy is important to me. Head over to Cartonomy and check them out. I have some great items at great prices that prove you'll be glad you did!