*This is a sponsored giveaway. All my opinions are my own and not swayed by outside sources.*
I've only recently noticed all of the articles on how important the bacteria in your gut are and how it affects our immune systems. I had no idea, but it turns out there is a whole community of gut bacteria in each of us that keeps us healthy. Who knew?! Research shows that it can impact many different aspects of our health and scientists are even looking into ways that gut bacteria can help with things like weight loss or immunity against viruses such as Malaria. So it is actually no surprise that it also impacts the health of babies and kids.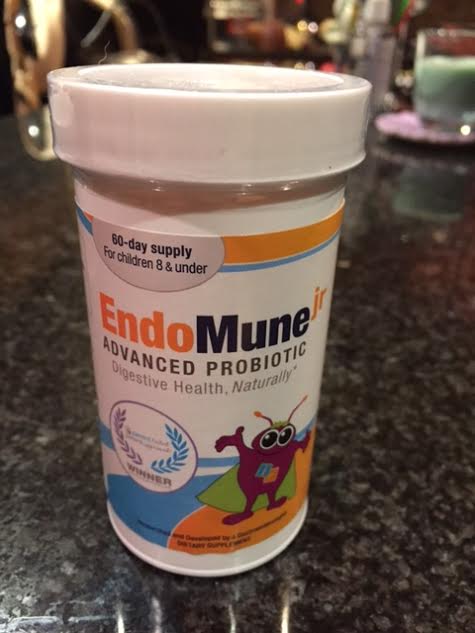 In all my reading about digestive issues in babies I learned that babies delivered by C-section have less of the good bacteria in their gut for the first two years of life. Research also has shown that giving your baby a daily probiotic made for infants, such as EndoMune Junior (a children's probiotic) , helps to normalize the bacteria in their gut. Have any of your babies had colic? It is not fun! You feel terrible that your baby is uncomfortable but you don't know why, or what to do to help them feel better. Dealing with the crying gets exhausting, and it's torture for you to see your baby uncomfortable without knowing why. Many times colic is due to gastrointestinal distress and once that gets figured out it makes life much easier! But tummy troubles are common among babies and young kids, and it's been found that one of the best ways to tackle them, or avoid them altogether is to introduce probiotics specially designed for children into their diets.
Probiotics are also known to help strengthen immunity in general. EndoMune Junior was developed by a practicing gastroenterologist, Dr. Lawrence Hoberman. It is the only children's probiotic on the market to be Parent Tested and Parent Approved (PTPA), and protects your child's health in an all-natural way. It is also gluten-free and dairy-free, so safe for all children. In addition to helping with tummy troubles, I figure that anything that can help to strengthen my kids immune systems is worth adding to their diets. Hey, even I've been adding probiotics to my own diet since I've found all of this new information out! It's more than I ever cared to know about gut bacteria, but then again my priority is to keep my family healthy, so I'll do whatever it takes.
Giveaway: One winner will receive a bottle of EndoMune Junior. For this giveaway, simply leave me a comment and tell me what you learned by searching out the EndoMune site. Please put all comments in comment section proceeding the post. US only. Good luck! Ends Jan 1st.