*This is a sponsored campaign. All my opinions are my own and not swayed by outside sources.*
This past week, I found out about Dropprice. This is an innovative way that rewards moms for being social. Essentially, they built a way for moms to drop prices of quality kids products by sharing them with other moms.  Each week, there are different deals for baby and kid products. Once you see something you like, you can click the promotion available. After a certain amount of moms click, the price is then dropped. See this chart to understand how important it is to click and share the deal: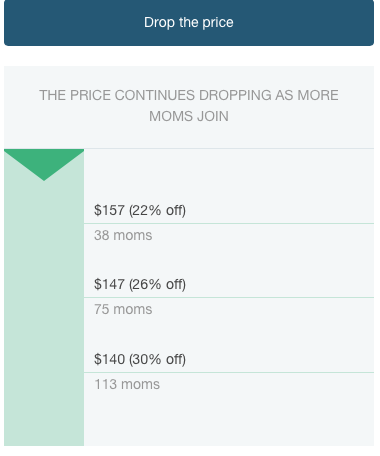 You can then purchase the product at a much reduced price until the product runs out. What a way to save money and a fun way at that!
Here's how is more information how it works:
Moms can visit the link and click to "drop the price" of the Baby Monitor for Cars. For example, in today's promotion for the Baby Monitor for Cars, it started out at $199 and for each mom that clicks, the price drops a bit. The price will continue to drop for each person that participates until it reaches 32% off. This promotion also includes free shipping anywhere in the US!
Participants have the option to share on social media to get more moms to participate, or they can "buy now" for whatever price the item has been dropped to at that time. This is such a fun and exciting way for moms to save lots of money by collaborating with each other.
Today's "Drop the Price" Deal is on the hot, new Baby Monitor for Cars. As a mom of a newborn, I feel this product in ingenious. Now is your chance to drop the price and click away, to get this great deal!