Happy Weekend everyone. In 9 days, I am going to be welcoming Baby Girl into our lives. I am so excited and nervous.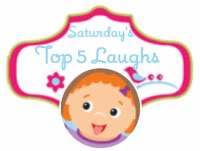 As always, come link up any cute or funny post. Definitely check out the other blogs who link up, as they provide a great laugh. Also, feel free to take my button or share on social media although this is not necessary.
My top five laughs:
5. Hayley is a little fashionista. The girl asked me if she could wake up a few minutes early each day, so she can try on her outfits for camp. She must pick out her outfits for the day! Where does she get it from?
4. Talking about #5, Hayley finished a week of camp and got named "Most fashionable" for the camp superlatives. The she turned to me and said, "What is that?" I had to remind her of her fashion obsession.
3. Zane went to camp this week and had a pee-pee accident. I was fine with it since he was playing and a lot of times, they just forget. The cute part is he turned to the teacher and said, "I had a little accident. I will go clean it up and make sure it doesn't happen." I thought that was just precious!
2. Zane is still insistent that Baby Girl is a Baby Boy. I am pretty sure it will stay like this until long after I deliver.
1. Overheard in the car this week: Hayley told her friend Teagan that when they get older, around 99 years old, they can get babies put in their belly! Teagan then replies- let's not Hayley, because it would hurt too much going in! These kids…
Now your laughs: