*I participated in an Ambassador Activation on behalf of Mom Central Consulting for Banana Boat® Sun Care. I received product samples to facilitate my review and a promotional item to thank me for participating.*
My husband is always outside during the summer months. The problem is before a few years ago, he thought he was immune to the sun and the harmful rays. It took a good pal of his to get diagnosed with skin cancer to realize just how important wearing sunscreen is, whenever he is outside. He now religiously wears sunscreen, even if it is spending a few minutes in the sun, watering the plants. He realizes that while the kids need to be lathered, with sunscreen, so does he! Thankfully now, he is always prepared with the Banana Boat For Men line, that he keeps in his book bag wherever he goes!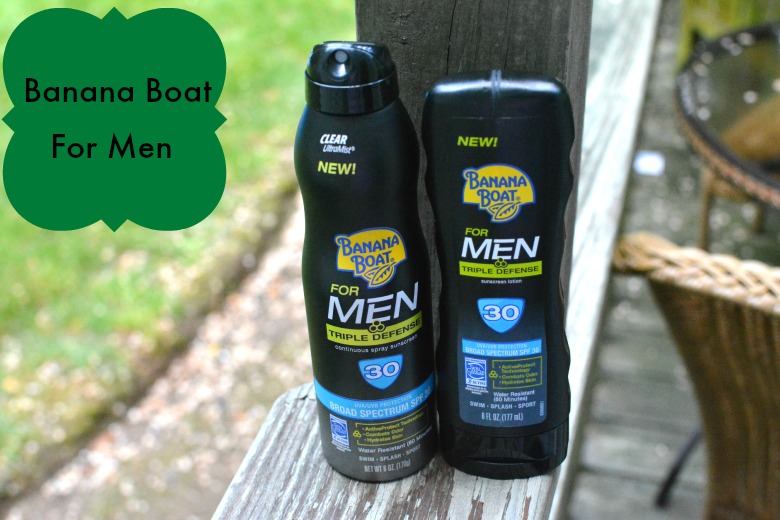 Just this past Father's Day, my husband and the kids had a fun day, seeing Thomas the Train. I am very pregnant so I could not join them, but they had an incredible day. It was 90 degrees that day, so I was so proud of my hubby for packing up his bag, and including the necessities including the kids sunscreen, along with this Banana Boat For Men Sunscreen.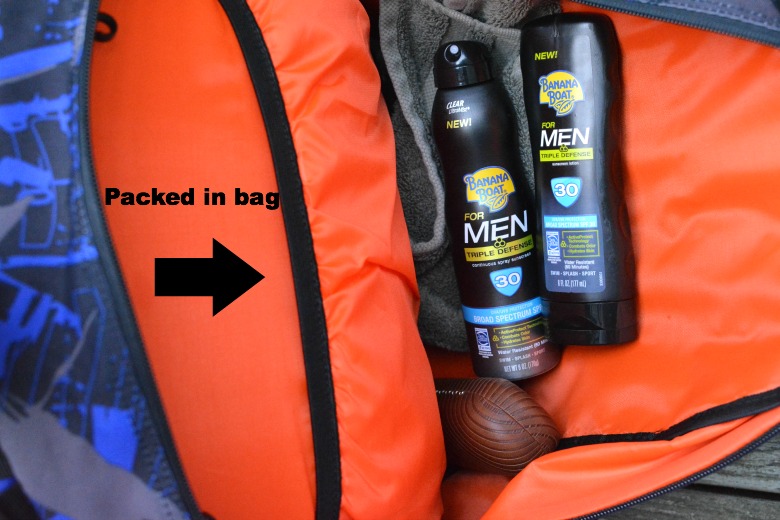 Now all the time, while he is in the sun, he always makes sure to apply Banana Boat For Men Sunscreen. I don't even need to ask him. This is a new line and a quite fabulous line if I must say myself. There are two different Banana Boat for Men Sunscreen products we received- Banana Boat For Men Triple Defense Sunscreen Lotion and Banana Boat For Men Triple Defense Continuous Spray Sunscreen. Both contain UVB/UVA protections with its broad spectrum SPF 30. It is also available in SPF 50.
Banana Boat Triple Defense Sunscreen for Men is the first Banana Boat sunscreen portfolio designed specifically for men, created following a 2012 survey by The Skin Cancer Foundation which revealed that men over age 50 are more than twice as likely as women to develop skin cancer, yet only 51 percent of men in the U.S. admitted to using sunscreen in the past 12 months. As I said before, my husband never used sunscreen until his friend got diagnosed. He, like a lot of men, did not fully understand the the repercussions of protecting themselves from the sun and the ramifications that being in the sun without sunscreen can bring.  Hearing about his friend was a rude wake-up call on just how important making sure he uses a good sunscreen at all times, during the summer months.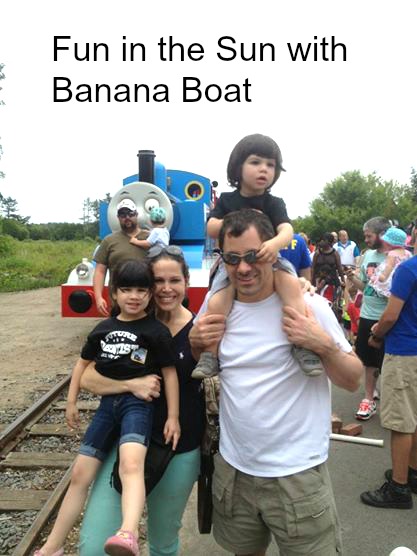 Banana Boat really took men into consideration when developing their Triple Defense Sunscreen. Triple Defense Sunscreen for Men contains ActiveProtect Technology, and provides heavy-duty broad spectrum UVA/UVB protection which kicks in and stays strong when the sun's rays are most intense.  What he loves about Banana Boat, is it an light-weight formula that combats odor, even while sweating, and hydrates the skin.  This is the perfect product for those active men who spend time in the sun and want to enjoy the summer months, without having to worry about the harmful rays.  Banana Boat Triple Defense Sunscreen for Men also was awarded the Shape Magazine 2014 "Sun Award" for best sunscreen for men! This is the sunscreen you will want your men to have at all times this summer.
He equally likes the Banana Boat For Men Triple Sunscreen Lotion and Spray. He uses them for different purposes during the summer months. For example, when he knows he has some time, he uses the lotion (which is extremely easy to apply) all over. When he is rushed on time and needs to apply sunscreen, he turns to the spray kind. Both sunscreens are water resistant though and good for 80 minutes before they need to be applied. Whether they like to vacation in the sun, go swimming in the ocean, or play their favorite sports, make sure the men in your life are prepared with Banana Boat For Men Triple Defense Line.
I also highly suggest to heed to these following tips when out in the sun:
1. Make sure you have Banana Boat sunscreen packed away in your bags, whenever you plan to be in the sun. Everyone in the family needs to be protected against the harmful rays.
2. Apply a golf-ball size amount every two hours throughout the day. You do not need to use any more than this to get good protection, but do make sure you are protected, even in the night hours. The sun is out late during the summer months.
3. Make sure to cover all parts of the body, including knees, toes, ears, etc. There is nothing worse than getting a burn on the soles of your feet. Trust me!
4. Use Banana Boat products so you can feel safe in the sun, all while having a great summer!
Sweepstakes alert: Right now, Banana Boat® sunscreen is teaming up with actress and mother of two, Busy Philipps, to bring moms and their families the tips, tools and fun prizes they need to have the Best Summer Ever! Visit Banana Boat Brand on Facebook to learn about the Best Summer Ever Sweepstakes.  The grand prize is a trip to a Treehouse Resort!  The Sweepstakes ends on July 31, so do hurry!