*I am a Sesame Place ambassador. All my opinions are my own and not swayed by outside sources.*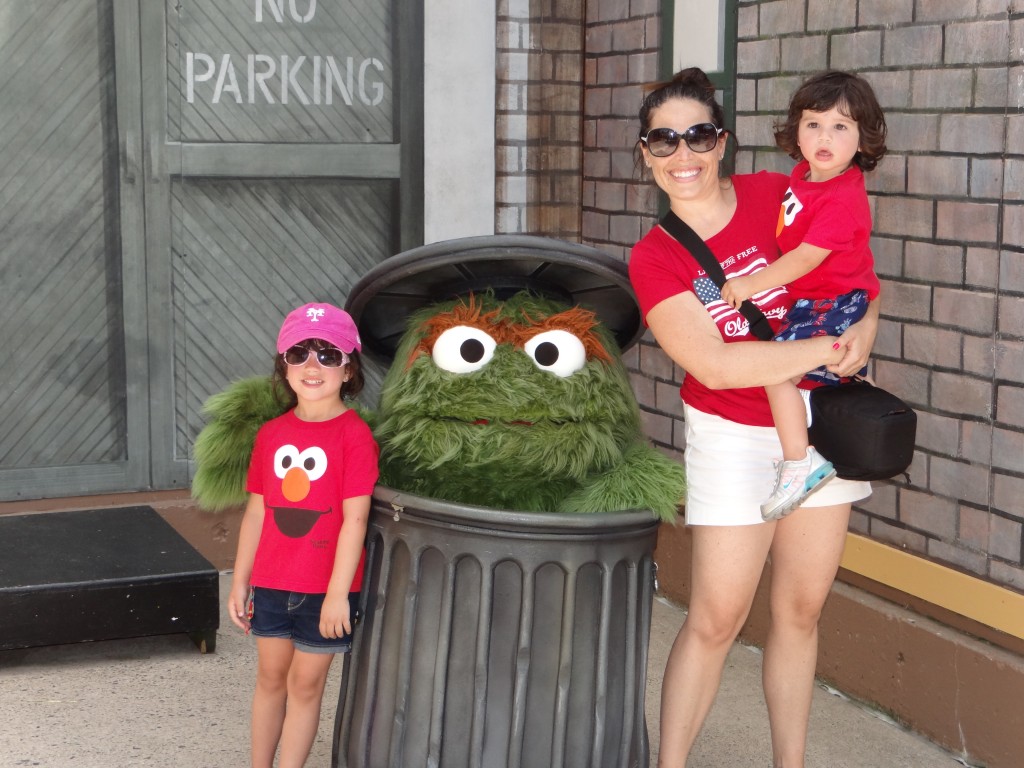 I am unbelievably excited to let you all know that I will be continuing on as a Sesame Place ambassador for the 2014. The 2013-2014 was so great and I look forward to sharing with you my experiences from the 2014-2015 season. You will see all different posts from me, from tips, to pictures, to the new park additions over the next couple of months, so you will want to stay tuned. I will also be hosting four different giveaways, so if you do not win this one- do not fear, as there will be plenty of chances!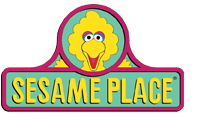 I decided to start out with telling you some of my favorite tips and tricks when you visit Sesame Place in Langhorne, PA from my experiences over the years. We have been visiting Sesame Place since Hayley was 6 months (she is almost 6 now) so I figured it would be easy to relate my personal takes on this topic.
1. Get a Season Pass to Sesame Place!  If you do not want to deal with paying every single time you go and dealing with lines, make sure to get your pass. This will ensure you can visit the parks anytime you want, at any time of the day. For me, I sometimes like to visit the park later in the day. With a pass, I can do that and never feel I am wasting my money and getting in only a few hours. The cost of the season pass is so affordable too. Here are the different option plans: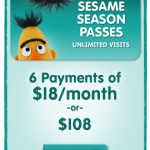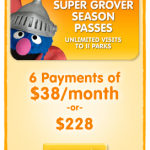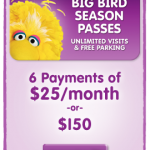 Here are also some additional benefits of buying each of the different plans: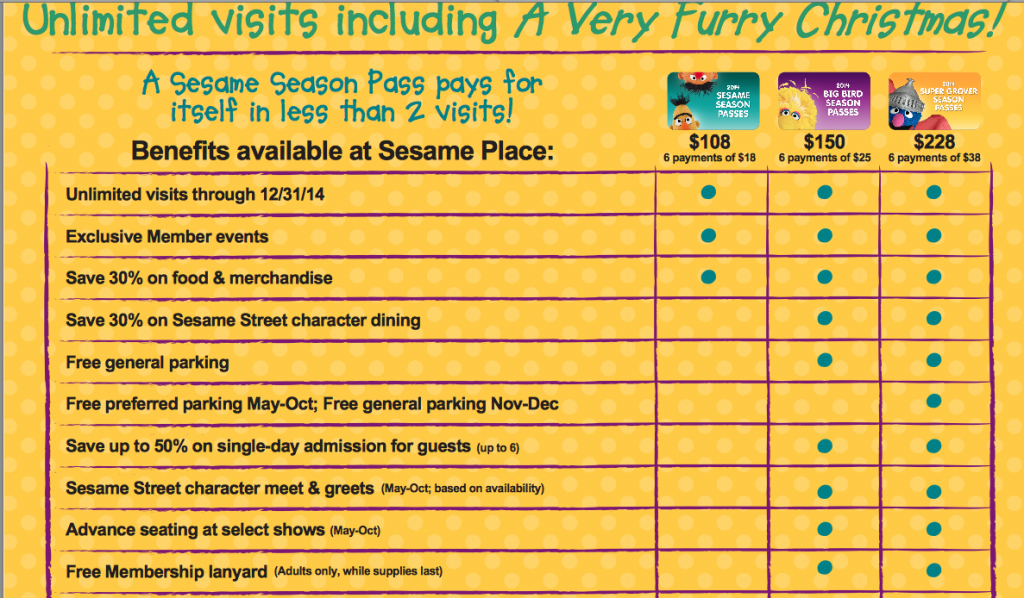 2. If you do not have a season pass, make sure you take advantage of the online offer where you can get two days admission for the price of one!  Sesame Place is too much fun for just one day, so we they are  giving you an extra day to play! This offer seen here: Sesame Place admission is  valid for any two visits including A Very Furry Christmas. Enjoy exciting rides, exhilarating water slides, captivating shows, furry friends and the All – New Cookie's Monster Land – Opening Spring 2014!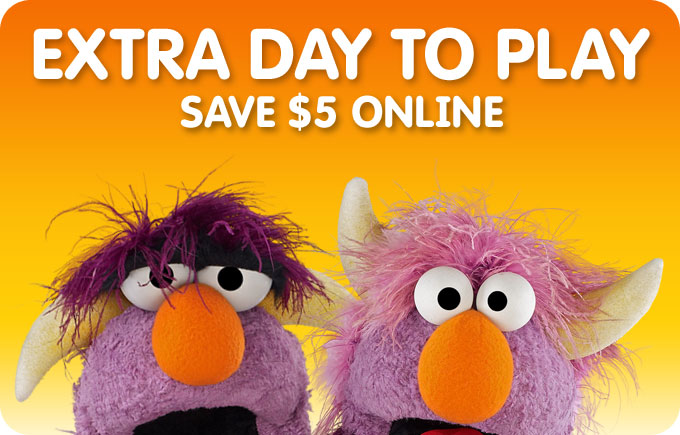 3. Visit the parks early in the morning. Once the parks open, the crowds tend to be minimal. As the day goes on, it gets a lot more crowded and the lines for the shows, rides, and food, gets exponentially longer. If you are the first one there, you can probably get on any ride or see any show, without much wait. I did this last year, and it was awesome for my kids to ride all their favorite rides, without any hardly weight. The same goes true for the parade- I always suggest going to the first parade of the day. There are various times for the parade and they change every day, but that first parade is usually the one that is the less busiest.
4.  Definitely check out Dine with the Characters! This was one on of my children's favorite features at Sesame Place. Much more to come on this after I visit in a few weeks, but this is a spectacle you do not want to miss. For more information, click here: Dining options at Sesame.
I would also be remiss without mentioning there is a brand new section of the park called Cookie's Monster Land that just opened! Here is some information about this section of the park: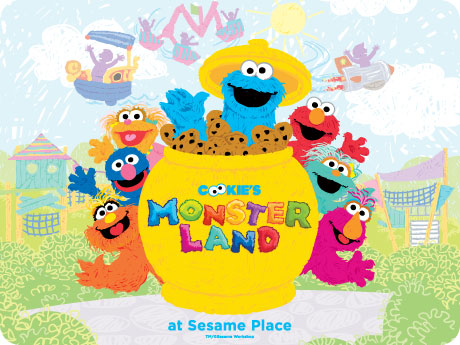 Sesame Place will open its furriest land ever in Spring 2014 – Cookie's Monster Land™! Cookie Monster will serve as host to all of his monster friends in this colorful and imaginative new land featuring five exciting rides, a three-story net climb, and a soft play area for the park's youngest visitors.
Everyone's favorite Sesame Street monsters will come together in a fun-filled land with attractions and play areas that families can enjoy together throughout the year, including Captain Cookie's High "C's" Adventure, Oscar's Rotten Rusty Rockets, The Honker Dinger Derby, Flying Cookie Jars and the Monster Mix-Up. The updated"1-2-3 Smile with Me!" interactive photo location also gives everyone the chance to share a furry hug and a smile with Cookie Monster and his monster friends.
Be sure to visit Sesame Place this summer for an awesome summer getaway for the whole family! Even parents will love the experience of going and having fun at Sesame Place. Stay tuned for more information over the next couple of months.
Win it: One winner will receive a 4 pack to Sesame Place (a value over $200). This giveaway is run via rafflecopter so click read more to see the actual giveaway. The only mandatory entry is to tell me why you want to visit Sesame, in the comment section proceeding the post. While the other entries are optional, I highly suggest filling them out to increase your chances of winning. US only. 
a Rafflecopter giveaway