*I participated in an Ambassador program on behalf of Mom Central Consulting for Kohl's. I received Kohl's gift cards and sample pieces to facilitate my posts and as a thank you for participating.*
I am looking outside today and here in Rhode Island, it is 25 degrees with snow on the ground.  However, it is officially SPRING, and within the next two weeks, the temperatures will be changing drastically.  While I always associate spring time with taking a vacation, this year being 6 months pregnant, I am going to stay in the confines of my home. However, this does not in no way mean, I can't get in the Caribbean mindset in terms of what I wear. There is nothing like brightening up my day and enjoying some great fashion in the Spring time. Luckily for all of us, Peter Som has been named the fourth designer for Kohl's limited-edition concept, DesigNation, which features designers inspiring the world's most stylish destination. This year, Peter Som has the St. Barth's state of mind, in designing his gorgeous Caribbean style of clothes!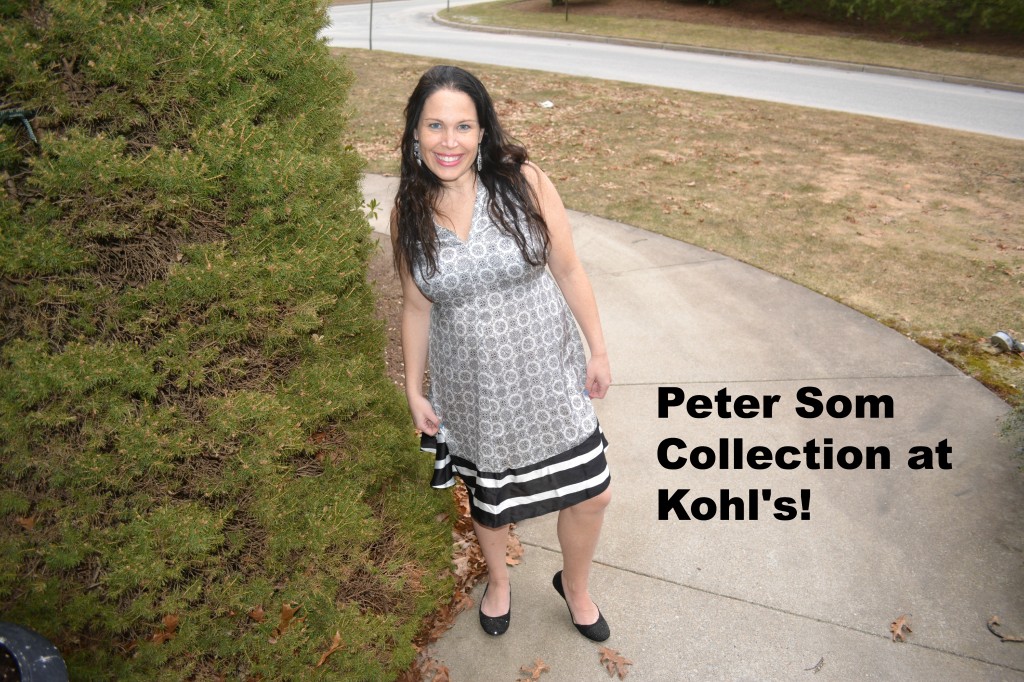 I had the chance to sample three of his beautiful pieces including his striped romper, pineapple graphic tank, and tile-print halter dress. Although I am pretty pregnant right now, I did fit into two out of three of his pieces, which I will show you below.  For his collection, he focusses on St. Barth's and its luxurious lifestyle. Having vacationed in St. Barth's before, he really hit it spot on with his colorful, pattern clothing that reminds me of the style of the people who live and vacation there. In his pieces, you will find fun patterns, vivid colors including the popular coral and blues, and beautiful prints. By dressing in the Peter Kom Collection, it will allow women to look effortlessly stylish at a very affordable price.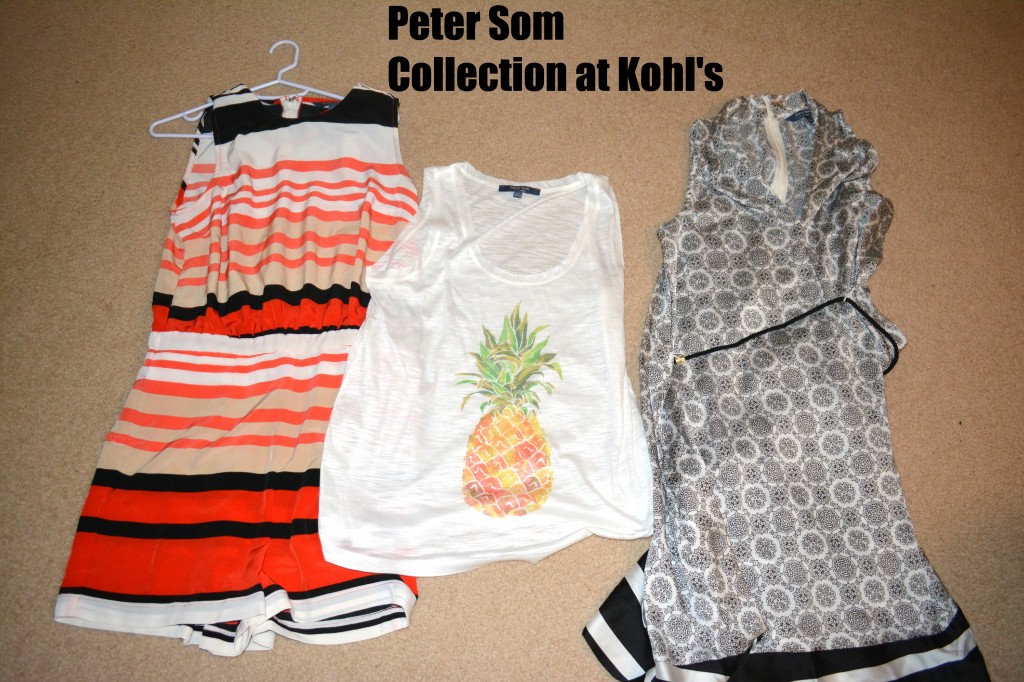 The first piece I tried to fit my body into but had a hard time because of the bump, was the gorgeous striped romper with bright coral, red, navy, and beige colors. This piece would be perfect for an everyday walk on the beach with sandals, or make it a more night time look with a bold, coral statement necklace, earrings, and cute wedges. To me, I envision myself going out on a Sunday with this romper on, and a cute Spring hat. It is such a fun romper and brings me back to my childhood days of being comfortable dressing in a cute romper.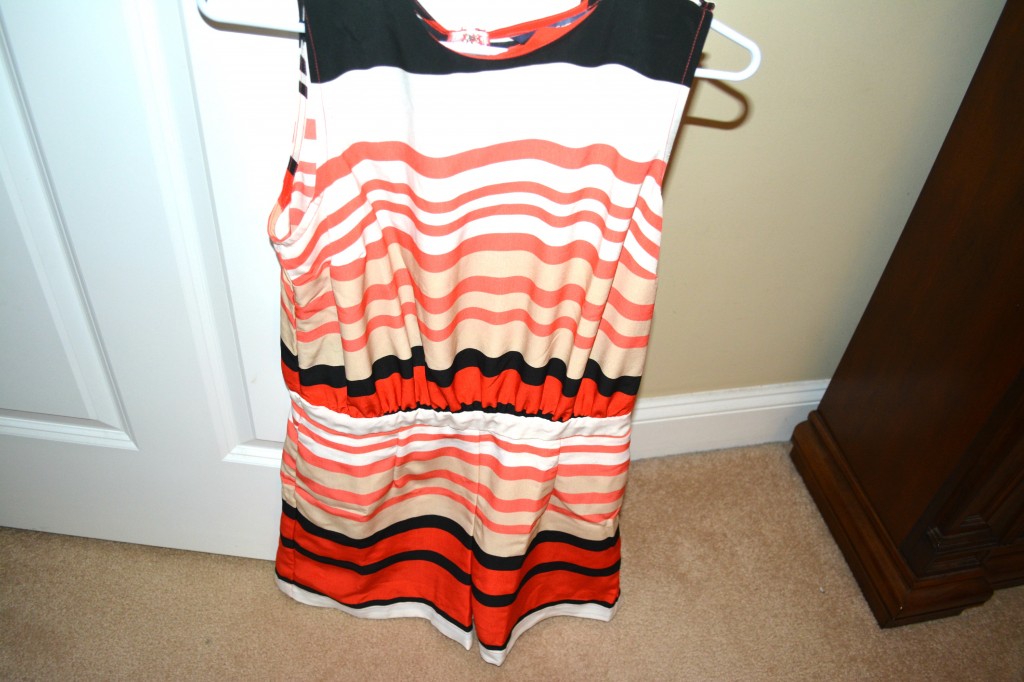 The material on this dress is second to none. I absolutely love how silky it feels and I imagine once it is on, it will fit so smoothly. I had my friend try it on the other day and she asked me right there if she could have it because she thought it was the perfect Spring outfit.  I let her borrow it but once this baby is born, I am getting that back right away. We both looked at Kohl's website that night and thought these coral earrings would go right along with Som's theme.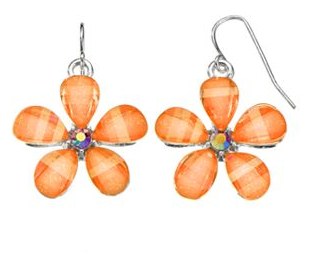 Next piece of the Peter Som collection I tried on was the pineapple graphic tank. I fell in LOVE with this graphic tea since it so fun, flirty, and hip. Being a mom sometimes, I tend to stray from the fun designs but when I tried on the pineapple tank, I knew this piece was going to be a standard in my wardrobe. I paired it with white pants and pink shoes for a great daytime look. I also tried it on with a denim jacket (Kohl's has so many at fabulous prices by the way) for a more nighttime look. Both looks I loved and I felt so comfortable, yet fashionable, in the outfit.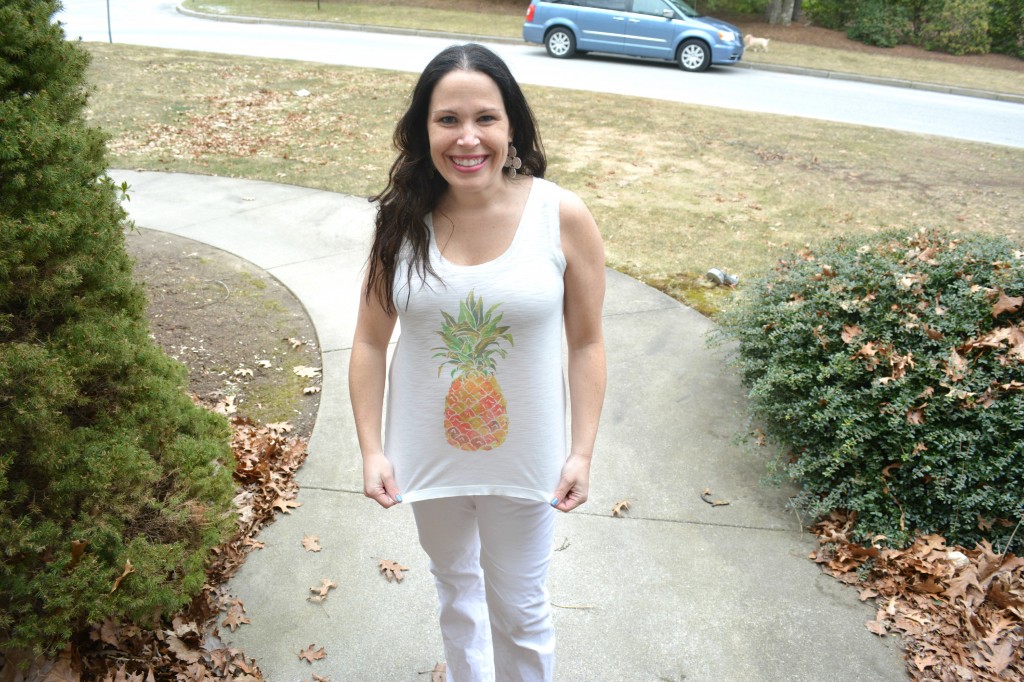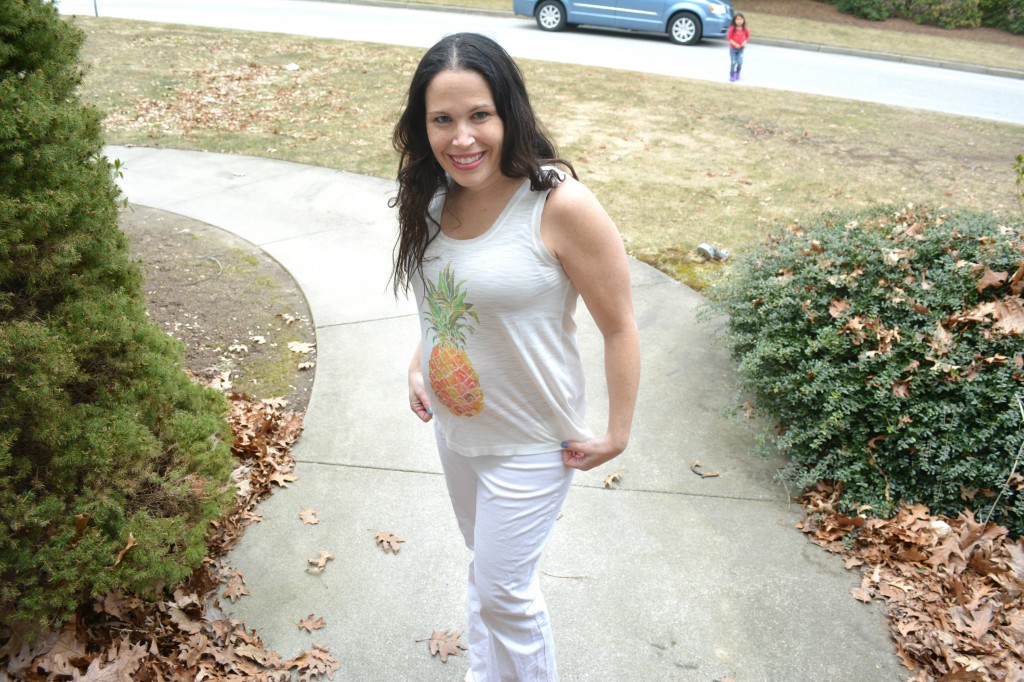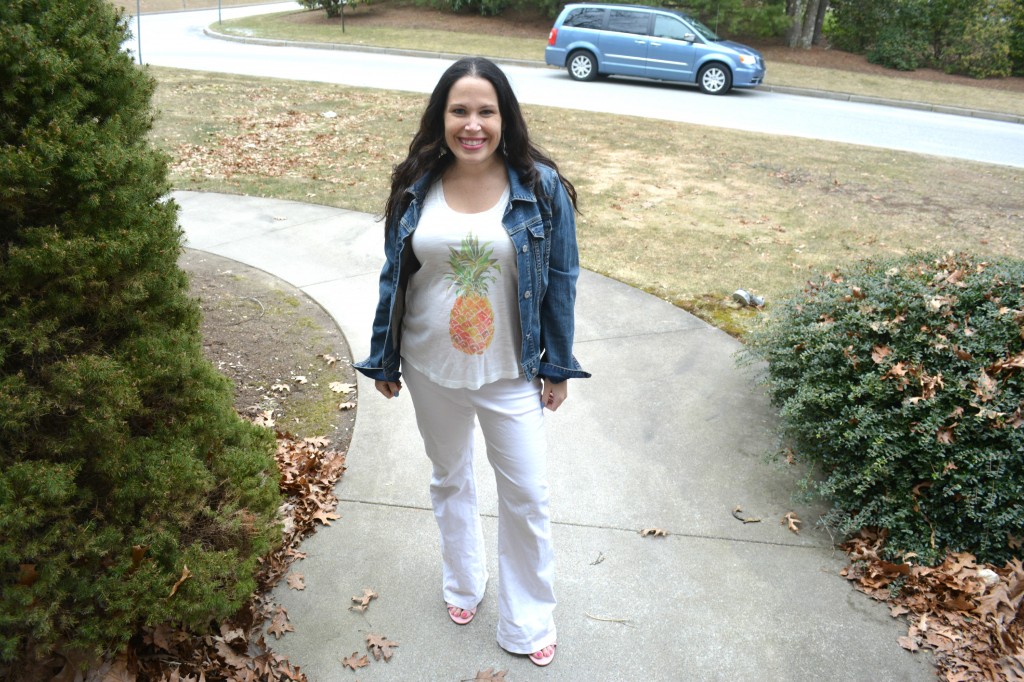 When I am wearing this top, I think of myself visiting a local restaurant on the water and eating dinner outside. The wind blowing, the food being served, and the vacation theme in my head. This top will definitely bring me back to St. Barth's and that amazing vacation. Once the weather gets warmer, I can also see pairing this with shorts and letting the top flow. Perhaps even gold hoop earrings to dress it up a bit for a nice restaurant?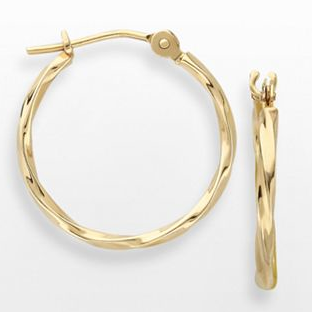 The last outfit I tried on was one of my favorites: the tile-print halter dress. This dress incorporates black and white in a fun, exciting way. I love the way the dress has a specific pattern but then once you go the hemline, you will see a completely different pattern. To me, this makes the dress that much more fun! I am a big halter fan and it has a high enough halter line, that you don't need to wear a tank underneath. It fits perfectly on me and feels so good to the touch.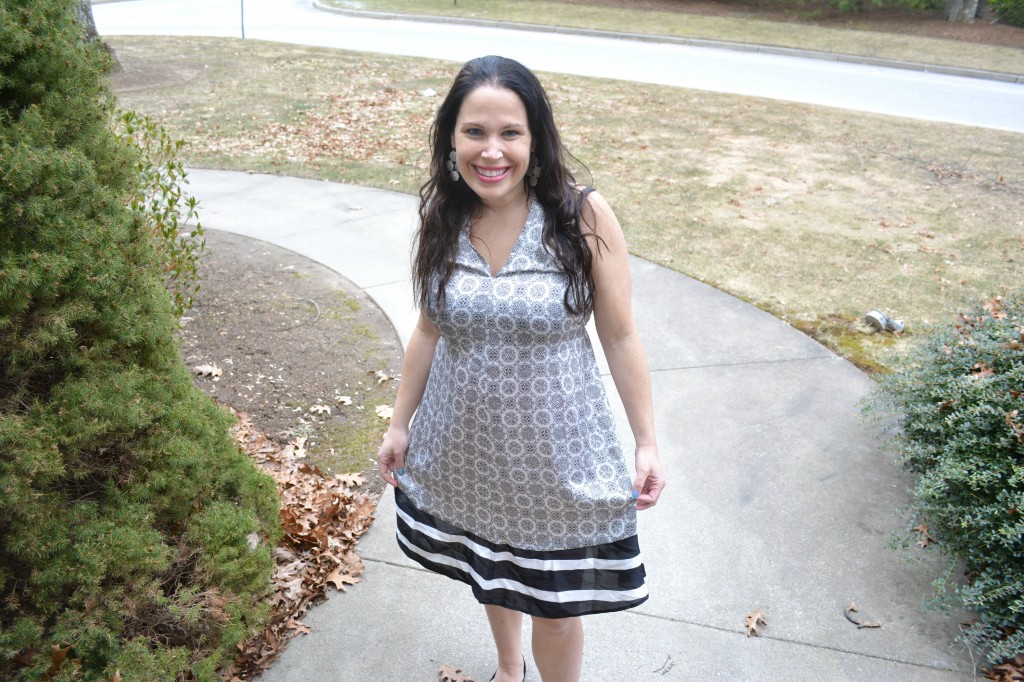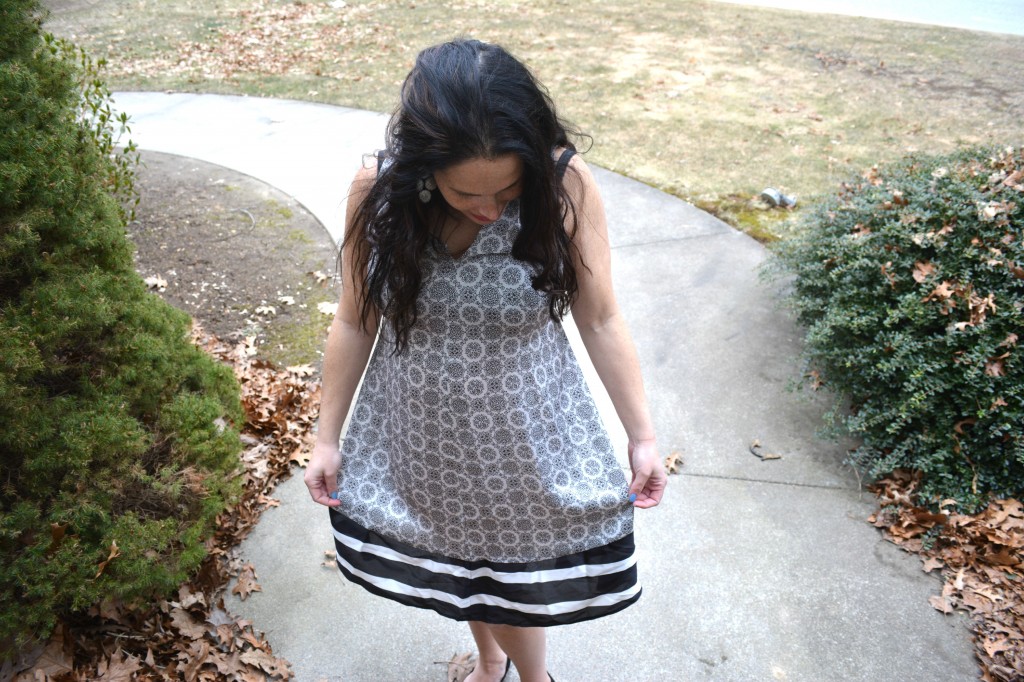 The rope belt was such a nice touch, as it reminds me of a fun, Spring-time look. While I would probably wear this dress more at night with a cute pair of wedges, I also tried it with flats, and it looked equally as nice. A nice walk on the beach, a trip out with the kids to Newport, a night out with my hubby at my favorite restaurant- I see so many uses for this dress.
Now that I got you so excited about the Peter Som collection, you will all be excited to know that you can shop the pre-sale for this collection on April 4 and 5th. The full collection will then be available online beginning on April 7th, and then in-store and online on April 10th! 
So, what do you love best about his new collection??