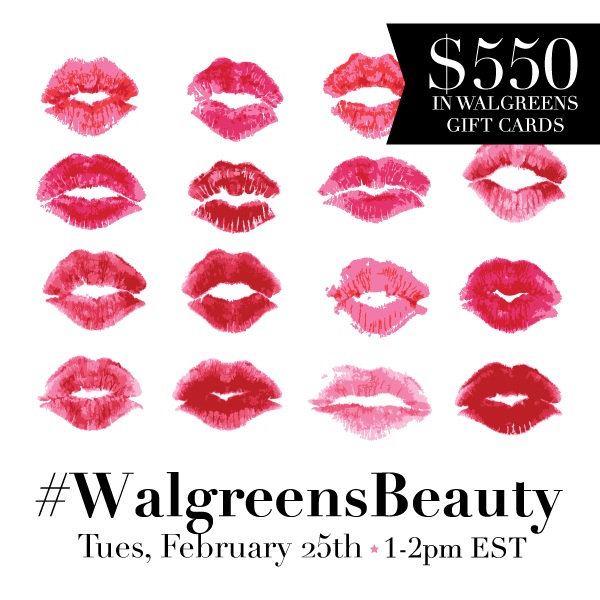 It is the new year, which means it is time for a brand new look! We all feel great when we have a beauty regime that we could easily stick to. Are you the type who likes to keep up with the latest beauty products and trends? If so, you will want to join us at the #WalgreensBeauty twitter party where we will be talking about great makeup and beauty tips!
Did you know that Walgreens is just the store that has everything you need to update your look and enhance your natural beauty? They have a wide selection of haircare, beauty, skincare, and oral whitening products available to purchase, at very reasonable prices! I know I am ready to head to Walgreens to update my look right away!
JOIN US FOR THE #WALGREENSBEAUTY TWITTER PARTY on Feb 5, 2014!
DATE: Tuesday, February 25th
TIME: 1-2pm ET
PRIZES:
PRIZES: 5 – $100 Walgreens Gift Cards
EARLY BIRD: 1 – $50 Walgreens Gift Card
RSVP: #WalgreensBeauty Party Page
LOCATION: SoFabChats Tweet Grid
HOST: @blueviolet
CO HOSTS: @dentistmel, @athriftydiva, and @Lizz_Porter
SPECIAL GUEST: @Walgreens
PARTY RULES: #WalgreensBeauty Official Rules
TWEET TO SHARE:
Join #WalgreensBeauty Twitter Party 2/25 1pm ET. Be Beautiful! Prizes $550! RSVP/Rules http://cbi.as/gjs92 #shop #cbias
Love Twitter Parties? New to Twitter Parties and want to learn more?
Stay in the loop with the SoFabChats Twitter Party Schedule, RSVP for individual Twitter parties, find SoFabChats Twitter Party Tips and sign up for SoFabChats Twitter Party email alerts!
RSVP today and learn how you can enter to win our special Early Bird gift card prize!