**I participated in an Ambassador Program on behalf of Mom Central Consulting (#MC) for Sprint. I received product samples to facilitate my review.**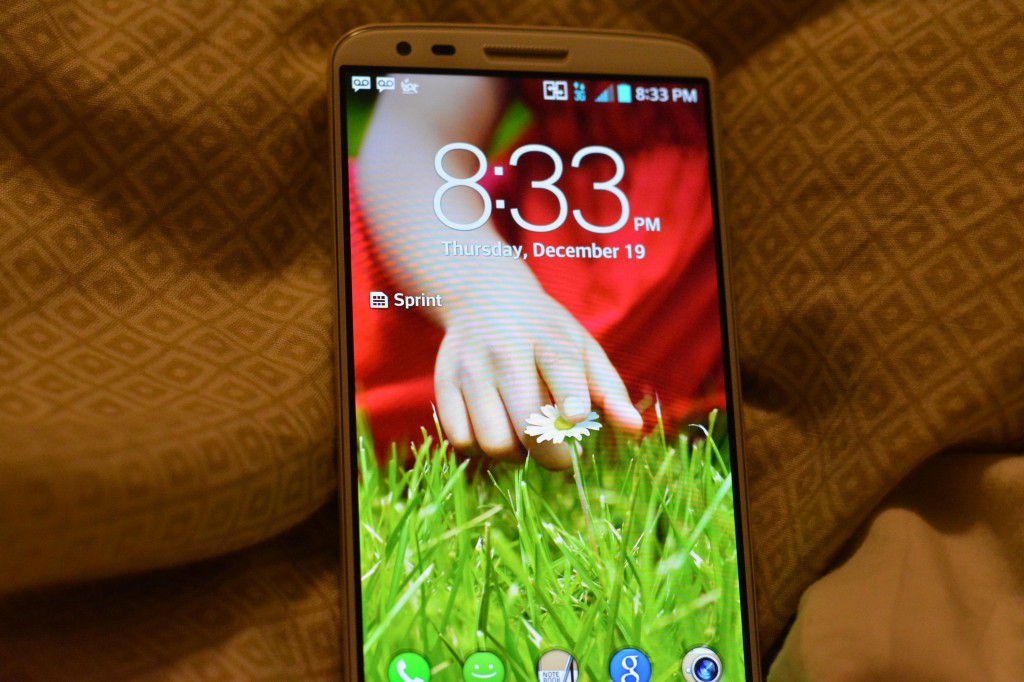 The holidays are upon us and that means it is the season for giving/receiving gifts. While my kids are too young to understand the beauty of tech appliances, my husband, as well as his parents, are on the hunt to find a great phone this holiday season. My husband's phone recently went kaput in the  toilet (thanks to our lovely Zane who thought phones would look cool in toilet water) so he desperately needs a new phone. Luckily, I was able to receive and review the Sprint LG G2 phone to see what features I liked about it, and see if it is a smartphone that my husband might like.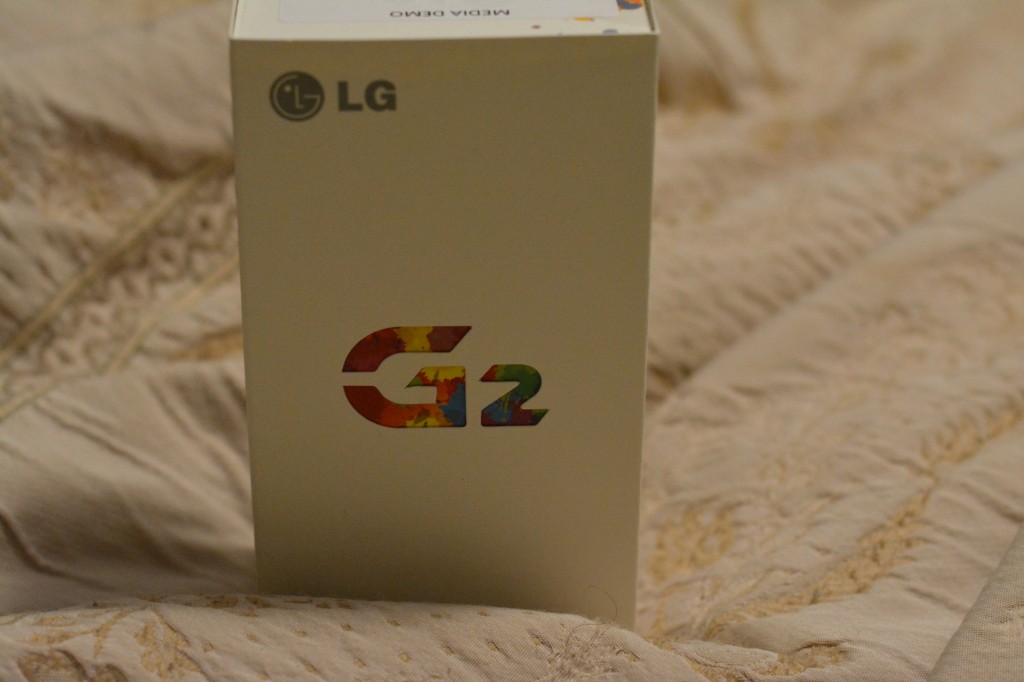 When I first received the Sprint LG G2, I opened up the box and read through the very easy instruction manual. The very first feature of the phone that I was blown away with was the KnockOn Feature. I have used many phones through my lifetime and the power button is all over the place. I can't even begin to tell you how frustrated I get trying to turn on the power button in a hurry, just to have it inevitably not turn on. Now with the KnockOn Feature, I no longer ever need to worry about the power button. Instead of hitting a power button, simply tap twice on the display to wake the G2 from its sleep. That is it- tap twice and voila, the phone comes alive! I use this feature all day long with the phone. It makes using the phone a lot less complicated. It is also a nice convenience that goes hand-in-hand with Answer Me, which automatically answers calls when you put the phone to your ear.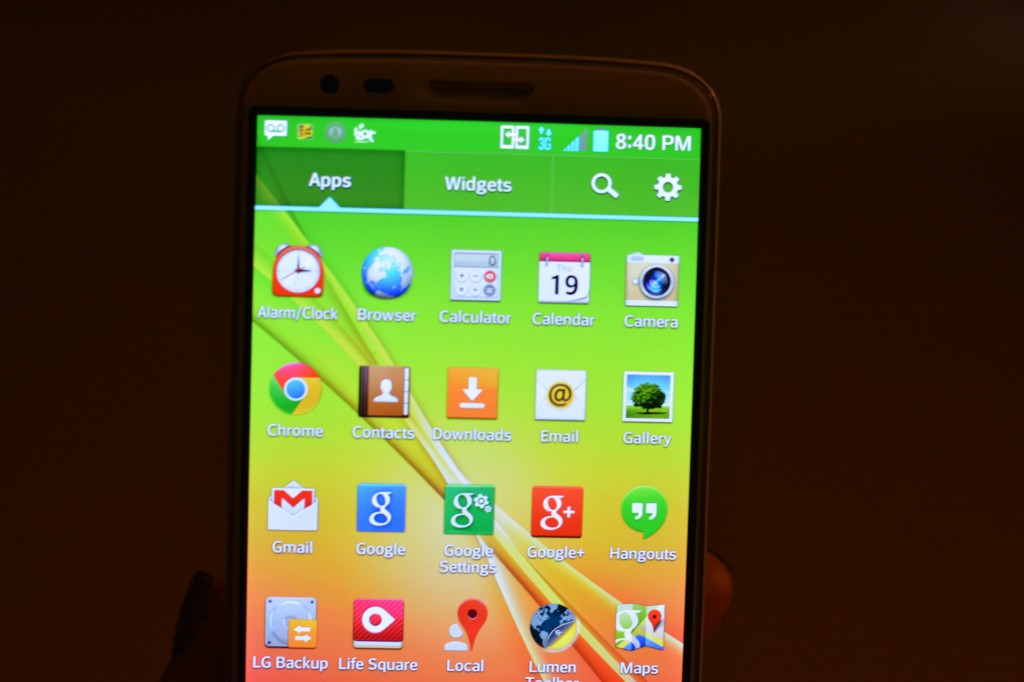 Once I had the phone turned on, it was easy to navigate through all the apps and features with the swipe technology. I can get to any of the pages or the apps, by simply swiping my finger. It makes it very easy for me to navigate, along with my kids (more on that later…).  When I am looking at any phone, I automatically go to the camera icon first. I take a lot of pictures both personally and blog related, and I need to have a great camera. If the phone does not have a good camera, it is a waste to me. I am VERY happy with the 13-megapixel Full HD camera on the LG G2. It takes wonderful, vivid, and colorful pictures, by the press of a button. It features Optical Image Stabilization (OIS), giving users the ability to capture crystal clear images while in motion. I was able to take regular pictures, food pictures, and motion pictures without a problem! You will be able to get vivid shots even in low lights and will be able to capture details to each picture. I love the camera feature! Here is one shot I took last night of my daughter and her friend:
I also have to rave about the Slide Aside feature of the phone.  This allows users to do a three-finger gesture to "slide" open apps off the screen for multitasking. I don't know about you, but I am always doing different things on my phone all at the same time. With this feature, I can switch up to three apps at the same time- I can check my weather, Facebook, and Twitter all at once! Very neat concept!
While I could go on and on about the features here are a few others that are very interesting about the phone:
Text Link – The phone takes relevant text and inserts embeddable links to them in other apps.
Lastly, I absolutely love the look and functionality of the phone. It is sleek and has a big screen, which I need in a phone. It is one of the fastest phones I have seen and I am able to search the Internet in no time at all. Lastly, I find the battery power the best of any of the phones I have tried out. With so many phones in the past, I needed to charge it multiple times a day (I am always on my phone) but with this phone, I charge it once at night and I am good to go throughout the day.
While I need a good phone for myself, my kids are unfortunately too young to own a phone. However, I do a lot of "sharing" of my phone with my kids, and both of them can easily navigate the LG G2 without any problems. If you have teens, I think this would be an amazing phone to get for the holiday season. If you are looking for a great smartphone, be sure to check out the LG G2 smartphone, which is Sprint's most advanced phone to date!
Recently, Sprint has conducted a mobile security survey revealing smartphone consumers' mobile behaviors, habits and concerns about privacy. I found this survey very interesting and some of the results are listed below. While I did not find the frequency of checking the phone astonishing (guilty as charged), I was surprised that people snoop into other  phones to see information. We have passwords on our phone, so no one but ourselves can access them. To see more results, head to the survey and check the results out yourself.