One of Hayley and Zane's favorite activities is sitting down with me to learn! While they love TV, they actually prefer to spend about an hour a day with me learning all about letters, numbers, math, and so much more. As a mom, I find it so hard to buy an all inclusive learning set geared towards the ages of my children. I usually can find a flash card set here…another book set here..but nothing all inclusive! Now though, I can readily teach them with the all inclusive Teach My Educational Kits, which are available in the baby, toddler, and preschool sets.

The Teach My sets are available for three ages including Teach My Baby, Teach My Toddler, and Teach My Preschooler. All the sets include everything you need to teach your children in these different age ranges. The basic tools for each include flashcards, books, visual aids, puzzles, and charts. For Hayley, we sit down everyday and work on various tasks with the Teach My Preschooler Kit. Since she now officially  writing, she loves to practice her skills with the books that are included-she just loves tracing. She also loves to use the Reading Books that are included since she has officially started to read! I just love that these kits help her promote her love of learning. Some activities in the kits include Ready to Print Practice Guide, Ready for Math Subtraction, Ready to Read Sounds, Ready to Read Vocabulary, and various level books. It is amazing and the whole set only costs $49.99! Everything to teach in one set!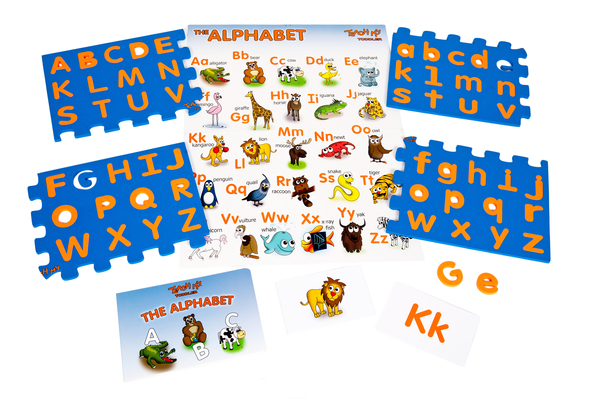 For Zane's age, they have a Teach My Toddler Set.  This is an award-winning set that includes helping him learn words, numbers, and letters. It includes large puzzles, blocks, touch and feel flashcards, storybooks, and more. I like to sit down with Zane daily for about 10-15 minutes to use my kit to teach Zane. It really works wonders, as he is having fun "playing" with the set, while not realizing he is truly learning!
Once you are down with the sets, everything is stored in a neat carrying case, that you can take with you on the go. I plan to take the Teach My Preschooler Set on the plane with us, for our upcoming Disney trip. It is all compartmentalized, so I know there will be no mess, when it is time to clean up. Hayley, Zane, and I really LOVE these kits!
If you are looking for a great learning tool to teach babies, toddler, or a great asset for learning for preschoolers, look no further than Teach My sets!  These would make great holiday gifts for your children or friend's kids, this upcoming holiday season. Give the gift of education! You can also search this link to see if your local Toys R' Us has the Teach My sets-#TeachMy (please note not all Toys R' Us carry the sets currently). Be sure to stock up on  them today to help with your child's education!
Giveaway: Win it: One winner will receive their choice of either the Teach My Preschooler, Teach My Baby, or Teach My Toddler kits. This giveaway is run via rafflecopter so click continue reading to see the actual giveaway. The only mandatory entry is to check out the store locator to see if the Toys R' Us near you has the Teach My products! http://www.teachmy.com/store-locator.php While the other entries are optional, I highly suggest you fill it out to increase your chances of winning. US/Canada. 
*This is a partnered review. All my opinions are my own and not swayed by outside sources.*