When I got contacted this fall about doing a review about SparkUp, I jumped on board and accepted easily! SparkUp, a technology and design startup based in Israel, made a brand new and completely revolutionary new product that can record and read aloud any picture book in this world.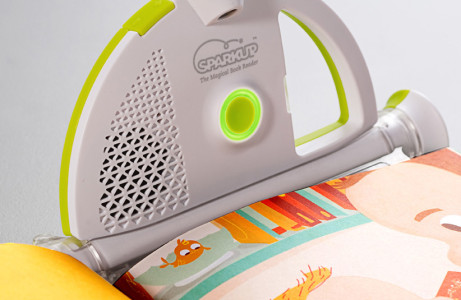 When we got our SparkUp Magical Book Reader out it was all charged and ready to go. There are many different ways to use your reader. You can set up the book to have the Book Reader read the story page by page, or you can record your own words and then when your kids read the book, they will be able to hear your voice page by page.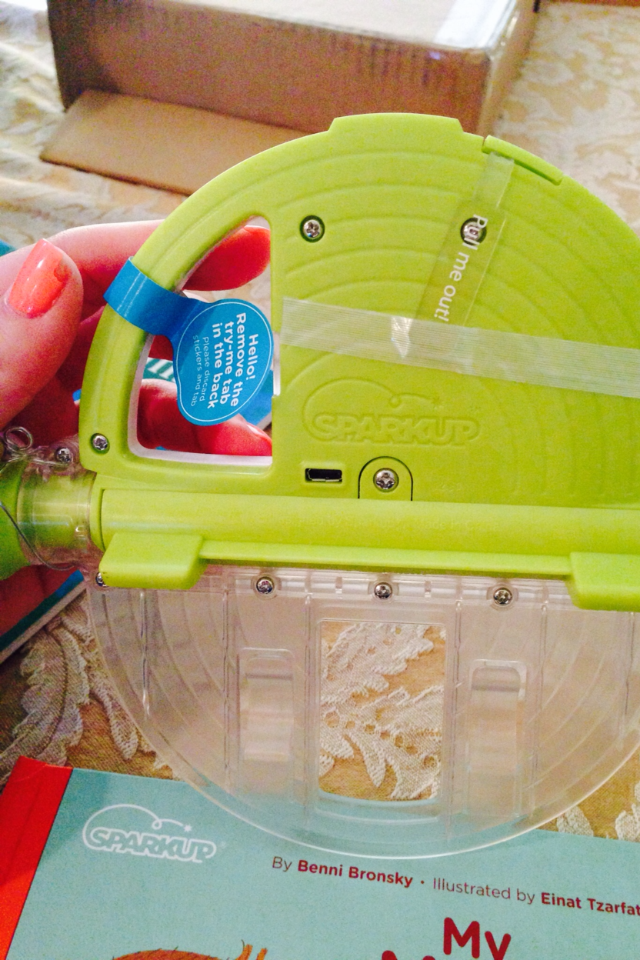 I preferred the feature of recording my own voice by simply connecting a book (it came with a sample book) to the SparkUp, and then pressing the record key to start recording me reading page by page. Once I was done, I pressed the center key and I could hear my recording back. Then once Hayley wanted to hear her story, she simply hooked up her book to the SparkUp, and my voice was heard reading each page of the book. It is truly very neat! You are also able to edit a recording or start over if you like.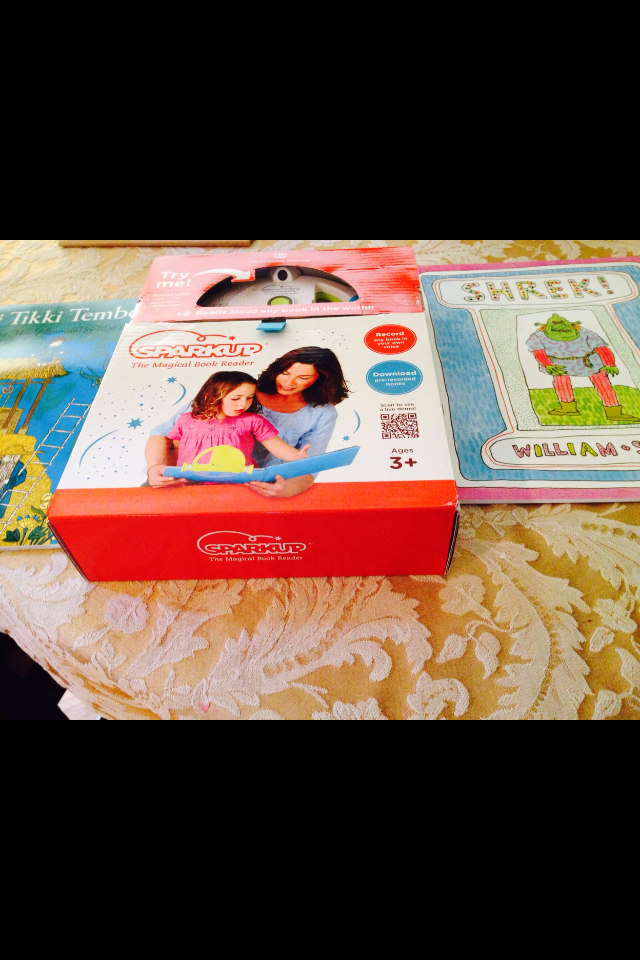 Once you are done, it comes with a USB cord where you can connect the SparkUp to the computer, and you can name and save your recordings for next time. The SparkUp will remember the book  simply by pressing the center console button.  Through the USB connection, you can download a book to SparkUp, browse/organize your recordings, and send a recording via email.
Here is some additional information about SparkUp:
– Sparkup attaches to any picture book, allowing kids of all ages to read along with the personalized, pre-recorded voice of their dad, aunt, grandma, or any other loved one.
– Its tiny camera recognizes a book's front cover and each page, matching the recorded voice to the correct text – even if pages are turned out of order.
– Sparkup can store up to 50 books (you can back up as many as you'd like onto your computer).
Check out this 
video 
to see Sparkup in action.
Sparkup is great for those moments when families can't read together – like when grandma and grandpa return home to Florida, or if dad is away on business. It can be used in many 
other fun and creative ways
. In addition,Sparkup lets kids read their favorite stories whenever they choose, encouraging independent reading and building confidence in their literacy skills. Sparkup is perfect for back-to-school!
This brand new and innovative product really blew me out of the water! It is such a truly exciting and fun product for both education and learning. It brings new depth and excitement to a child's learning experience and builds a strong connection between kids and their books. It also definitely encourages independent reading.
If you are interested in buying SparkUp Reader, it retails for $59.99 on the SparkUp website. This would make a wonderful holiday gift!
Win it: One winner will receive the SparkUp Reader. This giveaway is run via rafflecopter, so click read more to see the actual giveaway. The only mandatory entry is to tell me why you want to win the SparkUp in the comment section proceeding the post. While the other entries are optional, I highly suggest filling them out to increase your chances of winning. US only. Good luck!
*I received the SparkUp for review. All my opinions are my own and not swayed by outside sources.*