*We received complementary tickets in exchange for our review from US Family Guide. All my opinions are my own and not swayed by outside sources.*
The LEGO KidsFest is a giant traveling LEGO expo coming to Hartford's Connecticut  Convention Center December 6th – 8th, 2013.  This hands-on, educational, all-ages LEGO extravaganza features millions of LEGO bricks not to mention lots of construction zones, dozens of life-sized LEGO models and displays, LEGO Friends and LEGO Games, group builds such as Creation Nation, live LEGO Master Builders, and so much more covering three acres of space.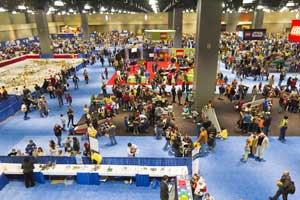 ACTIVITIES  will include:
LEGO Model Gallery: 40 life-sized models made entirely from LEGO bricks
LEGO Master Builders: live demonstrations and activities from the crew who get paid to play
Creation Nation: build your own creation to add to a custom map of the U.S.
Race Ramps: build your own custom car, then race it down the ramp against friends and family
LEGO Games Arena: roll the dice to play LEGO board games
Construction Zones: creative free build, play and display areas
LEGO DUPLO®: younger visitors can explore imagination through building
LEGO Retail and KidsFest Marketplace: purchase LEGO merchandise and official KidsFest tour goods
Brick Pile: a gigantic pile full of LEGO bricks for creative play and enjoyment
Monochromatic Builds: bricks of a single color to foster group creativity
LEGO Friends: fantastic displays that combine lots of LEGO and DUPLO sets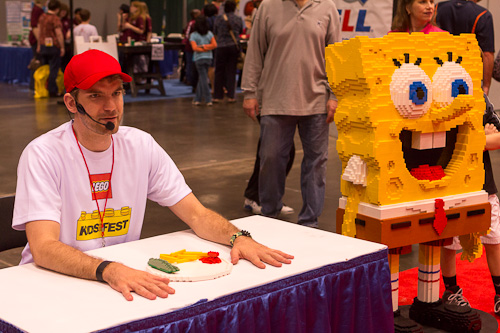 FUN FACTS
More than 400 billion LEGO® bricks have been produced since 1949.
The LEGO® minifigure represents the world's largest population of people! Over 4 billion minifigures have been produced in the last 30 years. This is almost 12 times the population of the United States!
LEGO® minifigures are out of this world, literally. The 2 Mars Rovers have an image of the LEGO® minifigure etched into their front grill.
Approximately 7 LEGO® sets are sold each second.
There are about 62 LEGO® bricks for every one of the world's 6 billion inhabitants.
Laid end to end, the number of LEGO® bricks sold in a year would reach more than 5 times around the world.
There are 915 million ways to combine six eight-stud LEGO® bricks.
Children around the world spend 5 billion hours a year playing with LEGO® bricks.
With a production of about 306 million tires produced a year, the LEGO® group is the largest producer of tires in the world.
LEGO® is the contraction of two Danish words, "leg godt" which means "play well".
There are about 62 LEGO® bricks for every one of the world's 6 billion inhabitants.
19 billion LEGO® elements are produced every year. 2.16 million LEGO® elements are molded every hour, or 36,000 per minute.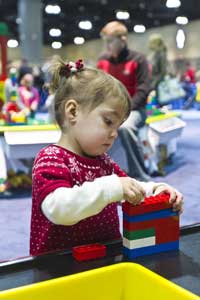 Based on sell-out attendance in previous markets, advance ticket purchase is strongly encouraged.
Five sessions – all identical – are available for the Hartford December 6th – 8th tour stop.  LEGO KidsFest tickets are $20 for adults and $18 for children and can be purchased online at www.LEGOKidsFest.com.  
Five identical sessions are available.  Tickets are $18 for kids and $20 for adults.
For more information and to purchase tickets, log on to www.LEGOKidsFest.com. Be sure to also follow them on Twitter to learn more!
The LEGO KidsFest 2013 tour stops have included: Richmond, VA (February 15 – 17), Louisville, KY (April 5 – 7), Houston, TX (May 17 – 19), Phoenix, AZ (July 12 – 14), San Jose, CA (August 30 – September 1), Portland, OR (October 11 – 13), and Hartford, CT (December 6 – 8).    
******Ticket Giveaway: One winner will receive two tickets for the opening session of the LEGO® KIDSFEST on opening night on Friday December 6, 2013 (This will include a special VIP media event at 3 pm with the official tour from 4-830 PM! It is very simple to enter! Simply click on the below form to enter to WIN!!
CLICK HERE FOR THE GIVEAWAY: LEGO® KIDSFEST 2 TICKET GIVEAWAY!
Although this is not mandatory, if you like, tell me below why you like to win. The most important thing to fill out though is the form above.  Winner will be chosen by USFG on November 15 and will be notified. Good luck!****