In a few short months, the holidays will be here! Crazy…I know! Now, you can have some fun shopping with prepaid themed Visa debit cards from Card.com! Card.com allows you to pay for your shopping items without opening a bank account or having to have cash on you! It is a debit card, like the one from your bank, and you can use it EVERYWHERE Visa is accepted — except it's way cooler and cuter than your crumby old bank card. There are thousands of themes that these cards come in, including Garfield, Popeye, Betty Paige, James Dean, Care Bears, Walking Dead, Star Trek, Autism Awareness, Breast Cancer Research, Shark Week, Where's Waldo, Doodle Jump, etc.
How does Card.com work:
The answer is very easily!  First you choose from the coolest designs at Card.com Visa Prepaid Card and then enjoy  no overdraft fees, no late fees, no minimum balance, $0 sign up fee and no credit check with verified ID. Sounds amazing right!  After the card is chosen, you then ether you add cash through  either easy direct deposit, Money Pak, Western Union, Paypal, or photo capture a check with the Android and iPhones apps. They are some many ways of loading money onto your card and help is readily available for you 24/7!
There is a monthly fee of $5.95, which they will waive when you direct deposit over $800 in the previous 30 days.  This fee is much less than overdrafting your bank account, paying for a checking account or using a credit card. If you are not happy, you can cancel at any time! This card is not a gift card, so you can't give or receive the card as a gift – It's better than a gift card because you don't just use it once and toss it, but instead get to replace your boring bank-issued debit card and show it off over and over!
Some additional features of Card.com include:
Free to order, activate and load

Free app and check deposits from your smartphone

Free direct deposit

Free card-to-card transfers, any time, anywhere, in seconds

No overdraft fees — never goes negative!

Safer than cash – 24/7 support, Visa fraud protection and 100% FDIC insurance on funds

No debt, financially responsible, no interest/credit/APRs

No credit check and approval in seconds

22,000 in-network ATMs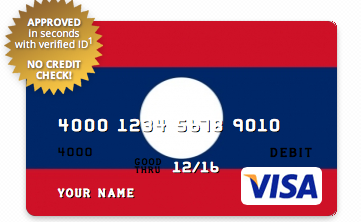 I decided to get the elephant themed card since I absolutely love elephants and had the pleasure of spending a lot of time with them in Thailand.  I signed up for the card on their site, which took me all of one minute.  I was then able to activate my account and set up an account online. The card was very easy to use. I decided to buy two sweaters with it and it took the money off the card readily. You can even use it to take money out of the bank, and a small, nominal fee will be charged.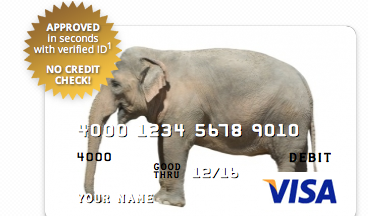 Be sure to check out Card.com today to get the coolest Visa card in all of town!
*I received a prepaid card for my review. All my opinions are my own and not swayed by outside sources.*