I know you all the brand BEABA, as they are the creator of well-designed kitchen and home appliances for making healthy meals for  baby and the entire family. However, did you know they are now the makers of some innovative, as well as, completely fashionable diaper bags! What I love about these bags, is they are not like any of the other diaper bags I have seen. Each of the three models brings something fun and different! Afterall, for at least the first two years of your child's life, you will need a good diaper bag, whether you like it or not. With BEABA, you can find a fully functional, comfortable, and stylish diaper bag for on the go!
The three gorgeous diaper bags on the market include  the Sac Stockholm, Sac Open and Sac New York.  From a 180 degree opening to thoughtful features including an insulated cooler, dirty laundry bag, an antibacterial pacifier storage case and a removable cotton terry changing mat, the BEABA diaper bags are equally stylish and functional for parents on the go.
Here is some information about the three different diaper bag options:
Sac Stockholm:

 

Sac Stockholm opens 180 degrees, so there's no digging at the bottom of the bag. It features a machine washable canvas exterior and steel hardware. Items are easily organized utilizing the 5 external and 4 internal pockets. Available in gray and beige. Retail price $109.95.

 

 

Sac Open:

 

The Sac Open diaper bag opens extra wide so everything is visible with one quick unzip. A light colored interior makes it easy to find items inside. Made of water resistant fabric in either blue or pink with stainless steel hardware, it's easy to keep clean. The diaper bag has a zippered front pocket, five external and four internal pockets. Retail price $99.95

 

 

Sac New York:

 

 

Sac New York bag is outfitted with padded, satiny fabric and steel hardware. The large front pocket provides space for key ring and phone, while the inside features two mesh, one zippered and three internal pockets. Retail price $109.95

 
For review, we received the Sac New York, which is better than I could have ever imagined. First off, I love the texture and feel of the bag. It has a plush feel, similar to my winter jacket. It is simply a gorgeous bag! Next though and the most important, is the functionability of the bag. I could not believe HOW MUCH this bag could hold! This bag is so unbelievably spacious, that you can fit everything you need and more!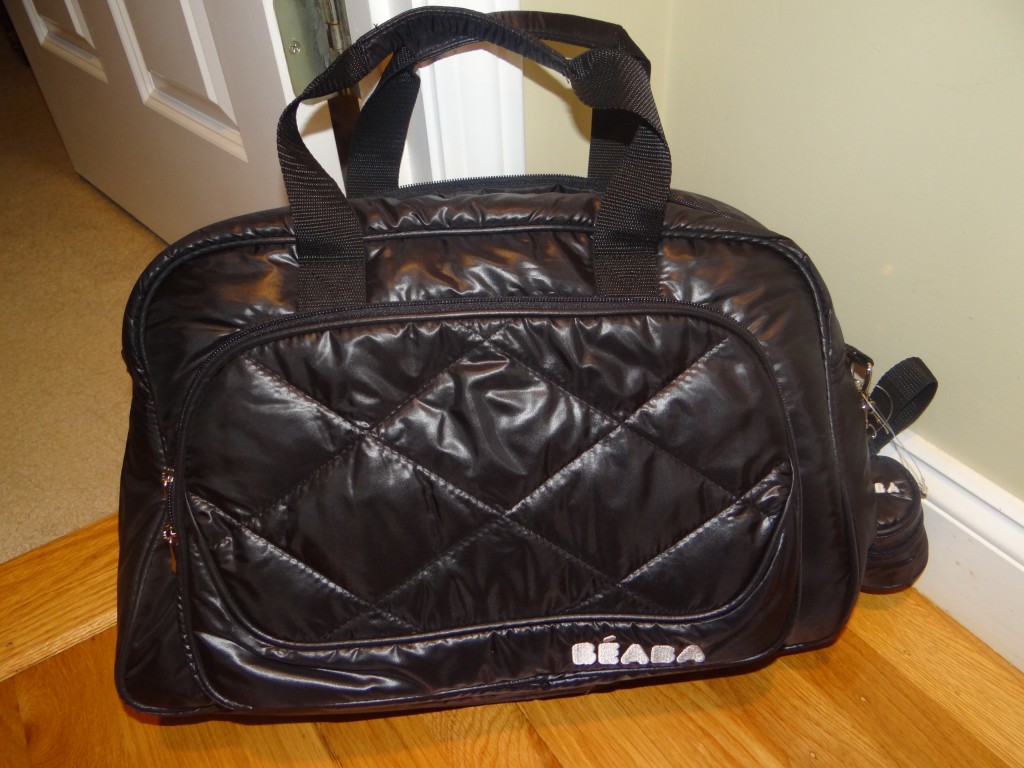 Best part of it being huge though, is how compartmentalized  everything is. There is a spot for everything you need! The front of the bag and back each have big zippered compartments to store just about anything you need. I like to use these pockets for my essentials, such as my phone, makeup, etc. I could even fit my iPad in the front zipper. Simply AMAZING!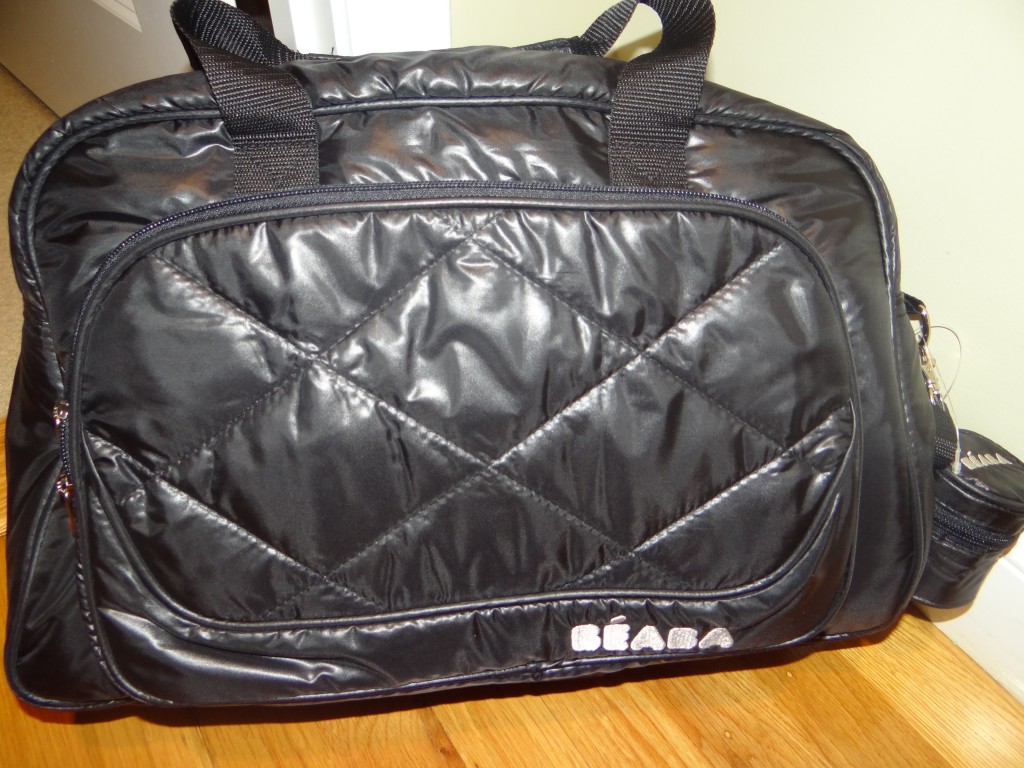 Once you open up the bag via the zipper , you will find pockets to hold your child's pacifiers, wipes, diapers, creams, and more. It also has a huge space where you can readily store extra clothes, in case your child has the accidental spit up and needs to be changed.  Once you have the dirty clothes, you can use the back compartment to store the clothes in. This bag fits it all and in an efficient way!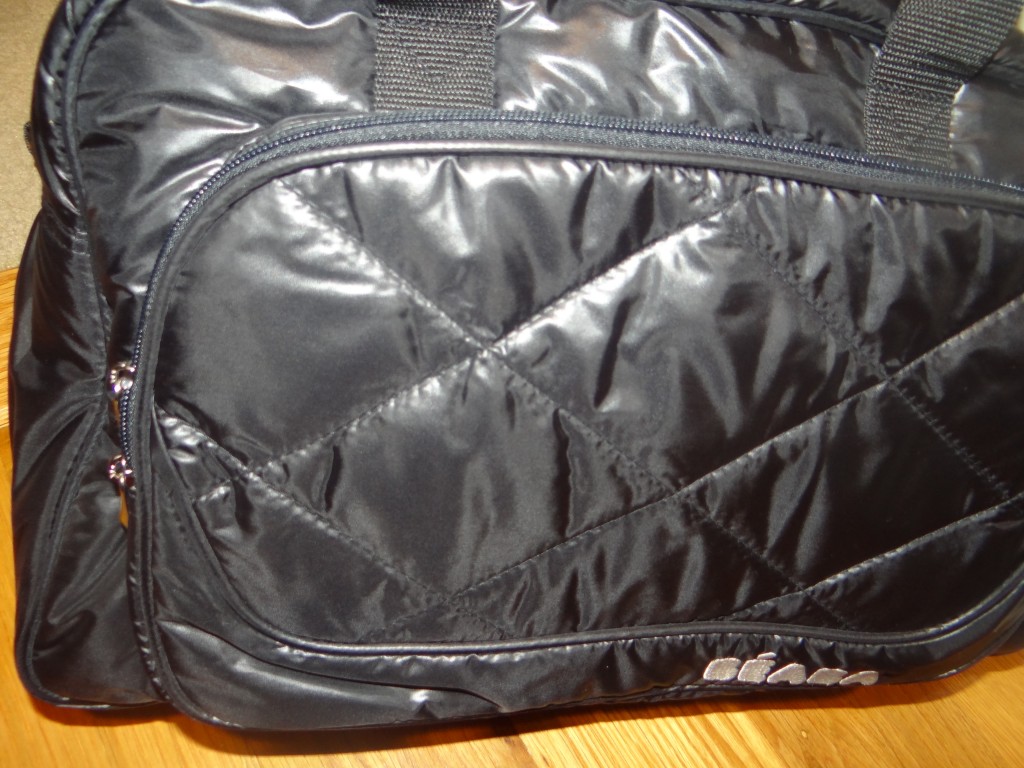 It comes with two small attachment bags including one to hold pacifiers and another to hold bottles! It is even insulated! It comes in two various colors- black and grey. You can hold this bag with either the small handles attached, with the removable shoulder straps, or even using the stroller straps, when you are doing your shopping.
This is a great diaper bag for an even fantastic price. Be sure to check out BEABA bags today for all your diapering bag needs!
*We received a BEABA bag for review. All my opinions are my own and not swayed by outside sources.*