The Winx is a hugely popular commodity in my household! Hayley is obsessed with the Winx. There is now a brand new Winx Club: Magical Adventure which is available on DVD! This DVD will be a fan favorite of any Winx fan!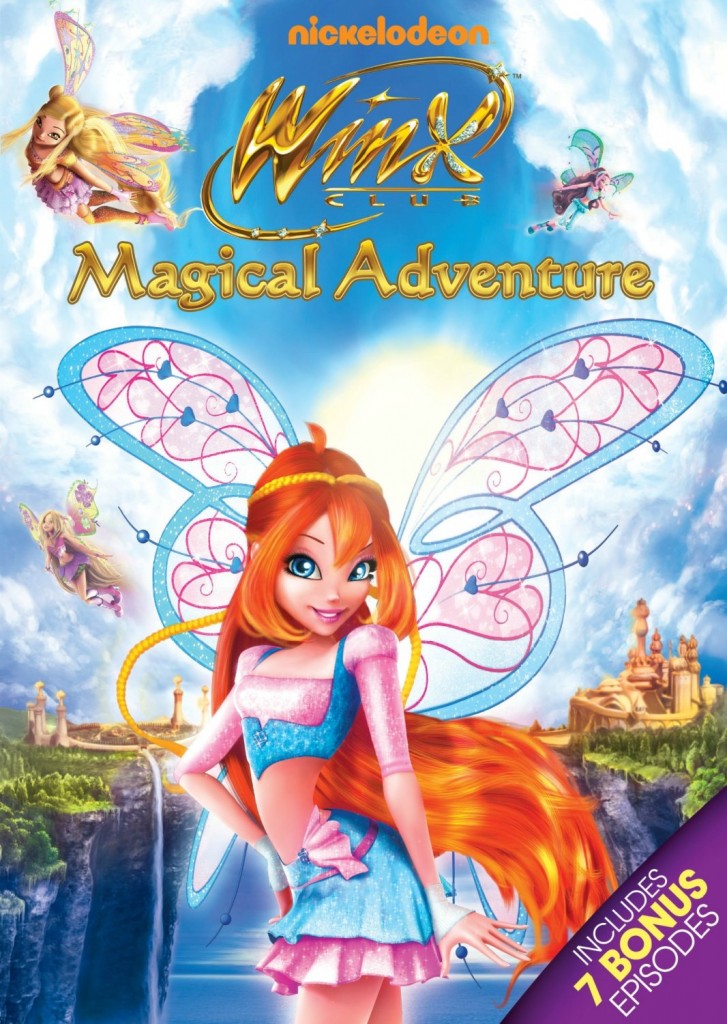 Nickelodeon's popular Winx Club is back with an all new CGI TV movie in Winx Club: Magical Adventure. Bloom is living life as a princess of Domino but does not understand why Sky can't escort her to the Princess Ball. Meanwhile, the Ancestral Witches and Trix are joining evil forces! Plus, enjoy seven bonus episodes overflowing with adventure from the fifth season of the hit series. This two-disc set is filled with over 3.5 hours of magic! Created by Nickelodeon Home Entertainment and distributed by Paramount Home Media Distribution, Winx Club: Magical Adventure is now released on DVD!
Disc One- Magical Adventure: Bloom discovers what it's like to live as a princess of Domino. Her joy is multiplied when Sky asks her to attend a ball with him. However, Bloom's happiness is short lived when Sky is forbidden by his own father to escort her. Meanwhile, the evil Ancestral Witches who had once destroyed Domino join forces with the Trix to erase all positive magic from the Magic Dimension. To reverse the effects of the Witches' reign of darkness, the Winx and Specialists must travel to the cursed city of Avram and battle their forces.
Disc Two- The Spill:
The Spill- Aisha's evil cousin Tritannus is sent to the prison of Andros where he meets the Trix.
The Rise of Tritannus: Tritannus absorbs toxic pollution from an oil spill and morphs into a monster. He and the Trix escape the prison and begin their quest to rule the magic dimension.
Return to Alfea: To defeat Tritannus, the Winx must achieve the power of Sirenix but they will need to find the Sirenix Book hidden in the Secret Library of Alfea.
The Sirenix Book: When Tritannus learns of the Winx' mission to achieve Sirenix, he seeks to obtain it too.
The Lilo: In a race against the Trix, the Winx search Gardenia for a magical plan that will bloom for the first time in centuries and send magic all over Gardenia.
The Power of Harmonix: To gain Sirenix, the Winx must prove their self confidence, empathy, and courage.
The Shimmering Shells: The Winx obtain the gem of self-confidence. Meanwhile, the Trix and Tritannus' mutants attack Gardenia.
You can purchase the Winx Club: Magical Adventure on Amazon today!
*We received the above DVD for review. All my opinions are my own and not swayed by outside sources.