*I participated in a campaign on behalf of Mom Central Consulting for Banana Boat. I received product samples and promotional item as a thank you for participating.*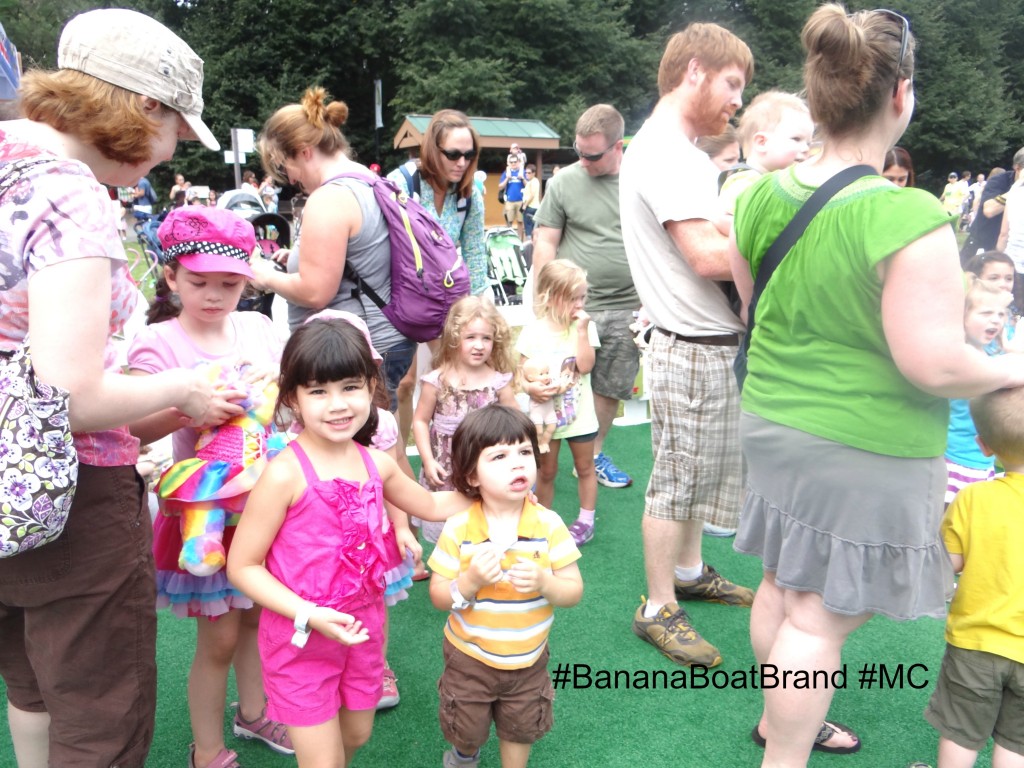 This summer has been exceptionally hot, which is a welcome change from the freezing temperatures we get for a good 5 months of the year! I absolutely love the hot weather and we do a ton of fun family vacations to take advantage of this good weather. A few weeks ago we visited Whale's Tale, Santa's Village, and StoryLand in New Hampshire. This past weekend we took an easy roadtrip to one of our favorite places where my husband and I lived for a few years- Boston. Combine these two trips with a lot of fun beach and pool outings and you can say that we had one of the best summers. However, as any mom knows, all of the fun in the sun is fantastic but you have to make sure everyone in your family is protected against the harmful rays of the sun. This is why I am so glad Banana Boat has a full Multi-Benefit Sunscreen Line to protect everyone in my family.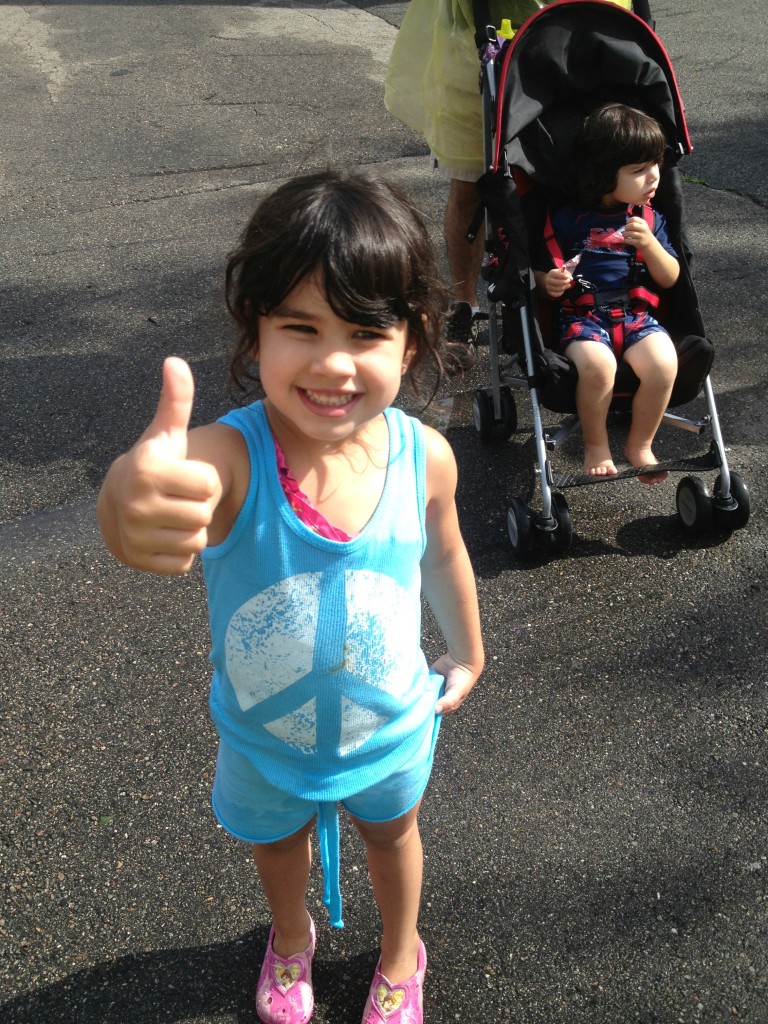 I will fully admit that when I was in high school, I wanted to get "my tan" on at any cost. I would be the one who would douse herself with oils that would ultimately make me burn. I am very fair skin with freckles, so burning was very easy. Sunscreen in those days was not part of my vocabulary. However, when I was graduating high school, the doctor found a suspicious mole, probably due to the years of tanning. Luckily, it was a benign mole but it still scared me. Now, I make sure everyone in my family is fully covered up and "sun-safe" year around. When we are in the sun, everyone in my family must wear a hat and sunglasses to keep themselves safe from the UV rays. Both Hayley and Zane also wear rash guard protected bathing suits to protect against UV rays. And by far the most important thing we do to protect ourselves against the sun is use sunscreen! My family's brand of choice the last few years is Banana Boat!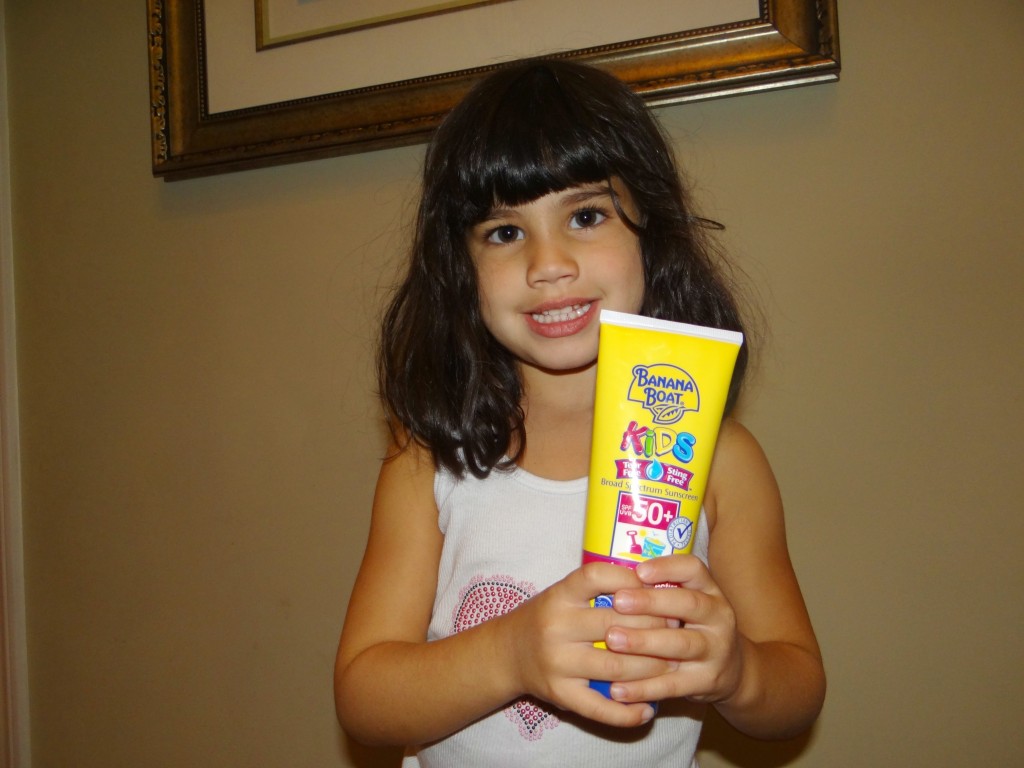 Banana Boat Sunscreens has the whole family covered with a variety of sun protection products that protect from the sun's harmful rays, no matter how your family chooses to spend the summer.  Recommended by The Skin Cancer Foundation as an effective UV sunscreen, these sunscreens have been tested to withstand 7 conditions including  extreme heat, sand, ocean water, wind, pool, sweat and sun, as well as  provide effective broad-spectrum UVA and UVB protection.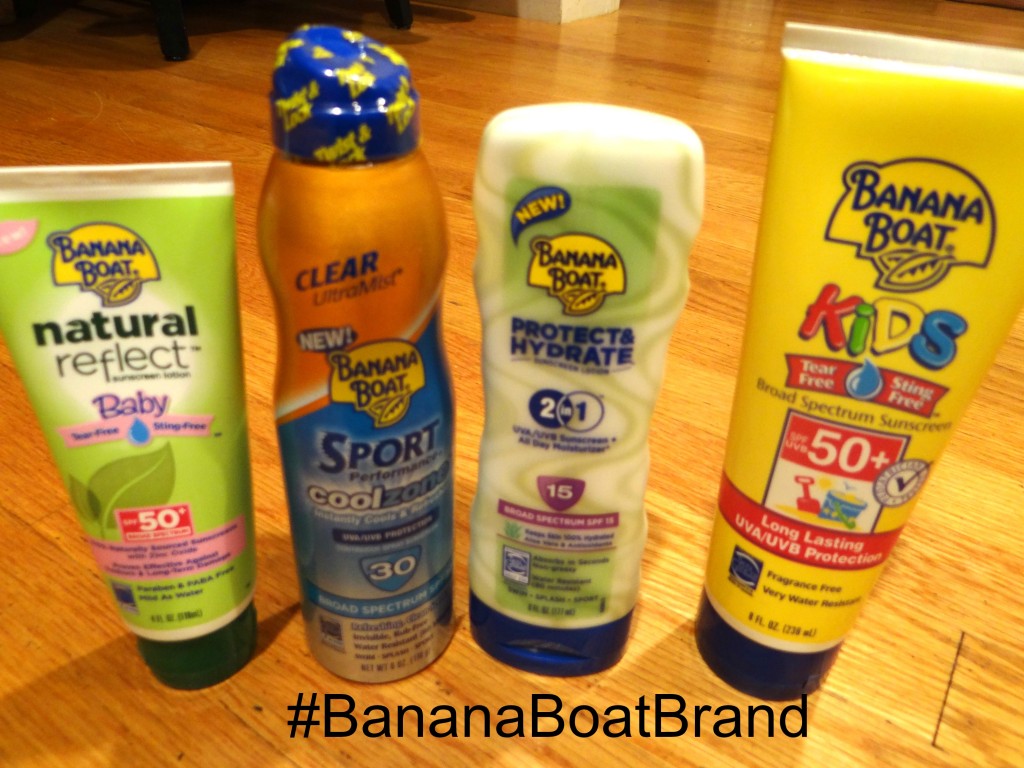 We were recently sent four Banana Boat products including Protect & Hydrate, Natural Reflect Baby, Banana Boat Kids, and Sport Performance Cool Zone to see how my family liked them in the summer fun. While the Sport Performance Cool Zone and Protect & Hydrate were new to us, we have been using the Banana Boat Kids and Natural Reflect Baby for quite some time now!
1. Banana Boat  Sport Performance CoolZone  Continuous Spray Sunscreen: When I first received this sunscreen, I was excited to try it out, as I am a big runner. During the hot summer months, I still run a few times a week and I need a good sunscreen to keep me protected. With the CoolZone, it is a continuous spray sunscreen that instantly cools and refreshes. It goes on very easily by spraying onto my skin and it is invisible, as well as rub free, so you don't have to worry about streak marks or people seeing the sunscreen on you. Best of all it is water resistant for 80 minutes, so you do not have to keep reapplying every few minutes. The scent of this sunscreen is awesome as well! I love that you can just spray this sunscreen and go! It is available in SPF 30 and 50+.
2. Banana Boat Protect & Hydrate  New 2 in 1 Lotion: This sunscreen is another new product from the Banana Boat line and it is truly fantastic. It provides 2 in 1 UVA/UVB sunscreen, as well as being an all day moisturizer. How neat is that?! It will keep skin 100% hydrated, even in the most drying heats. It contains aloe vera and antioxidants for added protection against the sun. I love that this formula absorbs in nearly seconds and is non-greasy! It is very easy to put on and once on, will stay water resistant for 80 minutes. My skin feels soft and fresh after applying it! It comes in SPF 15, 30, and 50.
3. Banana Boat Kids Tear-Free Sting-Free Sunscreen: We have been using this for the past few summers and my kids love it! I apply it everywhere on their face including their ears, above the lip region, behind the ears, on the cheeks, and on the forehead. I then apply it to their full body to have them covered from head to toe. Now that Hayley is almost  5, she has been assisting in getting the sunscreen rubbed in. It is extremely easy for her to apply and rub in. I make sure all areas are covered and then I go onto Zane. It is completely tear free and sting free, so you can readily use it on the face. It provides long lasting UVA/UVB protection, while being water resistant, and is fragrance free. Zane has a very hard time with various lotions due to his eczema and we never had one problem with this lotion!  It is clinically tested to be mild to kids's skin! It is available in SPF 50+.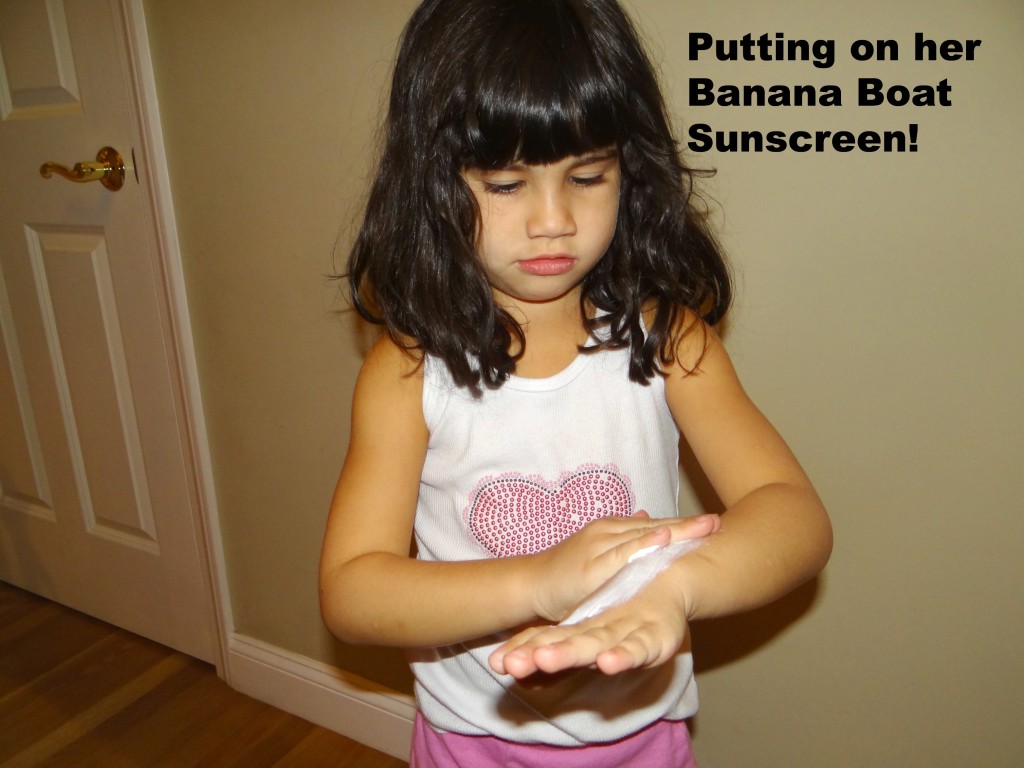 4. Banana Boat Sunscreen Baby Natural Reflect:  While I don't have a baby anymore (cue the sadness), we have been going to the beach with my best friend's daughter who is 6 months. I used this sunscreen on Zane when he was a baby with great successes! When my friend tried it on her baby, she absolutely loved the feel of the lotion. It is 100% naturally sourced sunscreen with Zinc Oxide and is proven to be effective against sunburn and long-term damage. It is Paraben and PABA free, with no harsh chemical. It is great for babies as it is tear free and sting free, so you don't need to worry if it accidentally gets into their eyes. It is available in SPF 50+
Be sure to check out the great line of Banana Boat Sunscreens today! Be sure to also get a coupon for $1 off Banana Boat products at their Banana Boat Facebook Page! Have a great rest of the summer and stay protected with Banana Boat!