Remember when you brought along sticker books for the kids to keep them entertained on long road trips, or when you had to drag them out to lunch or dinner with you? Inevitably stickers would end up on the window of your car or stuck to the seatbelt to never fully come off. Sticker books were less messy than the alternative of markers, that was for sure, and let's face it; sometimes a sticker on the window was worth the hour of quiet entertainment that it provided your child.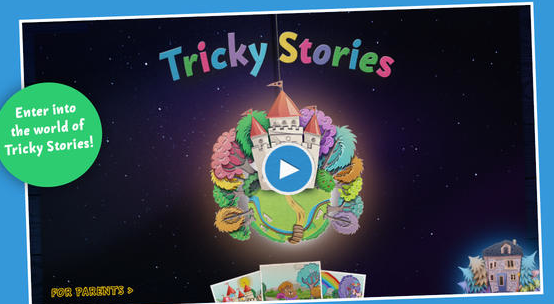 The iPad has since taken over the former terrain of the sticker book, but not my child's love of using their imagination with stickers. That is why I am super excited about the new Enchanted Sticker Book app from Magic Castle. This app is the perfect thing to keep little minds and fingers busy with out making a mess. I love it!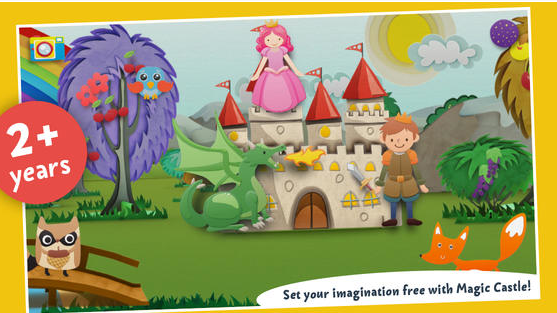 Magic Castle is a magical sticker board for preschool children ages 4-6 where stickers can be changed, added and deleted from sticker boards at any time. Different kinds of stickers come to life and appear in and out of pages to add variety into every experience using the sticker books. Children get to create their sticker storybook in any direction their imagination might take them.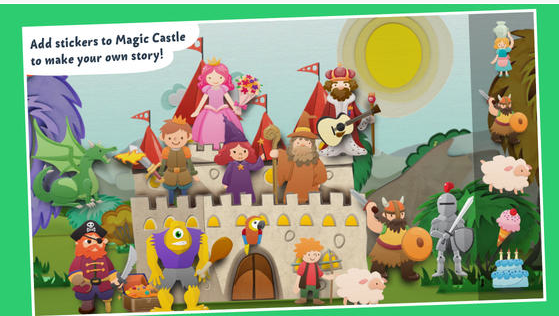 Kids watch as the Magic Castle comes alive with interactive stories in this sticker book like no other. Stickers come alive with fun noises and natural sounds that are reminiscent of a real forest. Magic Castle Sticker Book is filled with colorful and friendly fairy tale creatures and forest animals. The variety of images to choose from, princesses, dragons or knights spark the imagination with sound and movements as they add exciting characters to the magical castle background.
Of course after having so much fun putting their sticker storybooks together, it's hard for the little ones to part with their creations. One of the features I love is that once the masterpiece is created you can then capture it with the camera feature, and save it to the sticker book album so that you can look back, and enjoy the fun creations again and again.
I'm thrilled to be able to let my kids set their imagination free using the Magic Castle app on either my iPhone or iPad, and I can't remember the last time that I had to scrape a sticker off the car window after a family road trip.
For more information on this great app check out the following:
Facebook- https://www.facebook.com/trickyeyesapps
Web page- http://trickystoriesapp.com/
iTunes  https://itunes.apple.com/us/app/tricky-stories-magic-castle/id668546517
*This is a partnered post. All my opinions are my own and not swayed by outside sources.