**I participated in a campaign for Mom Central Consulting on behalf of Delta Faucet. I received a promotional item as a thank you for participating.**
I am so excited because in two short weeks framework is going to begin on our basement. In our basement, we are going to be putting in a full bathroom, which means I will need to find the perfect toilet. We have had horrible luck in the past with our toilets leaking and such.  Thankfully, Delta Faucet has come out with the fabulous Delta Corrente Toilet, just in time for my basement upgrade. The Delta Corrente Toilet looks simply amazing!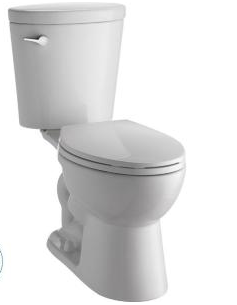 These toilets are not only sleek, but they are virutally clog-free! Bye-bye are the days of trying to unclog the toilets! They also feature a SmartFit connector to secure mounting components and help eliminate leak points. Oh how nice will it to be have a toilet that does not leak for once!
I also love that the Delta Corrente Toilet comes with an EZ Out removal kit, which helps to simplify the uninstalling of your old toilet and reduces the risk of damage to your bathroom in the process. When I told my husband about this feature, he was all for it!
The Delta Corrente Toilets are WaterSense labeled, as they use less water per flush, saving you up to $90 a year on your water bill. Having two small children who absolutely love to flush, this feature is a real lifesaver.
The Delta Corrente Toilet is an easy DIY project that can readily be done over a weekend. You can purchase the Delta Corrente Toilet at Deltafaucet.com and Homedepot.com. Whether you are looking to get a new toilet because of existing damage to an old toilet or looking to upgrade to a new toilet bowl, the Delta Corrente is definitely worth a look!
**I participated in a campaign for Mom Central Consulting on behalf of Delta Faucet. I received a promotional item as a thank you for participating.**