Nickelodeon's CGI- animated hit series is back with their second season DVD, Teenage Mutant Ninja Turtles: Enter Shredder. Get lean, mean and green this summer with the Turtles team! Leo, Donnie, Raph, and Mikey take to the streets of NYC and every turn yields a new enemy. Get ready for non-stop battles against Kraang- droids, mechanical Mousers, a mutant alligator and even the evil Shredder himself. Plus, as an added bonus get a free collectible TMNT poster inside for a limited time only. Created by Nickelodeon Home Entertainment, and distributed by Paramount Home Media Distribution, Teenage Mutant Ninja Turtles: Enter Shredder is available now on DVD for $14.99.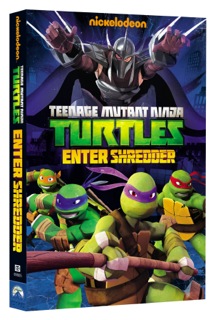 The series stars Jason Biggs (American Pie) as "Leonardo," Sean Astin (Lord of the Rings) as "Raphael," Rob Paulsen (Planet Sheen) as "Donatello," Greg Cipes (Teen Titans) as "Michelangelo." Additional cast members rounding out this iconic hit franchise include Mae Whitman (Parenthood) as "April O'Neil," Hoon Lee (Royal Pains) as "Master Splinter" and Kevin Michael Richardson (Penguins of Madagascar) as "Shredder."
Teenage Mutant Ninja Turtles: Enter Shredder Episodes include Monkey Brains, Never Say Xever, The Gauntlet, Mojo Rising-Panic in Sewers, Mouserthon-Mousers Attack!, Leatherhood-It Came From The Depths, and New Girl in Town,
The TMNT are back and better than before in this DVD which is now available on Amazon! I might even dare to say that I like this remake better than the original. Let me know what you think!
-We received the DVD for review purposes. All my opinions are my own and not swayed by outside sources.